EAST AND WEST HISTORIES
After having seeing in great detail what life was like in a castle town during the Edo period at the Edo-Tokyo Museum, go to Kochi, famous for its Yosakoi Festival. Visiting the famous Chikurin-ji Temple, built in the 8th century, will evoke images of the history of the Shikoku pilgrimage.

Official Tokyo Travel Guide
http://www.gotokyo.org/en/

Local government official website
http://visitkochijapan.com/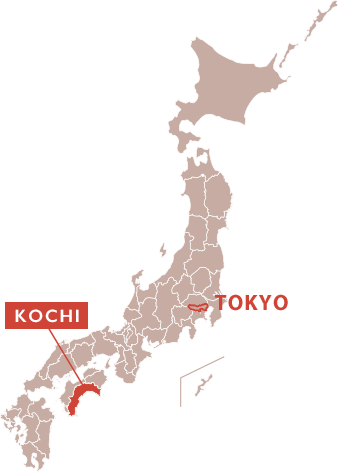 COMING SOON!
Two people are traveling this route right now!
Their travel reports will be posted soon.
Taipei Songshan Airport
JAL096 Examine the directions from your country
Haneda Airportmore
The airport serves as an air gateway for Tokyo. The passenger terminal is filled with various commercial facilities, and visitors can command a panoramic view of Tokyo Bay from the rooftop observation deck, so that every one, even those who are not flying, can enjoy the terminal.
Tokyo Metropolitan Area
Day
1
TOKYO
Tokyo Metropolitan Government Building Observation Decksmore
Take in sweeping views of the city of Tokyo from 202m above ground level.
To access the observatories, take the Observatory Elevator, which climbs directly to the 45th floor, at an elevation of 202 m above ground level, in 55 seconds. In the observatories, visitors can not only enjoy breathtaking views, but also meals in the cafes and restaurants there.
Toei Subway Oedo Line
Tochomae Station → Ryogoku Station
25 minutes / 270 yen
Edo-Tokyo Museummore
RECOMMENDED DESTINATIONS
The museum allows visitors to learn about the history, culture and lives of people in Edo-Tokyo. In the permanent exhibition area are life-size models of Nihombashi Bridge and a drama theater in the Edo Period, as well as models of the Rokumeikan Hall and the brick streetscape of Ginza in the Meiji Period, showing what life was like at the time through three-dimensional exhibits. A wealth of real-life materials including ukiyoe paintings, kimonos, and daily household items are also exhibited to coincide with the changing of the seasons, allowing visitors to enjoy learning about the history of Edo and Tokyo.
Toei Subway Oedo Line
Ryogoku Station → Tsukishima Station
8 minutes / 220 yen
Tsukishimamore
A dish that represents the Shitamachi area of Tokyo would have to be monja-yaki! Monja-yaki was originally served by small-time candy stores and street stalls in Asakusa-Shitamachi. As the name suggests, it was apparently made originally by roasting the dough in the shape of characters. This evolved to become the modern-day monja-yaki. It was originally eaten at small-time candy stores as a snack by children. Today, Tsukishima Monja Street is the best place to visit for those who want to try monja-yaki in Tokyo. They are available in a wide range of varieties. First-time diners need not worry, because the waiters can roast the monja-yaki for you, and show you how to eat it. Come and enjoy a lighthearted meal and the taste of Tokyo Shitamachi that has remained unchanged since the old days.
Toei Subway Oedo Line
Tsukishima Station → Shiodome Station
7 minutes / 180 yen
ROYAL PARK HOTEL THE SHIODOME, TOKYO
Day
2
SHIKOKU(KOCHI)
09:50 Haneda Airport
JAL493 (Japan Explorer Pass) Show details
11:10 Kochi Ryoma Airportmore
In addition to shops selling over 600 types of Kochi souvenirs, special goods featuring local character mascots, jeweled coral, and other traditional crafts from Kochi are available. Each maker sells limited products that are only available for purchasing here.
Popular souvenirs are "imo-kenpi," a sweet potato snack, and the recently popular "shio-kenpi," a salty variation. Be sure to buy some for yourself! There are also many other souvenirs available that have been showcased on TV!
Wi-Fi service is available inside the airport, and the 1st floor tourist information center can provide information in English and have English, traditional Chinese, simplified Chinese, Korean, and Thai-language tourist pamphlets available.
Tosaden Traffic Airport Connecting Bus / Kochi Ekimae Kanko
Kochi Ryoma Airport → Kochi Station Bus Terminal
About 30 minutes / 720 yen
Kochi Castlemore
A traditional flatland-mountain castle of Japan. Even as castles across Japan are being renovated due to fires and earthquakes, Kochi Castle has overcome repeated crises and is one of few remaining wooden-structure castles in Japan in its original state.
The spot where the Otemon (castle gate) and the castle tower can be viewed together in the same frame provides a rare photo opportunity.
Walk
About 5 minutes
Hirome Marketmore
More than a "market," Hirome Market has an atmosphere that's more like a village of street stalls. Including places selling a local Kochi specialty "katsuo no tataki" (seared bonito), there are over 60 shops gathered here, including unique variety shops.
Inside the market, there are tables and chairs for almost 400 people where visitors can freely eat and drink what they purchase.
Well-frequented by locals, there are times when someone sitting next to you will start up a friendly conversation.
Nishitetsu Inn Kochi Harimayabashi
Day
3
Nishitetsu Inn Kochi Harimayabashi
Walk
5-10 minutes
"My Yu" Bus
JR Kochi Station → Chikurin-ji mae
About 30 min, 1-day ticket: 1,000 yen
(elementary school students: 500 yen);
*Foreign tourists showing their passport will receive
a half-price discount for themselves.
Chikurin-ji Templemore
RECOMMENDED DESTINATIONS
As the name suggests, this temple is located in a bamboo grove. After climbing the stone steps, a beautiful five-storied pagoda can be seen amidst a forest of green.
There are many cultural properties that shouldn't be missed, such as the five-storied pagoda and the Buddha statue which is also a designated National Important Cultural Property.
The garden inside is a designated National Place of Scenic Beauty where visitors can try copying sutras or just relax in the peaceful atmosphere.
In autumn, this place is famous for its foliage.
On the way to the temple is Godaisan Park, which has a spot with a good view of the Kochi cityscape.
"My Yu" Bus
Chikurin-ji mae → Katsurahama
About 25 min, 1-day ticket: 1,000 yen
(elementary school students: 500 yen);
*Foreign tourists showing their passport will receive
a half-price discount for themselves.
Katsurahama Beachmore
A place of scenic beauty symbolic of Kochi. The coastline stretches out in a bow shape, and the thick green of the pine trees in the background together with the multi-colored pebbles on the shore and the azure blue sea, create a harmony like that of a miniature garden.
Well-known as an excellent place for moon gazing since the old days.
A cape on the eastern side has a bronze statue of Sakamoto Ryoma, a patriot in the closing days of the Shogunate, looking down over the Pacific Ocean. The Katsurahama Aquarium and the Sakamoto Ryoma Memorial Museum are also located here.
"My Yu" Bus
Katsurahama → JR Kochi Station
About 60 min, 1-day ticket: 1,000 yen
(elementary school students: 500 yen);
*Foreign tourists showing their passport will receive
a half-price discount for themselves.
Tosaden Traffic Airport Connecting Bus
Kochi Station Bus Terminal → Kochi Ryoma Airport
About 30 minutes / 720 yen
Kochi Ryoma Airport
JAL (Japan Explorer Pass) Show details
Haneda Airport
Other recommended route in same area