LATEST TREND & TRADITIONAL CULTURE
Harajuku is a birthplace for many of Japanese fashion trends well known as 'Kawaii Culture' in Tokyo. Especially, the Takeshita-dori Street is gathered by young people from all over Japan and the world to look for latest 'Kawaii' trends. Leave from the spot of latest cultural trends, then head to a historical place, the Izumo-Taisha Grand Shrine where is believed that all of the myriad deities throughout the country gathering to this consecrated place in Shimane prefecture. Great trip to have enough traditional cultural experiences and to see what's like Japanese latest trends.

Official Tokyo Travel Guide
https://www.gotokyo.org/en/

Local government official website
http://www.kankou-shimane.com/en/


TRAVELER
Traveled : September 2017

Fabrice Dubesset

Blogger
Reside in France

Traveled : September 2017

Julien Loock

Journalist, graphic designer
Reside in Tokyo
Home country: France
Paris Charles De Gaulle Airport
JAL046 Examine the directions from your country
Fabrice Dubesset

The Japan Airlines flight had high-quality service and the latest movies etc.; everything was perfect. I particularly loved the food on the plane. I felt the quality was higher than many other airline companies I have traveled with, and the approximately 11-hour flight was over before I knew it.
Haneda Airportmore
The airport serves as an air gateway for Tokyo. The passenger terminal is filled with various commercial facilities, and visitors can command a panoramic view of Tokyo Bay from the rooftop observation deck, so that every one, even those who are not flying, can enjoy the terminal.
Tokyo Metropolitan Area
Day
1
TOKYO
Shibuyamore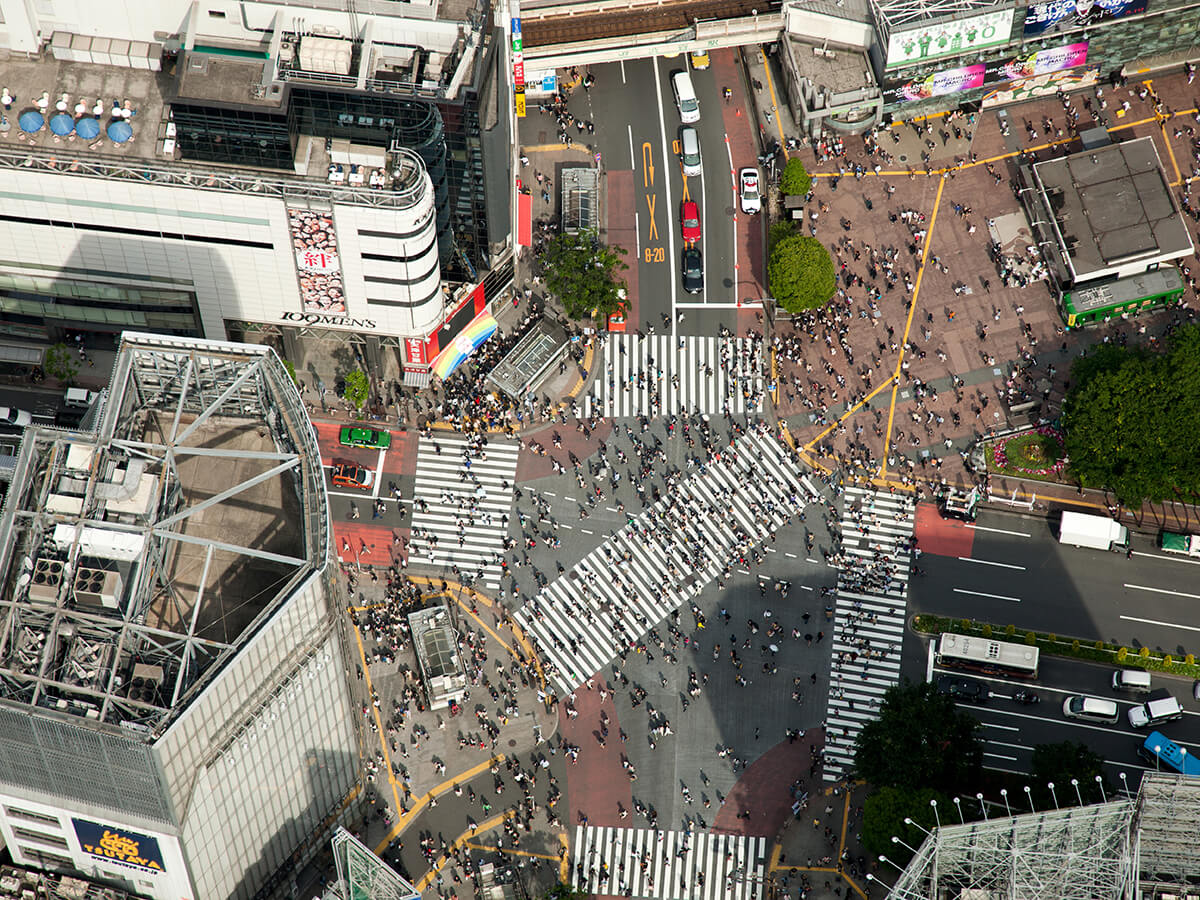 Shibuya district is the origins of youth culture. You will find several famous restaurants, bars, night clubs and live music venues flourishing among rows of stylish department stores and shops with a constant vibrant and youthful atmosphere. Shibuya is definitely the place to go to if you want to get the latest kawaii (cute) trends published in magazines. In addition, you can also enjoy dining at fashionable cafés and affordable eateries. Situated in front of Shibuya Station are some of the district's landmarks such as the statue of Hachiko and the "Shibuya Scramble Crossing."
Fabrice Dubesset

It is said that each day hundreds of thousands of people cross the scramble crossing at Shibuya. You should definitely see the waves of people passing by each other. Shibuya is also one of the main stations in the Tokyo metropolis. In front of the station stands a statue of Hachiko, a monument famous throughout Japan. As I was very moved when I saw the movie that told his story, I was pleased to discover the actual place. You should also try visiting Konno Hachimangu Shrine, which has a calm atmosphere and is located a little way away from the Shibuya crossroads. Lastly, I recommend Shibuya Hikarie. This shopping mall has a Sky Lobby on the 11th floor, with beautiful views of the scenery.

Sushi Gonpachi Shibuya is a restaurant to take note of. It has sophisticated dishes made with a wide variety of fish, and excellent views of Tokyo. I was able to try sushi that I had not eaten before. I recommend it to give yourself a special reward.

Julien Loock

When considering Tokyo, Shibuya cannot be ignored. It is always fun to walk through this area, taking in the buildings and the atmosphere of the streets, and seeing the amazing numbers of people there. I finally visited Konno Hachimangu Shrine for the first time. It was comfortable being alone in this sacred place, located only three minutes' walk from the hustle and bustle of the big city.

Sushi Gonpachi Shibuya is a place to rest in the heart of Shibuya, at the top of a high tower that overlooks the surrounding area. You can enjoy sushi prepared by the sushi chef in a relaxed fashion. The atmosphere of the shop was quiet and warm.
JR Yamanote Line
Shibuya → Harajuku
About 3 minute
Harajuku Takeshita Streetmore
RECOMMENDED DESTINATIONS
Harajuku's main street loaded with kawaii goods from across Japan. This 350-meter long street is lined to the brim with shops selling fashion items, sundries, crepes, print club machines, and 100-yen shops for the young, among others. The street is often crowded with people, including many foreign visitors, on the weekend and summer vacation. There are also back alleys lined with popular restaurants that have lineups to get in. The Harajuku Tourist Information Center is located near the intersection at the end of Takeshita Street.
Fabrice Dubesset

Takeshita-dori Street is an incredibly busy pedestrian street in Tokyo. It is notably frequented by young Japanese people. There are lots of shops selling the latest popular fashions.

Ura-Harajuku, nicknamed "Ura-hara" in Japanese, is part of Harajuku. You can find famous brands and quiet cafes here. Many creative and fashionable items are gathered in this street.

Julien Loock

Takeshita-dori Street is a very popular place, not just for international tourists, but also among Japanese youth. There are lots of different shops, so it is worth walking around here for a while.

The atmosphere here is totally different to that of Takeshita-dori Street; it was very calm. I enjoyed strolling down the narrow streets, lined with stores both vintage and bohemian.
About 7 minutes on foot from JR Harajuku Station / Meiji-jingumae Station
Tokyo Metro Fukutoshin Line (direct service on the Tokyu Toyoko Line)
Meiji-jingumae → Daikan-yama / Immediately adjacent
About 5 minutes
Daikanyamamore
Daikanyama is the starting point of the latest modes. Daikanyama, also known for its high end residential properties, is dotted with embassies and houses owned by foreign nationals, providing a unique, cosmopolitan ambience. The main streets that fan out from Daikanyama Station include Hachiman Street that continues on to Shibuya, the former Yamate Street that heads to Komaba, and Komazawa Street that goes to Ebisu. Along these streets is Hillside Terrace, which stands as a symbol of the neighborhood with its high end and unique shops and restaurants, providing for fun outings in terms of both shopping and dining out. The wide streets lined with greenery and many tall trees, despite its downtown location, provide a perfect backdrop for a walk.
Fabrice Dubesset

Daikanyama is a quiet and calm area with a special atmosphere, and one of my favorite places in Tokyo. If you stroll through this part of town, you can find fashionable cafes, and terraces, rare in Tokyo. The Asakura House, one of the oldest residences in Tokyo, is located in Daikanyama. It is a wooden building, in traditional Japanese style, constructed in the early twentieth century. The garden of this residence was also lovely.

Julien Loock

Daikanyama is my favorite place in Tokyo. There are many different establishments, including cafes and tranquil shops, so you can spend a lovely afternoon there. If you want to enjoy some culture, you can visit the halls of the Japanese residence called "Asakura," and learn about the way this old Japanese family lived in the past. It's unusual to see such a residence in the heart of a city.
Tokyu Toyoko Line
Daikanyama → Shibuya
About 3 minutes
About 2 minutes on foot from Shibuya Station
Fabrice Dubesset

Kakureya Shibuten is a restaurant located in a quiet street in Shibuya. The fish-based dishes I consumed in its friendly atmosphere were delicious and sophisticated; it was a wonderful restaurant.

Julien Loock

This restaurant is tucked away a little distance from the hustle and bustle of Shibuya Crossing. All of the courses, from the variety of dishes to the dessert, were delicious. The main dish of the restaurant is tempura. It was friendly and comfortable.
Shibuya Tokyu REI Hotel
Fabrice Dubesset

The greatest advantage of the Shibuya Tokyu REI Hotel is its location. It is situated around 50m from Shibuya Crossing, and is an ideal location from which to enjoy this area. The rooms are comfortable, and the hotel offered a huge breakfast.

Julien Loock

The best thing about this hotel is the location. The fact that it is close to a train station is really helpful for travelers. The rooms were clean and the bedding was excellent.
Day
2
CHUGOKU(SHIMANE)
Haneda Airport
JAL (JAL Japan Explorer Pass) Show details
Fabrice Dubesset

Haneda Airport is easily accessible on the subway from Shibuya. I was very surprised by the comfortable and efficient operations there. Everything moved smoothly, so the waiting time was short. There were ample services, including lots of shops and eateries. The flight was extremely punctual.

Julien Loock

I am always satisfied when traveling on Japan Airlines. They are punctual, fast, and the seats are comfortable. I spent a lovely time on the airplane with no impediments. You can get to Haneda Airport quickly from Shibuya through Shinagawa. The domestic flight was convenient, and thanks to the quick check-in it was running on time.
Izumo Enmusubi Airportmore
As the gateway to Shimane Prefecture, Izumo Enmusubi Airport (Izumo Airport) is located close to tourist spots, such as Izumo Taisha Grand Shrine and Iwami Ginzan Silver Mine (World Heritage), making it a highly convenient airport for tourists. Rent-a-cars are also available at the airport.
[Ichibata Bus]
Izumo Airport→ Izumo Taisha Grand Shrine
40 minutes

or

[Ichibata Bus]
Izumo Airport→ JR Izumoshi Station
25 minutes
Then transfer at JR Izumoshi Station→Izumo Taisha Seimonmae
20 minutes
Izumo Taisha Grand Shrinemore
RECOMMENDED DESTINATIONS
Izumo Taisha Grand Shrine is an ancient shrine that appears in the Kojiki, the oldest historical chronicles of Japan. The shrine's main hall is currently designated as a National Treasure. The shrine's Kagura Hall features a special rope to cordon off a consecrated area that is 13 meters long and weighs five tons, making it one of the largest in all of Japan. It is believed that deities from across Japan gather in Izumo during the 10th month of the lunar calendar to hold a matchmaking conference.
Fabrice Dubesset

Izumo Shrine is Japan's oldest shrine, surrounded by lush greenery. The main shrine of Izumo Shrine is a huge building, boasting a height of around 24m, and it is said that all the deities of Japan gather here once each year. Izumo Shrine is also known for its large sacred rope (shimenawa). It weighs several tons! In the nearby museum, you can discover the roots of the shrine and trace the local history. You should certainly visit here to understand this place.

Izumo soba are Japanese noodles made of buckwheat. This dish, overflowing with originality, is one of the local dishes of this area. Heiwa Soba, a small, traditional family-run restaurant, is a good place to try these noodles.

I really enjoyed the Hinomisaki Lighthouse on the beautiful coastline of the Sea of Japan. You can climb to the top of the lighthouse, facing the sea, and admire the sweeping view of the gorgeous scenery. This lighthouse was chosen as one of the "100 historic lighthouses of the world."

Julien Loock

If you are going to Shimane you must not miss Izumo Shrine, one of the most important shrines in Japan. In recent years the area around the shrine's precinct has been re-planned, so visitors can buy food and souvenirs. Walking around the main shrine, which is 24m high, may make you forget the time.

This was a perfect restaurant for sightseers. You can enjoy the famous Izumo soba served by a friendly family, together with the other local people.

Climbing this lighthouse was a good experience, and the view from the top was exceptional; you can see the unique natural scenery. If you walk a little further along the coast, you will find Hinomisaki Shrine. The red color of this building, quietly spread out in the midst of nature, contrasts with the surrounding scenery.
[Ichibata Electric Railway]
Izumo Taisha-mae Station→Kawato Station
About 10 minutes
(transfer onto Dentetsu Izumoshi Station Bound at Kawato Station) → Dentetsu Izumoshi Station about 10 minutes
[JR Sanin Main Line Masuda Bound]
Izumo-shi Station→Yunotsu Station
about 1 hour
Fabrice Dubesset

Tomogaura pleasure boat experience allows you to discover the cliffs and caves guided by a local boatman. It seems that the boat proceeds underneath the mountain. You can also enjoy nearby Kotogahama beach, famous for its "singing sand." You really can hear sounds when you walk on the sand. It's an astonishing phenomenon.

Iwami Kagura is a local traditional art form. There are many myths in this area. You can feel its history, traced back to the Japanese myths, through the gorgeous costumes, traditional music, and performance. It's a good experience at the end of a day sightseeing in Shimane Prefecture.

Julien Loock

I joined in a boat trip that allowed me to imagine the transportation of the silver taken from the former mine. I also enjoyed the reflection of the sun on the calm surface of the water.

I was able to greatly enjoy the stage on which the traditional dance was performed. Skilled performers danced in the midst of the wonderful atmosphere, and at the end they allowed people to take a photo with them.
Yunotsu Nogawaya
Fabrice Dubesset

Yunotsu Onsen Nogawaya Ryokan is a traditional Japanese accommodation (ryokan). The service there is wonderful, and you can soak up the extremely unique atmosphere. As in other ryokan, there are traditional Japanese onsen (hot springs) in the hotel. I really enjoyed sleeping on a futon in a traditional Japanese-style room.

Julien Loock

Yunotsu Onsen Nogawaya is a traditional family-run ryokan, and allows you to experience real Japanese living, with tatami mats, futons, onsen (hot springs), and a breakfast of Japanese food. The ryokan was clean, friendly, and comfortable.
Day
3
Yunotsu Nogawaya
[JR Sanin Main Line Yonago Bound]
JR Yunotsu Station→JR Odashi Station
20 minutes
[Iwami Kotsu Bus Omori Line]
Oda-shi Station Bus Stop→Omori-Daikansho-Ato Bus Stop
about 25 minutes
Iwami Ginzan Silver Mine World Heritage Sitemore
At its height, the Iwami Ginzan Silver Mine was Japan's largest silver mine, helping Japan produce about one-third of all the silver in the world. The entire area is now a World Heritage Site.
The Omori district features a number of historical buildings preserved in their original state, including the homes of samurai and merchants, as well as the Kumagai Residence, each from the Edo period. The cafe located in a renovated old house is a popular spot to relax and unwind.
It takes about 40 minutes on foot from Omori townhood to reach Ryugenji Mabu*, the mine shaft where silver was once extracted. Be sure to wear comfortable fitting clothes for the long walk.
Fabrice Dubesset

The remains of Iwami Ginzan was one of the places I liked the most on this trip. This silver mine is registered as a UNESCO World Heritage Site. There are galleries here where you can learn about the history of the mine. One other point of interest was Omori village and its townscape. It felt as though I had traveled backwards in time. I particularly liked the Gohyakurakan, 500 stone statues that I saw around the Buddha at Rakanji Temple. Each statue has its own character and a different expression.

Julien Loock

This was my favorite place on my trip to Shimane. It is located in a valley with magnificent views, and if you try walking there you can discover both culture and nature. I was truly impressed at the skill that had gone into making the 500 statues before my eyes at Rakanji Temple. In Omori village there were old houses, shops, and museums standing in the unusual atmosphere, and the serenity they engendered was almost like a small Kyoto. All the scenery was wonderful.
[Iwami Kotsu Bus Omori/Oe Lines]
Omori-Daikansho-Ato Bus Stop→Oda-shi Station Bus Stop
about 25 minutes
Fabrice Dubesset

Dan-DAN is the best restaurant to taste seafood. You can eat what you wish at its buffet. As you gaze at the scenery of the Sea of Japan, this restaurant offers delights to taste and to see.

Julien Loock

This restaurant has an ideal location, where you can enjoy views of the sea from inside. The staff offered impeccable service in a friendly atmosphere. There was a rich variety of food, with meat and vegetables, and of course, fish.
[JR Rapid Yonago Bound, Limited Express Tottori Bound, etc.]
Oda-shi Station→Matsue Station
Rapid about 1 hour 25 minutes
Limited Express about 55 minutes

30 minutes on foot from Matsue Station, or take Lake Line Bus from Bay 7 at JR Matsue Station, get off at Otemae Bus Stop
Matsue Castlemore
Matsue Castle, built 400 years ago, is one of only five castles in Japan with a castle tower that has been designated a National Treasure. The castle tower offers 360-degree panoramic views of the city of Matsue.
A footpath has been built around the castle, allowing visitors to enjoy seasonal flowers, including azaleas and camellias. Around the time the cherry trees blossom, the Oshiro Matsuri (Castle Festival) is held, attracting crowds of people who come to see the flowers.
The Horikawa Sightseeing Boat that takes people on leisurely cruises around the 3.7km moat surrounding Matsue Castle offers views of the castle tower, as well as a Samurai Residence in the traditional Japanese scape of Shiomi Nawate Street and other charming, historical spots.
Fabrice Dubesset

I was thrilled by Matsue Castle, the tower keep of which is designated a National Treasure. This castle, built in the 17th century, is made of wood, and is extremely well preserved. I could scarcely imagine that a Japanese castle from this time period could be preserved like this. Further, it was built surrounded by a moat, which is rare in Japan. From the top of the fifth floor, there is a 360-degree view over the town.

The moat around Matsue Castle has been preserved so as to be the same as it was when the castle was built. Try boarding the Horikawa Pleasure Boat and seeing the landscapes. If you are lucky, you might be able to see a beautiful sunset behind the castle.

Julien Loock

Matsue Castle is a must-see for visitors to Shimane. The beauty of this building, designated a National Treasure, is impressive. The building has been perfectly preserved, creating the impression that you have been taken into the distant past, and you can get a glimpse of how people lived in the town in the past, and what the castle was like, through the collection inside the castle. From the topmost floor, you can admire the sweeping view of the town.

At Horikawa I took a trip on a boat on the sea to see Matsue Castle and its park. The captain offered various comments about the scenery. I recommend coming here with your family and friends.
[Ichibata Bus]
Kokuho Matsuejo Kencho-mae→Tamatsukuri Onsen
about 40 minutes
Hotel Gyokusen
Fabrice Dubesset

I thoroughly enjoyed the fantastic meal at the restaurant in HOTEL GYOKUSEN, a ryokan. I had my fill of various delicious dishes, which were also visually impressive. There is a footbath a few meters from the hotel.

Julien Loock

The scale of this hotel was huge, and the service was excellent quality. The large rooms were stylish and clean, and I was able to properly relax thanks to the wonderful soundproofing. I enjoyed the elegant atmosphere created by the kimono-clad staff providing service. I enjoyed the various dishes at the buffet-style breakfast.
Day
4
Hotel Gyokusen
Fabrice Dubesset

Gesshoji Temple is a sacred place, a temple where the tombs of the feudal lords of Matsue are historically located. In this uncrowded place, separated from the central area, you can slip back in time to a past age. The tour of the site ended with tea and some delicious local confections.

Julien Loock

This place, hidden amidst nature, is very calm, and the trees foster a silent atmosphere over the graves. It was wonderful walking down the road of mossy stones while enjoying the atmosphere, feeling that I had faced Gesshoji Temple.
[Ichibata Bus]
Tamatsukuri Onsen→Tamatsukuri Onsen-eki Iriguchi
about 10 minutes
[JR Limited Express Tottori Bound, Sanin Main Line Yonago Bound, etc.]
JR Tamatsukuri Onsen Station→JR Yasugi Station
Local about 45 minutes
Limited Express about 25 minutes
[Free Shuttle Bus]
JR Yasugi Station→Adachi Museum of Art
20 minutes
Fabrice Dubesset

Have you ever thought that you'd like to know how to make Japanese sake? Yoshida Shuzo is a family-run brewery that has inherited genuine Japanese tradition. You can learn how Japanese rice wine is made and try the richness of this drink.

Julien Loock

The guided tour here explains all the processes, from the state of the rice to people drinking the sake. Impressive tools and machinery are located in a mix of old and new buildings. You can enjoy the quiet scenery of the courtyard, which gives the feeling of being in the middle of a picture. You can also gain a deeper understanding of the processes, such as the way the rice is polished and its percentage, that create the six types of sake you taste here.
Adachi Museum of Artmore
This 165,000 sq m garden has been selected by The Journal of Japanese Gardening as Japan's best garden 16 years running, and was also awarded a three-star rating by the Michelin Green Guide Japan, a travel guidebook published in France.
The collection of Japanese paintings is popular, with the Yokoyama Taikan collection a true highlight.
Fabrice Dubesset

Adachi Museum of Art is a rare art museum situated in the middle of peaceful nature. The unique feature of this place is that it was built around a sublime Japanese garden. The garden has been chosen as the most beautiful Japanese garden. Looking upon the garden from the large windows creates a fantastical picture. This garden that can be seen in all four seasons is truly living art.

Julien Loock

The garden said to be the best in Japan is open to the public in the Adachi Museum of Art, and it is worth a visit for Japan-lovers. Walking around and seeing the scenery through the windows, I got the sense that I was actually living there; it was an indescribable feeling. The stones, moss and trees raise each other up, and you can sense the beauty and subtlety of their presence together. Seeing is believing; you really should visit here.
[Free shuttle bus]
Adachi Museum of Art→JR Yasugi Station
20 minutes
Fabrice Dubesset

The Koyokan is famous for its shojin ryori (refined vegetarian Buddhist cuisine), with beautifully arranged fine food, all of which pleases both the eyes and the tongue. The arrangement of the food is a work of art. The chef created the food in imitation of a fish for the pleasure of those eating it.

Julien Loock

If you walk for a little while in the forest, you will arrive near the temple and its pagoda. I ate shojin ryori (refined vegetarian Buddhist cuisine) while enjoying the wonderful views of the five-story pagoda from a private room at the restaurant.
[JR Limited Express Izumo Bound,
Sanin Main Line Nishi-izumo Bound]
JR Yasugi Station→JR Matsue Station
Local about 20 minutes
Limited Express about 15 minutes
Julien Loock

Miho Shrine stands surrounded by the natural world created by the sea and mountains at this small, charming port. The walks around the port are lovely, and I strongly wished to stay a night here.
[Airport Bus]
JR Matsue Station→Izumo Airport
30 minutes
Izumo Airport (or Yonago Airport)
JAL (JAL Japan Explorer Pass) Show details
Haneda Airport
Fabrice Dubesset

My trip this time has taught me that Japan really is a destination full of surprises. There are many rich locations in Japan. If you are planning a trip to Japan, I definitely recommend that you add Shimane to your destinations. It will surely be a very interesting leg of your trip, allowing you to experience a new side of Japan.

Julien Loock

The service I was given on my travels was wonderful at each part of the trip. The punctuality, organization, reservations – it was all excellent, and there was not a single issue. The interaction with people at our destinations was indispensable to my enjoyment of the trip, and I was very satisfied with the transport (airplane, bus), accommodation (ryokan, hotels), and other facilities.
RECOMMENDATIONS FROM TRAVELERS
The first day in Tokyo, I got a sense of the atmospheres of two symmetrical areas: Shibuya, overflowing with crowds, and the calm neighboring Daikanyama. Then, Shimane Prefecture allowed me to discover a completely different Japan to the Japan of the big cities I had imagined. The numerous shrines and historic sites I found in Shimane exceeded my expectations, and surprised me. One of the high points was the ryokan and the rich variety of local dishes. This was an inspiring first trip to Japan.
Fabrice Dubesset

Blogger
Reside in France

Hobby

Culture, nature, driving, travel

Number of visits to Japan

First time
RECOMMENDATIONS FROM TRAVELERS
This was one of the most well planned trips of my experience. Thanks to the local people we met at our destinations it was a wonderful trip.
Julien Loock

Journalist, graphic designer
Reside in Tokyo
Home country: France

Hobby

Japan, music, cinema, culture

Length of stay in Tokyo

1year
Other recommended route in same area