PANORAMIC VIEW
After exploring around Tokyo with open top double decker vehicles and it makes you feel like fly in the air, take a trip to the Tsunoshima island in Shimonoseki City, Yamaguchi prefecture. The scenery from the Tsunoshima Bridge, connected between with Tsunoshima island and main island is a MUST see! Great tirp to feel at one with sky and ocean.

Official Tokyo Travel Guide
https://www.gotokyo.org/en/

Local government official website
http://www.visit-jy.com/en/


COMING SOON!
Two people are traveling this route right now!
Their travel reports will be posted soon.
Sydney Airport
ANA880 Examine the directions from your country
Haneda Airportmore
The airport serves as an air gateway for Tokyo. The passenger terminal is filled with various commercial facilities, and visitors can command a panoramic view of Tokyo Bay from the rooftop observation deck, so that every one, even those who are not flying, can enjoy the terminal.
Tokyo Metropolitan Area
Day
1
TOKYO
Tokyo Panorama Drivemore
RECOMMENDED DESTINATIONS
Take a ride on the double decker open-air bus called 'O Sola mio.
Tour the many sights and sounds of Tokyo, including Tokyo Tower, Ginza, and Toranomon Hills, among others.
Don't miss the stunning views of the harbor as you cross the Rainbow Bridge.
Enjoy a feeling almost like flying through the air.
Tokyo Metro Marunouchi Line
Tokyo → Kasumigaseki
Tokyo Metro Hibiya Line
Kasumigaseki → Roppongi
About 12 minutes / 170 yen
Tokyo City Viewmore
Tokyo City View, situated in the heart of Tokyo, features an indoor observation gallery 250 meters above sea level and an outdoor Sky Deck 270 meters above sea level. It commands a view of landmarks such as Tokyo Tower and TOKYO SKYTREE, and on a clear day even Mt. Fuji. The Sky Deck is a special space open to the sky and breeze.
Toei Subway Oedo Line
Roppongi → Shinjuku
About 9 minutes / 220 yen
About 5 minutes on foot from the East Exit of JR Shinjuku Station
Shinjukumore
Shinjuku is the center of Tokyo culture, and it is continuously developing. One of the district's landmarks is the Tokyo Metropolitan Government Building, the center of Tokyo's administration. With plenty of spots to see, the area is centered around JR Shinjuku Station, which serves 3.5 million passengers a day, the largest in Japan. The vicinity of the station's East Exit is full of bustling streets such as Kabuki-cho and Golden-gai, and shopping areas such as department stores and large-scale stores. On the other hand, the business area of the West Exit is where the Tokyo Metropolitan Government Building stands, along with an array of high-rise office buildings, hotels and public art installations. For those who are looking for a pleasant place to walk, the terraces among the buildings of the South Exit are perfect. Visitors can also come across more attractions around town including Shinjuku Gyoen National Garden, an oasis in the city.
Tokyo Metropolitan Area
Day
2
CHUGOKU(YAMAGUCHI)
Haneda Airport
ANA (ANA Expericence JAPAN Fare) Show details
Iwakuni Kintaikyo Airportmore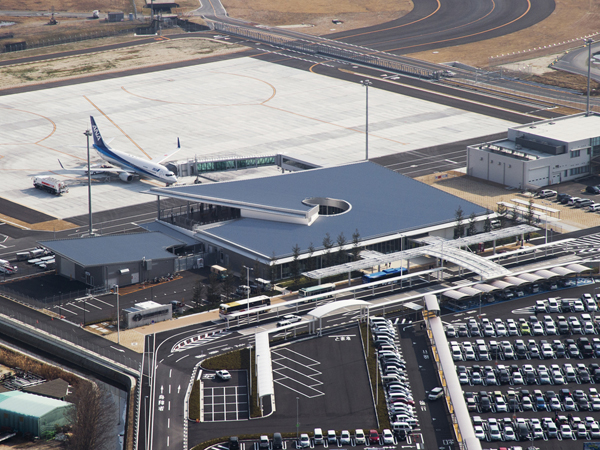 This clean, new airport was opened in December 2012.
Upon entering the terminal building, travelers have a view of the entire building and can see the compact structure is easy to understand and use.
In the building's center, a "light garden" atrium is bathed in natural light pouring in from outside. In addition, the front wall of the passenger waiting room is made completely of glass, letting people see the passenger jets waiting on the tarmac and immersing them more into air travel.
Passenger jets can be observed up close even on the observation deck! Why not take a commemorative photo with planes in the background?
The terminal building has a universal design that is accessible to all travelers.
[By Iwakuni bus]
Iwakuni Kintaikyo Airport bus stop-->Iwakuni Station bus stop (around 10 minutes)

Iwakuni Station bus stop--> Kintaikyo Bridge bus stop (around 20 minutes)
Kintaikyo Bridgemore
Kintaikyo was built in 1673 and is a wooden bridge symbolic of Japan. The bridge is a series of five wooden arches, a rare sight even outside Japan. It is the culmination of masterful techniques and this tradition lives on through the replacement of the bridge rafters.
There are many tourist attractions nearby, including historical buildings such as Iwakuni Castle, the Old Mekata Family's House, and the Nagayamon Gate of the Kagawa Family, as well as art and history museums like the Iwakuni Choko-kan Museum, the Iwakuni Art Museum, and the Iwakuni Shirohebi (white snake) Museum.
The Iwakuni Shirohebi Museum, in particular, is a National Natural Monument and the only place in the world that the "Iwakuni white snake" inhabits. Visitors can learn about the life and history of white snakes through games and scale models.
[By Iwakuni bus]
 Kintaikyo--> JR Iwakuni Station
(around 15 minutes)
[By JR Sanyo Shinkansen]
Shin-Iwakuni Station-->Shin-Yamaguchi Station (around 30 minutes)
  ↓
[By Super Hagi-go bus]
Shin-Yamaguchi Station→Higashi-Hagi Station bus stop
(around 70 minutes)
Hagi Hot Spring Village
Day
3
Hagi Hot Spring Village
[By Hagi Junkan Maaru Bus]
Ganjima Shirosakana-dori-->Hagi Shiyakusho
(around 30 minutes)
Hagi Castle Town and Hagi Meiringakushamore
The city of Hagi flourished as a castle town after Mori Terumoto built Hagi Castle in 1604, and is one of the most historic cities in Japan. The impressive samurai residences, the summer oranges peeking out of earthen walls, and the namako patterned walls, harken back to the characteristic streets of the Edo period.
Meiringakusha was built on the ruins of Meirinkan domain school, the center of education and training in the Hagi Domain, and the former Meirin Elementary School, including the main building which is registered as a tangible cultural property, is the largest wooden school building in Japan, which has been renovated to be a tourist facility.
[By JR Sanin Main Line]
Tamae Station-->Kottoi Station
(around 70 minutes)
[By Tsunoshima route bus]
JR Kottoi Station-->Hotel Nishinagato Resort Iriguchi
(around 15 minutes)
Tsunoshima Ohashimore
RECOMMENDED DESTINATIONS
The marvelous prospect of the Tsunoshima Ohashi Bridge over the "Amagase" cobalt blue sea has enchanted a lot of tourists. Since its inauguration in 2000, the bridge also served as the shooting place for numerous movies, commercial messages and television programs. As a toll-free bridge connecting remote islands, it is one of the longest in Japan, extending over a length of 1,780 meters.
[By Tsunoshima route bus]
Hotel Nishinagato Resort Iriguchi-->JR Kottoi Station
(around 15 minutes)
[By JR Sanin Main Line]
Kottoi Station-->Nagatoshi Station (change for the JR Mine Line)
[By JR Mine Line]
Nagatoshi Station-->Nagato-Yumoto Station
(around 60 minutes)
Nagato Yumoto Hot Spring
Day
4
Nagato Yumoto Hot Spring
[By JR Mine Line]
Nagato-Yumoto Station-->Asa Station (change for the Sanyo Main Line)
[By JR Sanyo Main Line]
Asa Station--> Shimonoseki Station
(around 100 yen)
[By route bus]
Shimonoseki Station-->Karato bus
(around 6 minutes)
Karato Fish Marketmore
The Karato Fish Market serves as the kitchen of citizens where the general public can purchase all sorts of fresh fish and seafood. On Friday, Saturday and Sunday every week and on national holidays, the first floor of the market turns into the big open-air seafood stall "Iki-iki Bakangai." There, crowds of visitors from all over Japan and other countries enjoy fresh hand-rolled sushi, "fuku jiru" blowfish soup and "fuku sashi" blowfish sashimi in a festive mood.


[By highway bus]
Karato bus stop-->Yamaguchi Ube Airport
(around 80 minutes)
Yamaguchi Ube Airportmore
Yamaguchi Ube Airport is a coastal airport with a high service rate adjacent to the city. It is blessed with a lush green natural environment and the calm climate of the Seto Inland Sea.
The airport is conscientious of its surrounding environment and has a "Fureai Park" that gives people tranquility and warmth.About 900 roses (140 varieties) are planted on the airport grounds.
The domestic 2F departure lobby has shops selling a lineup of diverse souvenirs representative of Yamaguchi Prefecture, such as sweets, kamaboko fish paste, puffer fish, and locally-brewed sake.
The menus of restaurants on the 2nd floor are associated with roses, so why not enjoy a relaxing time in the 2F lobby after taking a stroll through the garden?
ANA (ANA Expericence JAPAN Fare) Show details
Haneda Airport
Other recommended route in same area