ISLANDS & SKYSCRAPERS
After being wowed by the 360-degree panoramic view from Roppongi, the center of Tokyo, take a trip to Dogo Onsen, the oldest hot spring resort of Japan, and stroll arround the area.
The atmosphere created will take you back to the good old days of Japan and refresh your mind and body through old Japanese traditions that are still alive today. Along the way, you'll cross the gentle Seto Inland Sea by bicycle. This journey of modern sights and the natural beauty of an island archipelago will pull at your heartstrings.

Official Tokyo Travel Guide
https://www.gotokyo.org/en/

Local government official website
https://www.visitehimejapan.com/en


TRAVELER
Traveled : November 2018

Samantha Firth

Travel blogger
Reside in Australia

Traveled : November 2018

Jessica Korteman

Travel blogger
Reside in Tokyo
Home country: Australia
Sydney Airport
JAL772 Examine the directions from your country
Samantha Firth

I was pleasantly surprised by the service on the JAL flight from Sydney to Tokyo. The flight attendants were very friendly and kind. I was also surprised by how large the economy seats were, they were very comfortable and provided a USB charger port which was great for me to charge my phone. The taste and volume of the food was excellent, as well as the dessert, and the small meal before landing was also delicious. I was really happy to be able to access wifi on my flight for a small cost.
Narita International Airport
Narita Express
Tokyo Metropolitan Area
Day
1
TOKYO
Tokyo City Viewmore
RECOMMENDED DESTINATIONS
Tokyo City View, situated in the heart of Tokyo, features an indoor observation gallery 250 meters above sea level and an outdoor Sky Deck 270 meters above sea level. It commands a view of landmarks such as Tokyo Tower and TOKYO SKYTREE, and on a clear day even Mt. Fuji. The Sky Deck is a special space open to the sky and breeze.
Samantha Firth

I thought it was great that we were able to go to the Sky deck (the roof of the tower) as this provided much better pictures than through a glass window. Our guide explained where different attractions were throughout Tokyo city and explained that this tower view point much the same as Tokyo Tower and Sky Tree.

As it was my first taste of authentic Japanese food, we enjoyed a fairly large bento box. The restaurant "Hyoki Kasuitei" was set up very nicely and the service was excellent, it was nice to see the staff dresses in Japanese Kimonos.

Jessica Korteman

We enjoyed incredible 360-degree views and photo-taking opportunities over the city. I definitely think this is one of the best places to photograph Tokyo Tower around – we were so close!
Most observatories are behind glass, and sometimes that can be difficult for photography, but I was pleased that in addition to an indoor observatory on the 52nd floor, Tokyo City View also has a Sky Deck on the rooftop, giving us a completely unobscured bird's eye view of the city!
It's the kind of place that you could easily return to at different times of day to witness a completely different scene.


We ate an impeccably presented bento that came in a two-tiered wooden box with a combination of fish, tofu and vegetables, along with rice and miso soup. The bento was delicious and ended with Japanese sweets. Now we were fuelled and ready for our next stop!

Tokyo Metro Hibiya Line
Roppongi Station → Ginza Station
About 10 minutes
The Kimono Gallerymore
Tokyo is the center of Japan and Ginza is the center of Tokyo. Because Ginza beautifully fuses Japanese traditional clothing culture with modern shopping districts, one can dress themselves in elegant finery freely and set foot in Ginza, the Imperial Palace, Tokyo Station, Tsukiji, and the Kabuki-za. We will assist you in making a memory of a beautiful and fun day out.

You don't need to bring anything to enjoy the Kimono Experience, our rentals include everything from free fitting to simple hair arrangements and hair ornaments.

Men and women can both participate and single travelers are also welcome.

Our staff speak English and Chinese. Foreign guests are very welcome.
Samantha Firth

I was really excited to try on a traditional Kimono while in Tokyo. We were asked to choose the style of kimono we wanted, and once we had selected our pattern, the staff got to work dressing us. I was really surprised as to how many layers you had to wear as well as a towel being added to padding. I loved how secure the kimono felt, it was such a snug fit. The whole experience included the kimono, hair made up to suit your kimono and then 2-4 hours of hire time to walk around Ginza and get some great photos.

We enjoyed a walk through the Tokyo Station on our way to the Sky Bus and after the Sky bus experience we walked along the outside on the station. Our guide explained to us the history of the Tokyo station and showed us the Emperors entry.

Jessica Korteman

Renting a kimono and walking around the streets of Ginza was one of my favourite experiences in Tokyo. Not only was it fun to see the final result, but getting ready was a big part of the experience, too.
Ginza is an extremely fashionable part of town and I don't think I've ever felt so aptly dressed! We were able to take lots of great photos on the streets, at the Kabuki theatre and at cafes.

Tokyo station is truly a one-stop-shop, where a variety of things and people come together. Not only is it one of the main transport hubs in the city, there are also extensive shopping and dining options. There's even an entire area dedicated to ramen shops!

Walk
20 minutes
SKY BUS TOKYO(Odaiba Night Course)more
On the Odaiba Night Course, the two-story open-deck SKYBUS TOKYO takes passengers to see the Tokyo Tower lit up against the night sky and also goes directly beneath the Rainbow Bridge. Since the SKYBUS TOKYO also takes highways along the way, passengers can feel like they are on a theme park attraction.

The SKYBUS TOKYO stops at Aqua City in Odaiba and allows passengers one hour of free time to get something to eat or take a commemorative photo with the Statue of Liberty and Rainbow Bridge in the background.

This two-hour tour is the perfect way to enjoy many of Tokyo's night spots in a short amount of time.
Samantha Firth

The Sky Bus was a super relaxed way to see Tokyo city. And since it was night, seeing Tokyo sights such as the Tokyo Tower light up was amazing! We were lucky enough to get a seat up the front of the bus which provided with unobstructed views. And the dinner at "Aqua City" was also delicious.

I was really excited to experience proper Japanese Sushi. I ordered 10 pieces of Sushi of Tuna, Salmon and Prawn, they went down so well! When we arrived to Tsukiji Sushiko, all the staff said hello and welcomed us and as we left, everyone said goodbye and thanked us for our patronage.

Jessica Korteman

The Sky Bus is an open-air double-decker sightseeing bus that can take you on various sightseeing routes through the city.
We took the course through Ginza, Roppongi and over the Rainbow Bridge to Odaiba at night. My favourite part was driving right under the base of Tokyo Tower. Being in the middle of the street and on the upper deck of the bus give us a unique perspective for photos.

You can see the chefs making the orders at the counter. I chose one of the sets to try a selection of a number of items and everything was fresh, delicious and satisfying – I loved every bite.

The Hotel Ryumeikan Tokyo
Samantha Firth

The Hotel Ryumeikan Tokyo hotel was located just across the road from Tokyo Station. The room was spacious and had a fairly large bathroom. The service was excellent and the staff spoke and understood English. There was a large selection of breakfast options, mostly Japanese foods and also had a western option. The view from the restaurant was beautiful, and watching cars and people going past were very relaxing.

Jessica Korteman

We stayed at Hotel Ryumeikan Tokyo, which was very conveniently located within about a 5-minute walk from Tokyo Station's Central Yaesu Exit. The room was clean and comfortable, with all the usual amenities of a Western-style hotel.
Breakfast is served on the 15th floor and I really enjoyed eating mine at the counter with a view down onto the Tokyo streets below.

Day
2
SHIKOKU(EHIME)
Haneda Airport
JAL (JAL Japan Explorer Pass) Show details
Samantha Firth

Check in for our flight to Matsuyama was quick and easy, and the plane was almost on time. As well as the international flight, I was happy to be flying with JAL as their economy section was very comfortable. We received a beverage even though our flight was just over 1 hour long.

Jessica Korteman

It was really easy to get from Tokyo to Ehime on JAL, with its comfortable flight and punctual service.
The seats were very comfortable and despite being an extremely short flight (only 1 hour and 10 minutes), we were still served a complimentary drink on board. It was lovely to enjoy a hot coffee while perusing the in-flight magazine.
Matsuyama Airportmore
Matsuyama Airport is the port of entry for air travelers to Ehime Prefecture and is Shikoku's largest airport, bustling with activity everyday.

Along with food and drink shops, there is a shopping zone selling various souvenirs such as Matsuyama Airport limited goods, as well as a lounge where visitors can enjoy locally-brewed Ehime sake at a reasonable price.

In addition, there is an interpreter service that provides instant service via tablet devices, a multi-lingual information board, and even a free Wi-Fi spot, to help foreign visitors travel with peace of mind.

Furthermore, on the 3rd Sunday of every month, an event is held where Ehime Prefecture's symbolic product, mikan juice, pours out from a faucet, with free samples given out. The sight of mikan juice pouring out from a faucet can only be seen in Ehime, so be sure to stop by when this event is held.
Samantha Firth

The Kadoya restaurant was really beautifully set up and we enjoyed lunch in a private room. Our group tried the "Uwajima sea bream and rice", which is a dish of sea bream served in raw egg and soy sauce over rice. Our guides explained that you mix the egg in with the sauce. I was really surprised at how tasty it was. It's definitely a dish I would highly recommend everyone in Australia to try at least once. The sea bream was one of the best fish I have tasted!

Jessica Korteman

The regional specialty of Kadoya was Uwajima taimeshi, in which sea bream is served raw and is eaten with a mixture of raw egg and a soy sauce based broth over rice. It might sound very different to what you are used to eating back home, but let me assure you, it's both completely safe and delicious!

Iyotetsu limousine bus
Matsuyama Airport→Okaido
30 minutes
Matsuyama Castlemore
Located in central Matsuyama City, Matsuyama Castle stands atop Katsuyama Hill. It had superb defensive capabilities as a flatland-mountain castle with a "coalition grouping style" layout.

Matsuyama Castle has one of only 12 surviving castle donjons built before the Edo period. It was chosen as one of Japan's Top 100 Castles in 2006 and as one of the Top 100 Historical Sites of Beautiful Japan in 2007.

In addition, the Nohara Turret is Japan's sole surviving watchtower-style two-layer turret, and the "climbing stone wall" running from the Honmaru to the Ninomaru is a defensive method from Japanese castles built in Korea and only exists in Japan at Matsuyama Castle and Hikone Castle. Including the moated section, the entirety of Shiroyama Park is a National Historic Site and has also been designated as one of Japan's Top 100 Cherry Blossom Viewing Spots (1990) and one of Japan's Top 100 Historical Parks (2006).
Samantha Firth

Matsuyama Castle was one of my favourite places to visit on this trip. Our guide showed us around the castle and explained the history along the way. Along with the beautiful castle itself, the views of the city below are incredible. Matsuyama castle is one of 12 castles remaining from the Edo period and has been extremely well preserved.

We walked along the Ropeway shopping district on our way to Matsuyama Castle and stopped in to visit the Imabari Towel shop. Here we found a whole store dedicated to towels and making anything and everything from towels, such as dresses, scarves and baby clothes. We also stopped into a local souvenir store and tried some Mikan juice (similar to orange juice).

I loved taking the tram around Matsuyama, some of the trams we rode on were new but my favourite ones were the older trams, they had a bit more character.

Jessica Korteman

Matsuyama Castle is one of the 12 original castles of Japan and is an absolute must-see on any Matsuyama itinerary. The Castle is actually perched on a hill so it's quite the impressive sight from below as well as looking out over the town from up top.
Because it is on a hill, there are three ways to get up there – you can either walk, take the ropeway or the chairlift. We took the chairlift, which ended up being a highlight of our visit in and of itself. It's a single seat and is quite the thrilling ride!

Mikan (mandarins) are a specialty of Ehime, and at the "Ehime Tourism Center" in the Ropeway Shopping District, you can get mandarin juice on tap for just 100 yen a cup. If you're looking for a high-quality and practical souvenir, then be sure to check out the locally manufactured Imabari and other towel products.
*Prices are for travelers at the time of use.

Matsuyama's tram network is extremely convenient and cheap. Each ride is just 160 yen no matter how far you travel, and you can just pay when you get off. If you don't have the correct change, you can simply use the change machine.
*Prices are for travelers at the time of use.
Iyotetsu tram
Okaido→Dogo Onsen Station
Around 15 minutes
Dogo Hot Springmore
Dogo Onsen is Japan's oldest hot spring with a history of approximately 3,000 years. In the Dogo Onsen area centering on Dogo Onsen Honkan, the main building, which obtained three stars in the Michelin Green Guide Japan, there is a commercial arcade lined with a wide variety of shops and free footbaths, providing entertainment for tourists. The Dogo Onsen Annex Asuka-no-Yu opened in December 2017 and combines the traditional craft of Ehime Prefecture with cutting-edge art, making it a unique spa facility for travelers in Japan and from abroad.
Samantha Firth

At the main building of the Dogo Onsen, we were guided to the rest area that people use before and after taking a bath. We were also allowed to see the private bathroom of the Japanese Imperial family.

The Dogo Onsen Annex Asuka-no-Yusen bathhouse is located just down the road from the Dogo Osen (main building) and is a modern facility, only built and opened in December 2017. This bathhouse is surrounded by different kinds of Japanese art through the building. We were shown to a special bathroom, which is a replica of the emperor's room in the main building of the Dogo Onsen, and were able to get a taste of royalty for a little while.

We had dinner at the Sushimaru Honten, a local seafood restaurant, where we enjoyed a private room to eat our meal. Our meal was different from the one we had at lunch however this time there was no raw egg and the sea bream (fish) was cooked with the rice.

Jessica Korteman

Dogo Onsen is one of my dream onsen, so I was delighted to finally be able to visit. Japan has a lot of hot springs, but this one is the oldest with more than 3,000 years of history!
Anime fans will also love that it was the inspiration for Studio Ghibli's "Spirited Away."

Compared to the Main Building, the Annex has a rather modern interior with a large, open first floor, giving you a completely different feeling that is interesting to compare and enjoy. It was described to us as a "museum plus onsen" and is filled with artistic details designed to be both functionally and aesthetically-pleasing.

For dinner, we headed back to Matsuyama for another regional specialty at Sushimaru Honten. The sea bream was cooked this time and served over rice. I hadn't had taimeshi before coming to Ehime and already in one day it had become one of my favourite Japanese dishes!
Daiwa Roynet Hotel Matsuyama
Samantha Firth

My room at the Daiwa Roynet Hotel Matsuyama was fairly spacious, goregous views over the city, a delightful rainfall shower and it even had a massage chair to enjoy after a long day of walking around, taking in the sights. The breakfast in the morning had a great selection of western and Japanese foods, so we were satisfied.

Jessica Korteman

The staff were friendly, the room was comfortable and the bathroom was very large with a bathtub and rain shower. My favourite part about the room was the massage chair!
Day
3
Daiwa Roynet Hotel Matsuyama
Iyotetsu Dogo Onsen Station→JR Matsuyama Station
Around 30 minutes
JR Matsuyama Station→JR Imabari Station
Around 36 minutes
Samantha Firth

The JR Trains ran very effiectively and were rarely late. We received assigned seating which was great and the seats themselves were very comfortable and could recline back for a quick cat nap!

Jessica Korteman

JR trains are a convenient way to take day trips to nearby areas likes Ozu and Imabari. On the express trains, the longest we ever had to travel was 40 minutes. The seats were spacious and comfortable and there was plenty of luggage space. Overall, they were a fast and cost-effective way to get around.
Shimanami Kaidomore
RECOMMENDED DESTINATIONS
As evident from the name (depending on kanji used, "kaido" can mean both "road" and "sea road"), the Shimanami Kaido is a road that runs above the sea from Onomichi City, Hiroshima Prefecture to Imabari City, Ehime Prefecture. It consists of nine separate bridges and hops over six islands.

The Shimanami Kaido has Japan's only bridge-top bicycle road for cycling. This cycling route lets riders experience the refreshing sensation of riding almost as if suspended above the sea, while gazing down on the beautiful sea and islands below that have been nicknamed the "Aegean Sea of Asia". This route has been highly evaluated by cyclists from in and outside of Japan, and the American television network, CNN, has chosen it as one of the world's most incredible bike routes.

In order to let people experience cycling on this 70-km long sea road, there are bicycle rental shops all along it. Bicycle rental terminals in each area letting riders turn in their bicycles freely. In addition, some hotels and ryokans in Imabari City also allow bicycle turn-ins.
Samantha Firth

The Shimanami Kaido is a 60km long "sea" road that runs between Japan's Hiroshima and Ehime prefectures and today we are setting out to ride 15km round trip to grab lunch at Yoshiumi Iki-iki-kan. We hired a bike from the Sunrise Itoyama, bright and early and set off for our first 7km leg. It was hard at times to keep my eyes off the scenery around us. There were a few ups and downs (hill wise) on our ride which made it all the more fun. It's definitely not an experience I'm likely to forget anytime soon!

We stopped off at a roadside station to have some lunch after our 7 km long ride. The food was delicious and the staff were super friendly. They kept coming over to talk to us and tell us stories about the local area. After lunch, we stopped by an ingredient market for seafood BBQ, where you can select your own ingredients and cook it outside on your own little BBQ at your table. Our group was introduced to the owner of the market, and he showed us around and even let us try a fresh tiger prawn!

I was pleasantly surprised at our interesting the Towel museum was. It showed different types of towels made and sold, different products such as clothing or teddy bears made out of towels and we even got to have a tour through a "factory" type section of the museum which showed you exactly how a towel was made.

After getting back from our big bike riding and towel tour day, our guide took us to his favourite local restaurant where we tried out another local dish of cooked sea bream, soba type noodles and a soup. We also enjoyed a type of sweetbread with bits of Mikan (similar to orange) in it and we also enjoyed some tempura.

Jessica Korteman

The Shimanami Kaido connects Ehime with Hiroshima via a series of bridges across six different islands in the Seto Inland Sea, and it's believed to be the only sea crossing in the world with a bicycle path.
We cycled 15km of it, from Imabari to Oshima and back, and the views were absolutely phenomenal. We had the best weather for it and the sea was the most gorgeous shade of blue. There's really nothing like breathing in the fresh, salty sea air and feeling the wind in your hair.

At the Oshima rest area, you can get typical Japanese lunch sets at the restaurant, or choose your own seafood and BBQ it yourself by the water. The restaurant had a very relaxed seaside feeling.

At the Towel Museum Ichihiro, you can learn all about how this specialty product of the region is made and view special exhibitions featuring works of art that are either made entirely or partially of towels!

We dined at a restaurant called Goshiki (literally, five colours).
The set menu included inarizushi (made from fried tofu stuffed with vinegared rice). Only these ones had small chopped mikan inside, giving it a fruity regional twist.
JR Imabari Station→JR Matsuyama Station
Around 36 minutes
Iyotetsu JR Matsuyama Station→Dogo Onsen Station
Around 30 minutes
Dogo Hot Spring
Day
4
Dogo Hot Spring
Iyotetsu Dogo Onsen Station→JR Matsuyama Station
Around 30 minutes
Iyonada Monogatarimore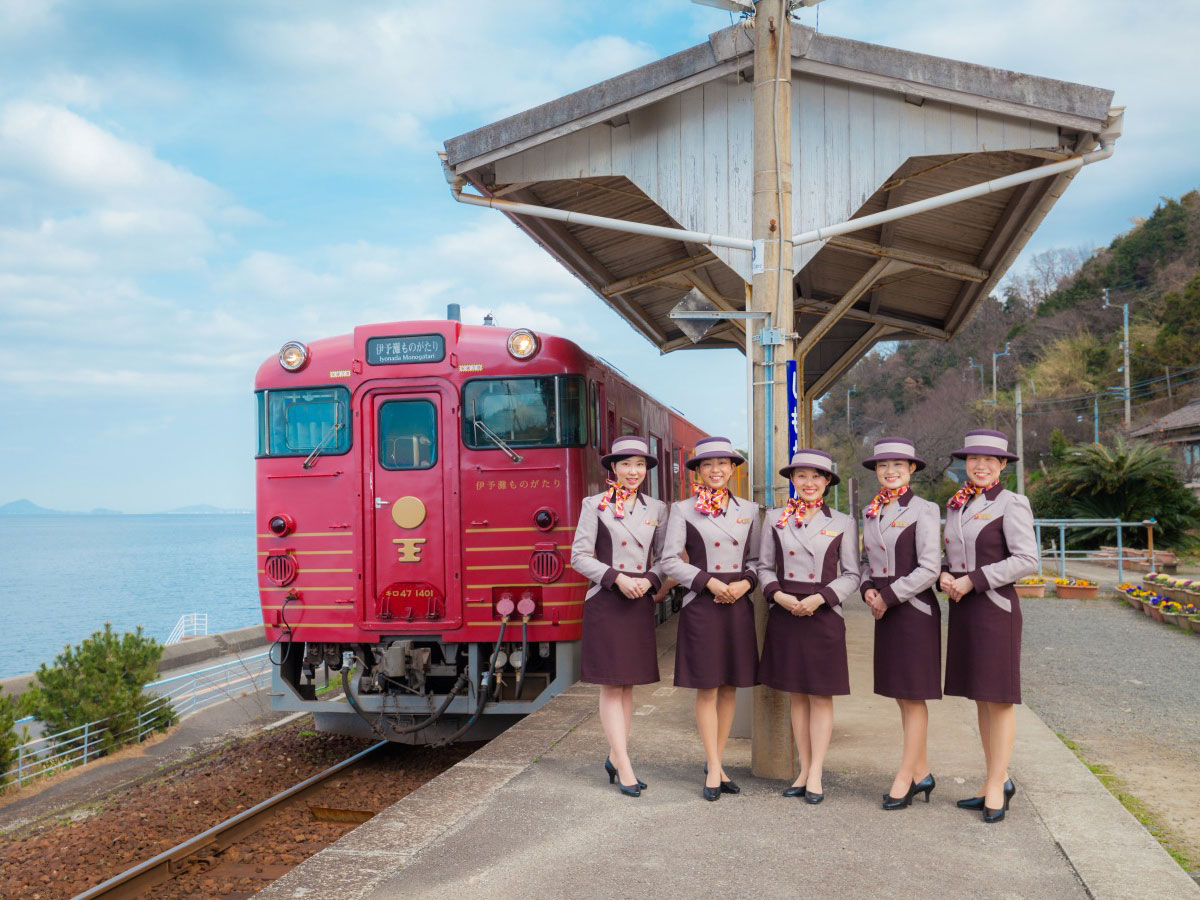 Iyonada Monogatari is a sightseeing train that makes two round trips a day between Matsuyama and Iyo-Ozu/Yawatahama. Sitting on roomy seats in the train with the "retro-modern" interior creating a tranquil atmosphere, passengers can enjoy attractive scenery from the train window during all four seasons, as well as meals rich with fresh local ingredients.
The train is relatively new, as the first departure was in July 2014, and renovated in 2017. In its short history, the Iyonada Monogatari has already achieved important milestones, like being selected as the "Number 1 Recommended Sightseeing Train" by the Japanese famous newspaper.
The hospitality of exclusive attendants and the genuine welcome from people along the line warm the hearts of passengers.
Samantha Firth

We embarked on the luxury Iyonada Monogatari sightseeing train, first thing in the morning. The trip took 2 hours from Matsuyama to Yawatahama. You can take in the view of the gorgeous coast of Shikoku as well as friendly locals who come out to wave to the train and their riders. We were very lucky to be a part of a celebration of 90,000 passengers and received a few goodies to take home to remember our trip, including a memorial badge. Our breakfast was delicious and made better by the amazing views we enjoyed.

My favourite sight in Ozu City was the Garyu Villa and garden complex, located by the river east. It was built with nature and its surroundings in mind. It was built during the Meiji Era (1868–1912) by Torajiro Kouchi. It's not just a traditional Japanese home but a word of art. Torajiro Kouchi wanted to incorporate art and nature together into a beautiful home.

After a morning of sightseeing we headed to Aburaya restuarent for lunch, we ate in a private of our own room which was fairly large even for just 4 people. We enjoyed a dish of pork, chestnuts and rice, a popular signature dish from the area.

We were lucky to be able to visit the Uchikoza theatre while they had a performance on, which was very captivating, it was so fun to see many people getting involved and clapping along. If there are no performances, you will be able to go under the stage to see some of the mechanics that were once used. Wandering through the streets of Uchiko felt as though we had stepped back in time.

The Kamihagatei wax museum encompasss the wax museum, as well as the Kamihaga residence, we took a short tour tround the buildings and we were told how this Uchiko was built on wax production, which was later mover to another city. Here you can see the trees that produce the berries and the machines that were used to extract the wax, it was a very interesting process.

Jessica Korteman

The weekend sightseeing and dining service allowed us to travel from Matsuyama to Iyo-Ozu over a leisurely two hours, while enjoying breakfast and the picturesque coastline.
About halfway through the journey, we could get off for around 10 minutes at Shimonada Station. It's one of the closest train stations to the sea in the country, making for some wonderful photos with the train stopped at the platform and the sea in the immediate background.

The Garyu Mountain Villa is a bright and airy thatched-roof building with a famous Japanese garden. Until the end of the Shogunate era, this was a place of leisure for feudal lords, but it was rebuilt as a villa for a merchant during the Meji era, and the current mountain villa has stood for more than a hundred years. While the complex is beautiful all year round, it was lovely to see it in autumn with the fall foliage.

The first thing I noticed when we walked in the Aburaya was the large wooden table in the centre of the room and the natural light streaming through the windows. It gave the whole place a very light and airy feel.

The historic town of Uchiko has a number of impressive buildings, making it perfect for a walking tour. Uchiko-za Theatre is one of the stand-out stops that shouldn't be missed. It's one of the few theatres that still exist in Japan today.



Uchiko ended up with so many impressive buildings and family homes thanks to fortunes made in the production of vegetable wax. Therefore, in order to really understand Uchiko, you need to understand its most prized product.
Iyotetsu limousine bus
JR Matsuyama Station→Matsuyama Airport
20 minutes
Matsuyama Airport
JAL (JAL Japan Explorer Pass) Show details
Haneda Airport
Samantha Firth

I was amazed and stunned by all the things I got to do during our trip to Tokyo and Ehime, I feel so blessed to be given an opportunity to visit a still not well-known area (Ehime) of Japan and will forever have fond memories of all the experiences, the things I saw, and of course all of the amazing food I got to try! I loved experiencing the different cultures of the two prefectures and learning more about their kind-hearted people and Japan.

Jessica Korteman

This tour gave us the opportunity to experience the contrasting delights of both city and regional Japan. With all the wonderful things we experienced in Ehime, it highlighted the importance of looking beyond Tokyo to get to know the gems that lie outside Japan's most well known cities.
Ehime really has so much to offer and with Matsuyama City accessible from Tokyo's Haneda Airport in just over an hour, there's no reason not to get out there and experience all of these exciting places for yourself!

RECOMMENDATIONS FROM TRAVELERS
I was able to enjoy new sights of Toyko that I haven't seen before. And, Ehime is only an hour plane ride from Tokyo but it feels like a world away. I can't wait to go back again!
Samantha Firth

Travel blogger
Reside in Australia

Hobby

Travel, Eat, Work out

Number of visits to Japan

first time
RECOMMENDATIONS FROM TRAVELERS
This tour was great because it allowed us to see two completely different sides of Japan – the bustling city and the more laidback nature of a rural area. I didn't know much about Ehime before the trip, so I was happy to learn about some of the things to do in and around Matsuyama, and was pleasantly surprised about just how easy it is to get there!

Jessica Korteman

Travel blogger
Reside in Tokyo
Home country: Australia

Hobby

Travel

Length of stay in Tokyo

Based in Tokyo for the past nine years
Other recommended route in same area