ISLANDS & SKYSCRAPERS
After being wowed by the 360-degree panoramic view from Roppongi, the center of Tokyo, take a trip to Dogo Onsen, the oldest hot spring resort of Japan, and stroll arround the area.
The atmosphere created will take you back to the good old days of Japan and refresh your mind and body through old Japanese traditions that are still alive today. Along the way, you'll cross the gentle Seto Inland Sea by bicycle. This journey of modern sights and the natural beauty of an island archipelago will pull at your heartstrings.

Official Tokyo Travel Guide
https://www.gotokyo.org/en/

Local government official website
https://www.visitehimejapan.com/en


COMING SOON!
Two people are traveling this route right now!
Their travel reports will be posted soon.
Sydney Airport
JAL772 Examine the directions from your country
Narita International Airport
Narita Express
Tokyo Metropolitan Area
Day
1
TOKYO
Tokyo City Viewmore
RECOMMENDED DESTINATIONS
Tokyo City View, situated in the heart of Tokyo, features an indoor observation gallery 250 meters above sea level and an outdoor Sky Deck 270 meters above sea level. It commands a view of landmarks such as Tokyo Tower and TOKYO SKYTREE, and on a clear day even Mt. Fuji. The Sky Deck is a special space open to the sky and breeze.
Tokyo Metro Hibiya Line
Roppongi Station → Ginza Station
About 10 minutes / 170 yen
The Kimono Gallerymore
Tokyo is the center of Japan and Ginza is the center of Tokyo. Because Ginza beautifully fuses Japanese traditional clothing culture with modern shopping districts, one can dress themselves in elegant finery freely and set foot in Ginza, the Imperial Palace, Tokyo Station, Tsukiji, and the Kabuki-za. We will assist you in making a memory of a beautiful and fun day out.
You don't need to bring anything to enjoy the Kimono Experience, our rentals include everything from free fitting to simple hair arrangements and hair ornaments.
Men and women can both participate and single travelers are also welcome.
Our staff speak English and Chinese. Foreign guests are very welcome.
Walk
20 minutes
SKY BUS TOKYO(Odaiba Night Course)more
On the Odaiba Night Course, the two-story open-deck SKYBUS TOKYO takes passengers to see the Tokyo Tower lit up against the night sky and also goes directly beneath the Rainbow Bridge. Since the SKYBUS TOKYO also takes highways along the way, passengers can feel like they are on a theme park attraction.
The SKYBUS TOKYO stops at Aqua City in Odaiba and allows passengers one hour of free time to get something to eat or take a commemorative photo with the Statue of Liberty and Rainbow Bridge in the background.
This two-hour tour is the perfect way to enjoy many of Tokyo's night spots in a short amount of time.
Tokyo Metropolitan Area
Day
2
SHIKOKU(EHIME)
Haneda Airport
JAL (JAL Japan Explorer Pass) Show details
Matsuyama Airportmore
Matsuyama Airport is the port of entry for air travelers to Ehime Prefecture and is Shikoku's largest airport, bustling with activity everyday.
Along with food and drink shops, there is a shopping zone selling various souvenirs such as Matsuyama Airport limited goods, as well as a lounge where visitors can enjoy locally-brewed Ehime sake at a reasonable price.
In addition, there is an interpreter service that provides instant service via tablet devices, a multi-lingual information board, and even a free Wi-Fi spot, to help foreign visitors travel with peace of mind.
Furthermore, on the 3rd Sunday of every month, an event is held where Ehime Prefecture's symbolic product, mikan juice, pours out from a faucet, with free samples given out. The sight of mikan juice pouring out from a faucet can only be seen in Ehime, so be sure to stop by when this event is held.
Iyotetsu limousine bus
Matsuyama Airport→Okaido
30 minutes/610 yen
Matsuyama Castlemore
Located in central Matsuyama City, Matsuyama Castle stands atop Katsuyama Hill. It had superb defensive capabilities as a flatland-mountain castle with a "coalition grouping style" layout.
Matsuyama Castle has one of only 12 surviving castle donjons built before the Edo period. It was chosen as one of Japan's Top 100 Castles in 2006 and as one of the Top 100 Historical Sites of Beautiful Japan in 2007.
In addition, the Nohara Turret is Japan's sole surviving watchtower-style two-layer turret, and the "climbing stone wall" running from the Honmaru to the Ninomaru is a defensive method from Japanese castles built in Korea and only exists in Japan at Matsuyama Castle and Hikone Castle. Including the moated section, the entirety of Shiroyama Park is a National Historic Site and has also been designated as one of Japan's Top 100 Cherry Blossom Viewing Spots (1990) and one of Japan's Top 100 Historical Parks (2006).
Iyotetsu tram
Okaido→Dogo Onsen Station
Around 15 minutes/Adults 160 yen, children 80 yen
Dogo Hot Springmore
Dogo Onsen is Japan's oldest hot spring with a history of approximately 3,000 years. In the Dogo Onsen area centering on Dogo Onsen Honkan, the main building, which obtained three stars in the Michelin Green Guide Japan, there is a commercial arcade lined with a wide variety of shops and free footbaths, providing entertainment for tourists. The Dogo Onsen Annex Asuka-no-Yu opened in December 2017 and combines the traditional craft of Ehime Prefecture with cutting-edge art, making it a unique spa facility for travelers in Japan and from abroad.
Day
3
Dogo Hot Spring
Iyotetsu Dogo Onsen Station→JR Matsuyama Station
Around 30 minutes/Adults 160 yen, children 80 yen
JR Matsuyama Station→JR Imabari Station
Around 36 minutes/950 yen
Shimanami Kaidomore
RECOMMENDED DESTINATIONS
As evident from the name (depending on kanji used, "kaido" can mean both "road" and "sea road"), the Shimanami Kaido is a road that runs above the sea from Onomichi City, Hiroshima Prefecture to Imabari City, Ehime Prefecture. It consists of nine separate bridges and hops over six islands.
The Shimanami Kaido has Japan's only bridge-top bicycle road for cycling. This cycling route lets riders experience the refreshing sensation of riding almost as if suspended above the sea, while gazing down on the beautiful sea and islands below that have been nicknamed the "Aegean Sea of Asia". This route has been highly evaluated by cyclists from in and outside of Japan, and the American television network, CNN, has chosen it as one of the world's most incredible bike routes.
In order to let people experience cycling on this 70-km long sea road, there are bicycle rental shops all along it. Bicycle rental terminals in each area letting riders turn in their bicycles freely. In addition, some hotels and ryokans in Imabari City also allow bicycle turn-ins.
JR Imabari Station→JR Matsuyama Station
Around 36 minutes/950 yen
Iyotetsu JR Matsuyama Station→Dogo Onsen Station
Around 30 minutes/Adults 160 yen, children 80 yen
Dogo Hot Spring
Day
4
Dogo Hot Spring
Iyotetsu Dogo Onsen Station→JR Matsuyama Station
Around 30 minutes/Adults 160 yen, children 80 yen
Iyonada Monogatarimore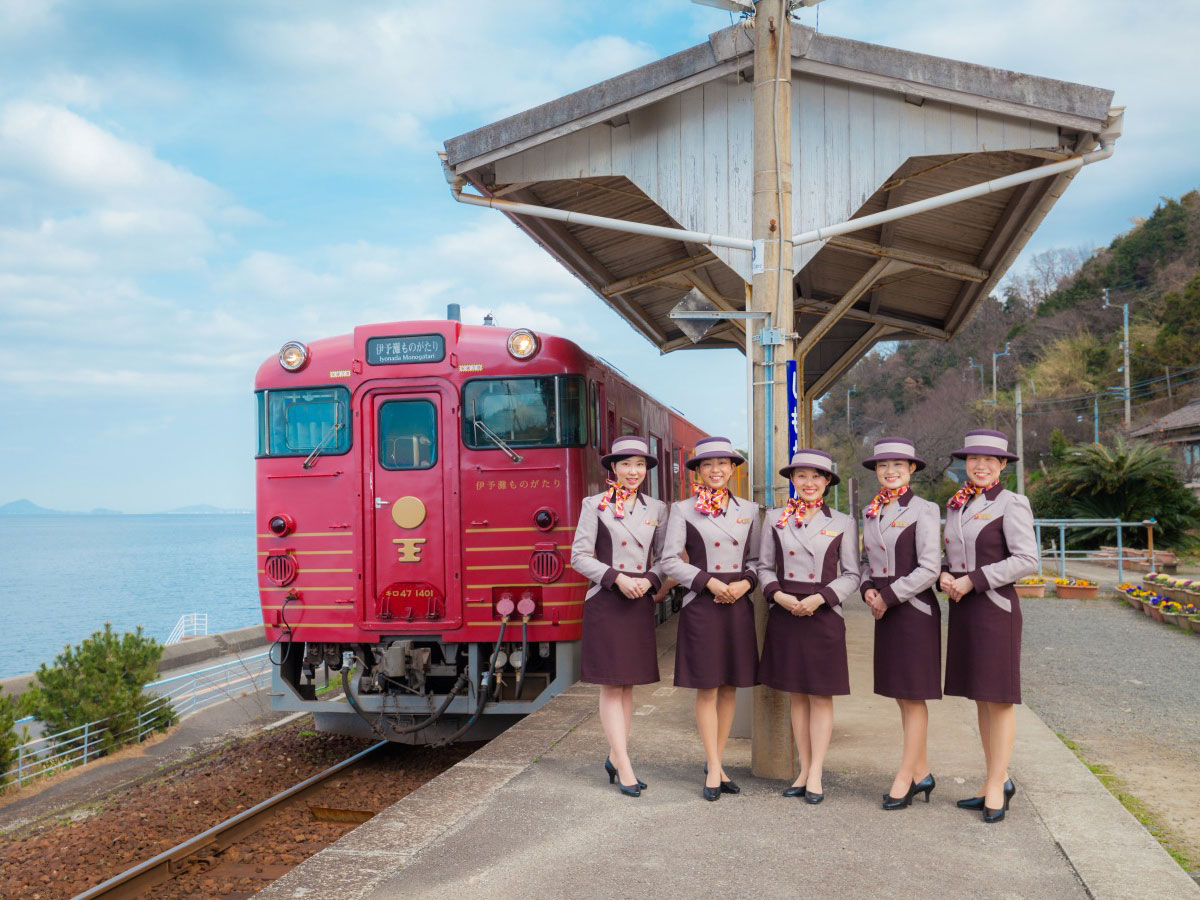 The sightseeing train that makes two round trips a day between Matsuyama and Iyo-Ozu/Yawatahama. Sitting on roomy seats in the train with the "retro-modern" interior creating a tranquil atmosphere, passengers can enjoy attractive scenery from the train window during all four seasons, as well as meals rich with fresh local ingredients. The hospitality of exclusive attendants and the genuine welcome from people along the line warm the hearts of passengers.
Iyotetsu limousine bus
JR Matsuyama Station→Matsuyama Airport
20 minutes/460 yen
Matsuyama Airport
JAL (JAL Japan Explorer Pass) Show details
Haneda Airport
Other recommended route in same area