LATEST TREND & TRADITIONAL CULTURE
Harajuku is a birthplace for many of Japanese fashion trends well known as 'kawaii culture' in Tokyo. Especially, the Takeshita-dori Street is filled with young people from all over Japan and the world to look for latest 'kawaii' trends. Leave from this spot of the latest cultural trends, then head to a historical place, Izumo Taisha Grand Shrine is believed to be where the myriad of deities throughout the country gather in Shimane prefecture. A great trip to experience Japan's traditional culture and see its latest trends.

Official Tokyo Travel Guide
https://www.gotokyo.org/en/

Local government official website
http://www.kankou-shimane.com/en/


TRAVELER
Traveled : September 2018

Joanna Lemanska

Travel Blogger
Reside in Originally from Poland

Traveled : September 2018

Aala Kanzali

Travel and lifestyle editor
Reside in Tokyo
Home country: France
Paris Charles De Gaulle Airport
JAL046 Examine the directions from your country
Joanna Lemanska

It is hard to imagine a better way to get to Tokyo than by direct flight with Japan Airlines. The twelve hours of the trip went almost unnoticed thanks to the many recreations on board, excellent food and the professionalism of the crew members. A perfect time to get in the mood and relish the itinerary of the next few days.
Haneda Airportmore
The airport serves as an air gateway for Tokyo. The passenger terminal is filled with various commercial facilities, and visitors can command a panoramic view of Tokyo Bay from the rooftop observation deck, so that every one, even those who are not flying, can enjoy the terminal.
Tokyo Metropolitan Area
Day
1
TOKYO
Shibuyamore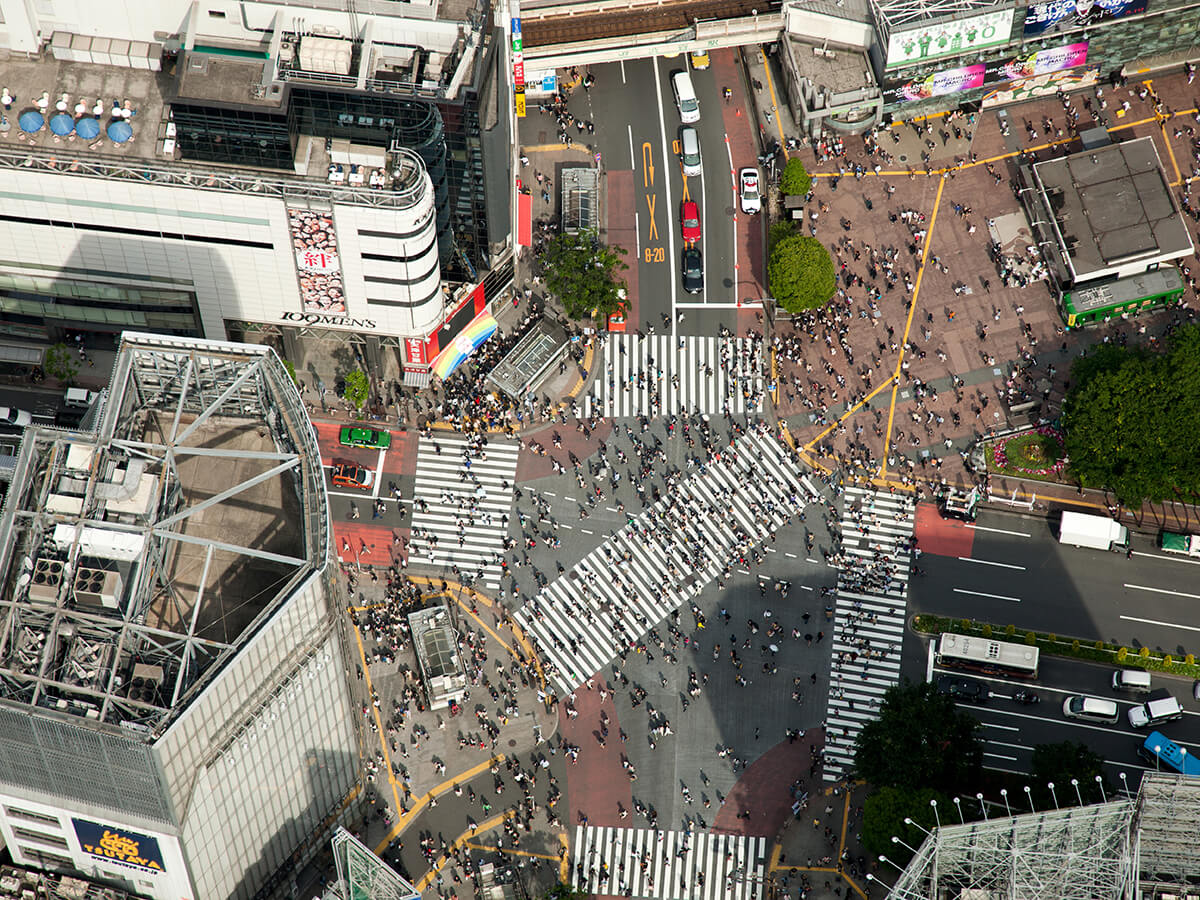 Shibuya district is the origins of youth culture. You will find several famous restaurants, bars, night clubs and live music venues flourishing among rows of stylish department stores and shops with a constant vibrant and youthful atmosphere. Shibuya is definitely the place to go to if you want to get the latest kawaii (cute) trends published in magazines. In addition, you can also enjoy dining at fashionable cafés and affordable eateries. Situated in front of Shibuya Station are some of the district's landmarks such as the statue of Hachiko and the "Shibuya Scramble Crossing."
Joanna Lemanska

We went to the heart of Shibuya - a neighbourhood I had wanted to visit for a long time. We started with Shibuya station and the Hachiko dog statue just across the street. I was moved by the story of a beautiful friendship at the origin of this little monument, but what impressed me the most was the famous Shibuya crossing, beautiful to see and photograph.

We had lunch at the Suju Dining in Shibuya. The immersion in Japanese cuisine went smoothly thanks to the well-balanced, light and simply delicious menu.

Aala Kanzali

In this part of Shibuya, the famous Hachiko statue and the Shibuya crossing are clearly unavoidable. Add the Kanno Hachimangu, to also discover a little-known part of the Japanese capital's history.

The menu of this restaurant allows you to taste Japanese flavours through new combinations of dishes. If you wish, you can also have your meal in a private room.
JR Yamanote Line
Shibuya → Harajuku
About 3 minute
Harajuku Takeshita Streetmore
RECOMMENDED DESTINATIONS
Harajuku's main street loaded with kawaii goods from across Japan. This 350-meter long street is lined to the brim with shops selling fashion items, sundries, crepes, print club machines, and 100-yen shops for the young, among others. The street is often crowded with people, including many foreign visitors, on the weekend and summer vacation. There are also back alleys lined with popular restaurants that have lineups to get in. The Harajuku Tourist Information Center is located near the intersection at the end of Takeshita Street.
Joanna Lemanska

Takeshita-dori is a particularly busy street in the Harajuku district. Shops with unlikely clothes, colourful cocktails, countless stands with pancakes and even a gigantic rainbow cotton candy - you can find everything! I could spend hours there.

This neighbourhood is part of Ura-Harajuku. In this pedestrian zone, the independent shops and cafés create the atmosphere. There are also far fewer people, which allows you to fully enjoy the walk.

Aala Kanzali

It is one of the most famous places in Tokyo, a colorful and lively street. A walk, window shopping and an excellent photo spot in the capital.

Ura-Harajuku ("behind Harajuku") or "Ura-Hara" is Harajuku's network of small streets with clothing stores and cafes. Ura-Harajuku, which has its own individualistic style in Takeshita Street and the upscale Omotesando district, has attracted attention in recent years.
About 7 minutes on foot from JR Harajuku Station / Meiji-jingumae Station
Tokyo Metro Fukutoshin Line (direct service on the Tokyu Toyoko Line)
Meiji-jingumae → Daikan-yama / Immediately adjacent
About 5 minutes
Daikanyamamore
Daikanyama is the starting point of the latest modes. Daikanyama, also known for its high end residential properties, is dotted with embassies and houses owned by foreign nationals, providing a unique, cosmopolitan ambience. The main streets that fan out from Daikanyama Station include Hachiman Street that continues on to Shibuya, the former Yamate Street that heads to Komaba, and Komazawa Street that goes to Ebisu. Along these streets is Hillside Terrace, which stands as a symbol of the neighborhood with its high end and unique shops and restaurants, providing for fun outings in terms of both shopping and dining out. The wide streets lined with greenery and many tall trees, despite its downtown location, provide a perfect backdrop for a walk.
Joanna Lemanska

It is in the Daikanyama district that we found the Kyu Asakura house, a private residence built in 1919, magnificently preserved which gives a beautiful glimpse into a traditional Japanese house. With its wooden architecture and meticulously maintained garden, it is a real hidden jewel in the district. The discovery of Daikanyama continued with its quiet streets. I loved Tsutaya's bookstore with its cosy and modern design, but it was definitely a small shop with vintage cameras that stole my heart.

This small restaurant only has a few tables and the atmosphere was very peaceful and relaxing. A perfect place to enjoy raw fish, fresh vegetables and a glass of white wine.

Aala Kanzali

Daikanyama is a chic, trendy and dynamic area of Tokyo. Here, many young people, especially girls, will come to stroll, have a coffee, relax, read a book or much more.

The restaurant "Le Japon" has a refined, simple setting that gives a top-of-the-range impression. The meal also follows these principles and the flavours, Japanese and French, mix naturally.
Shibuya Granbell Hotel
Joanna Lemanska

I really appreciated the elegant and sober design of this establishment. A perfect place to enjoy a hot shower, a cosy bed and a well-deserved rest before the morning awakening the next day.

Aala Kanzali

Shibuya Granbell Hotel is well located, in the heart of the Shibuya district with well-equipped rooms, offering more than enough to spend a good night's rest in the Japanese capital.
Day
2
CHUGOKU(SHIMANE)
Haneda Airport
JAL (JAL Japan Explorer Pass) Show details
Joanna Lemanska

The comfortable seats, legroom and discreet service were sleep inducing, but the spectacular view of Tokyo did not allow me to close my eyes and I took a lot of pictures.

Aala Kanzali

The JAL flight to Shimane is short and above all very comfortable. Everything is done to make the most of this express flight with a quality welcome.
Izumo Enmusubi Airportmore
A gateway to Shimane Prefecture, Izumo Enmusubi Airport (Izumo Airport) is close to tourist spots, such as Izumo Taisha Grand Shrine and Iwami Ginzan Silver Mine (World Heritage), making it a highly convenient airport for tourists. Car rentals are also available at the airport.
[Ichibata Bus] Izumo Enmusubi Airport--> Izumo Taisha Grand Shrine 40 minutes
or
[Ichibata Bus] Izumo Enmusubi Airport-->Izumoshi Station 25 minutes
Izumoshi Station-->Izumotaisha seimon-mae 20 minutes
Izumo Taisha Grand Shrinemore
RECOMMENDED DESTINATIONS
Izumo Taisha Grand Shrine is an ancient shrine that appears in the Kojiki, the oldest historical chronicles of Japan. The shrine's main hall is currently designated as a National Treasure. The shrine's Kagura Hall features a "shimenawa"(shinto rope indicating that the space behind is sacred) that is 13 meters long and weighs five tons, making it one of the largest in all of Japan. It is believed that deities from across Japan gather in Izumo during the 10th month of the lunar calendar to hold a matchmaking conference.
Joanna Lemanska

Rainy weather only added to the mystery of the religious atmosphere there. Thanks to our guides, I learned that once a year, the deities meet there to decide, among other things, on human love relationships. It is not surprising that we came across several weddings there....

We learnt more about the history of this region, as well as look at a permanent collection dedicated to the great sanctuary of Izumo and admire an impressive gallery of bronze artefacts. As a photographer, I particularly liked the very modern building that houses the museum, with its clean lines and beautiful light.

We were very satisfied with the delicious lunch we had at the main restaurant Heiwa Soba. I could not imagine a better place to taste one of the region's specialities.

The walk around the Hinomisaki lighthouse was very pleasant. The sea, the changing sky and a white lighthouse allowed some rather picturesque views.

A boat tour that was planned for that day could not be done due to the very wet weather. Here, it is a unique place where you can find, among other things, countless samples of the world's beach sand and the world's largest hourglass suspended from the ceiling.

Aala Kanzali

The Izumo-Taisha Shrine in Shimane is a must-see. It impresses by its size and despite the crowd, you can feel a certain religious calm.

The Museum of Ancient History in Izumo opened its doors in Izumo in 2007. Visiting this museum, you have an exceptional opportunity to learn more about the history of the city and the Izumo Shrine as well as bronze artefacts.

Simple meal, but simply good. In Heiwa Soba, in a local setting near Izumo Taisha, you have the opportunity to enjoy, in varying quantities, the famous Izumo Soba.

The Hinomisaki Shrine is striking for its vermilion red colour and its location by the Sea of Japan. The bright colours and marine scents give you an opportunity to enjoy the space through your senses. As for the lighthouse, it benefits from the beauty of the location and its environment. The sunset there is beautiful and photo lovers can only enjoy this location.

Original! This is how the Nima Sand Museum could be described. No one suspects that it is so much fun to visit the Japan Sand Museum. In addition to the world's largest hourglass, which lasts 365 days, the museum's activities are fun and suitable for young and old alike.
[Ichibata Electric Railway] Izumotaisha-mae Station-->Kawato Station Around 10 minutes
Dentetsu-Izumoshi Station Around 10 minutes
[JR Sanin Main Line bound for Masuda] Izumoshi Station-->Yunotsu Station Around 1 hour
Nogawaya Ryokan
Joanna Lemanska

The ryokan was an old wooden house, full of charm, with a rather modern decor. We tasted fresh salads, seafood and fish.

The evening was far from over and after dinner we went to the Iwami Kagura show at the Ryuonzaki Shrine in Yunotsu. We watched two performances. I spent a really extraordinary time admiring the fantastic costumes and learning more about Japanese mythology, while laughing with the rest of the audience.

Nogawaya is an inn founded at the beginning of the 20th century. Before I enjoyed my futon, prepared during my absence, I had the chance to relax in a private onsen available in this establishment.

Aala Kanzali

For dinner, we had westernized cuisine in a refined setting, with colours worthy of workspaces, giving the room the feeling of a workshop. The dishes are delicious, and the service is of high quality.

The Iwami Kagura dance performance is impressive, breathtaking and above all, exciting! Being very close to the performance gives an incredible dynamic to the show and allows you to immerse yourself in the story that is being told before you.

The atmosphere of the establishment, the colours... everything makes you feel that this ryokan has a History, a past, and sleep there is of a real comfort.
Day
3
Nogawaya Ryokan
[JR Sanin Main Line bound for Yonago] Yunotsu Station-->Odashi Station Around 20 minutes
[Iwami Kotsu Bus Omori Line] Odashi Station-->Omoridaikansho-ato Around 25 minutes
Iwami Ginzan Silver Mine World Heritage Sitemore
At its peak, the Iwami Ginzan Silver Mine was Japan's largest silver mine, pushing Japan to produce about one-third of the silver in all the world. The entire area is now a World Heritage Site.
The Omori district features a number of historical buildings preserved in their original state, including the homes of samurai and merchants, as well as the Kumagai Residence, all from the Edo period. The cafe located in a renovated old house is a popular spot to relax and unwind.
It takes about 40 minutes on foot from Omori town to reach Ryugenji Mabu,* the mine shaft where silver was once mined. Be sure to wear comfortable fitting clothes for the long walk.
Joanna Lemanska

Iwami Ginzan is one of Japan's largest silver mines, which, at its peak, produced about one-third of the world's silver production. Today, the entire region around this mine, which is located in the city of Oda, is a World Heritage Site. In the Iwami Ginzan Heritage Centre we learned a lot about the history of this unique place in the world, as well as the techniques used in the mine at the time. This was a perfect introduction before the visit to the mine itself.

It was just the right time to admire Iwami Ginzan Park with its beautiful trees and lush, beautiful greenery in the rain. Once there, we entered one of the galleries that is open to the public - the Ryugenji.

Heavy rain only added to the incredible atmosphere of this charming village, with its old wooden houses. In Rakan-ji temple, many small stone bridges lead to Buddhist statues, housed in three caves. It was an unforgettable experience.

An ideal place to enjoy delicious fish in a traditional Japanese setting.

Aala Kanzali

In Iwami Ginzan (Iwami Silver Mountain), you can learn about the rich history of mining in Japan. It is worth a look. The visit is easy, and the walk in the middle of nature to the mine is relaxing. It was added to the World Heritage List in 2007 as the "Iwami Ginzan Silver Mine and its Cultural Landscape".

What can we say about these old streets, still inhabited, housed in the mountains if not that they add an undeniable charm to the visit.

Some more Japan, old, natural colours... a walk in the village of Omori showed everything you are looking for in a true Japanese visit. And the place is perfect for beautiful souvenir photos.

Our lunch was a simple but tasty meal with its freshly caught fish that can be enjoyed in different forms. The setting of the restaurant is minimalist and typically Japanese.
[Iwami Kotsu Bus Omori/Oe Line] Omoridaikansho-ato-->Odashi Station Around 25 minutes
[JR express train bound for Yonago, Limited express train bound for Tottori, etc.]
Odashi Station--Matsue Station
Express: Around 1 hour 25 minutes
Limited express: Around 55 minutes

Around 30 minutes by foot from Matsue Station or
JR Matsue Station #7 bus stop Lake Line bus to Otemae 10 minutes
Matsue Castlemore
Matsue Castle, built 400 years ago, is one of only five castles in Japan with a castle tower that has been designated a National Treasure. The castle tower offers 360-degree panoramic views of the city of Matsue.
A footpath has been built around the castle, allowing visitors to enjoy seasonal flowers, including azaleas and camellias. Around the time when the cherry trees blossom, the Oshiro Matsuri (Castle Festival) is held, attracting crowds of people who come to see the flowers.
The Horikawa Sightseeing Boat takes people on leisurely cruises around the 3.7-kilometer moat surrounding Matsue Castle. The routes offer views of the castle tower, as well as the Former Samurai Residence along the traditional Japanese landscape of Shiomi Nawate Street and other charming, historical spots.
Joanna Lemanska

Despite having been to Japan several times before, I have never had the opportunity to visit a castle. I was not disappointed. Matsue Castle proved to be both very imposing and elegant, thanks to the slightly curved roofs that make the silhouette of this building both graceful and majestic. It was with great pleasure that I explored the interiors of the castle and learned more about its history. What an opportunity to visit one of the last authentic dungeons preserved in Japan! Once we climbed to the very top floor of the castle, we were dazzled by a breathtaking and panoramic view of the surroundings. A perfect opportunity to take some wide-angle photos.

After the visit to the castle, we should have taken a boat ride on the Horikawa River. Alas, once again, due to the bad weather, we instead went to a tea house, located in the Meimei-an garden in the town of Matsue. It was a real moment of relaxation.

Aala Kanzali

Matsue Castle is one of the 12 original castles in Japan and one of the most beautiful, due to its general environment but also its black wooden structure. It has all the charms you would expect from a real Japanese castle and offers a charming view of the city of Matsue from the top floor.

After visiting Matsue Castle, we went to Meimei-an, a historic tea house with a view of the garden. Its simplicity makes it charming and the setting is relaxing, even more so if you take advantage of the place to enjoy matcha tea, with a superb view over the garden. A most Japanese experience.
[Ichibata Bus] Kokuhomatsuejokenchomae-->Tamatsukuri Onsen Around 40 minutes
Hotel Gyokusen
Joanna Lemanska

That evening we had dinner at the Gyokusen Hotel, where we also spent the night. I was amazed by the beauty of the plates and a simply magnificent presentation of the dishes. Among the delicious fish, crunchy vegetables and soups with surprising flavours, we had the chance to taste beef from the region.

The sumptuous lobby, with a beautiful view of the garden, allowed us to guess the high level of comfort of the rooms awaiting us.

Aala Kanzali

We had an excellent dinner, the famous Kaiseki, which allowed us to taste the different flavours of refined Japanese cuisine. All this served in an elegant manner.

A luxury hotel, Hotel Gyokusen offers a quality service and welcome, and this allows you to rest after a day full of visits to Matsue and its surroundings.
Day
4
Hotel Gyokusen
[Ichibata Bus]
Tamatsukuri Onsen-->Tamatsukuri Onsen Station entrance Around 10 minutes
[JR Express train bound for Tottori, Sanin Main Line bound for Yonago, etc.]
Tamatsukuri Onsen Station--->Yasugi Station
Local Around 45 minutes
Express Around 25 minutes
Joanna Lemanska

I really enjoyed this little morning walk, still in the rain and in the middle of lush vegetation.

The discovery of Shimane Prefecture would not be complete without a visit to a sake brewery. Crystal clear water, excellent quality rice and skilled brewers - that's what it takes to make exquisite sake in this region.

Aala Kanzali

Gesshoji Temple has a rich and dense history, a sublime setting thanks to all the nature that surrounds it. The location is both relaxing and soothing.It gives you the opportunity you to take beautiful pictures.

A visit to Yoshida Shuzo's brewery was a great opportunity to learn a little more about Sake production. It was interesting to get to know this popular Japanese alcohol better.
[Free shuttle bus]
Yasugi Station-->Adachi Museum of Art Around 20 minutes
Adachi Museum of Artmore
This 165,000-square-meter garden has been selected by The Journal of Japanese Gardening as Japan's best garden since 2003. It was also awarded a three-star rating by the Michelin Green Guide Japan, a travel guidebook published in France.
The collection of Japanese paintings is popular, with a true highlight being the Yokoyama Taikan collection.
Joanna Lemanska

The museum building houses a beautiful collection of Japanese modern art. Among other things, there are works by Yokoyama Taikan, including the famous "Autumn Leaves", a painting that summarizes everything that is best about modern Japanese painting. While admiring the collections, I spent a lot of time contemplating the gardens surrounding the museum building. Designed as real living tableaux that can be seen by visitors through the many windows that act as a frame, the gardens of the Adachi Museum marvel with their harmony. It is very clear why they are classified among the most beautiful gardens in Japan.

In the Koyokan ryokan, for the first time ever, I had the opportunity to taste Buddhist cuisine, 100% vegetarian. It was a real taste discovery and I have never eaten anything like it. It was a great pleasure to enjoy this extraordinary meal in a quiet establishment, located near the Yasugi Kiyomizu-dera temple that we visited shortly afterwards.

I especially enjoyed the stroll in this small port village. The old wooden houses, very few tourists and an atmosphere like in another era - I think it was an ideal way to end our escapade in Shimane prefecture.

Aala Kanzali

The garden of this Fine Arts Museum has been selected as the most beautiful Japanese garden in Japan. If the Adachi Museum is a Fine Arts Museum that exhibits works of modern art, the building is surrounded by one of the largest Japanese gardens in Japan. The garden is complex but simple, designed in such a way that you have the impression of admiring a life-size living painting. All details are designed to ensure that the perfect composition is achieved and the surrounding nature is included in this real feat.

After the museum, we tried Shojin Ryori (Buddhist cuisine) in Koyokan. You may not be a vegetarian and totally enjoy the flavours of this meal. Why? Simply because they are delicious, rich in different tastes and give the impression of eating both healthy and rich food. A really complete meal, in a pleasant setting.

The Miho Shrine is a simple sanctuary characterized by its unvarnished wood. It is an impressive size and allowed us the opportunity to see traditional ceremonies take place with unusual proximity. After, the walk in the alleys of Mihonoseki is worth more than the detour.
[Free shuttle bus]
Adachi Museum of Art-->Yasugi Station Around 20 minutes
[JR Express train bound for Izumoshi, Sanin Main Line bound for Nishi-Izumo]
Yasugi Station-->Matsue Station
Local Around 20 minutes
Express Around 15 minutes
[Airport shuttle bus]
Matsue Station-->Izumo Enmusubi Airport 30 minutes
Izumo Enmusubi Airport
JAL (JAL Japan Explorer Pass) Show details
Aala Kanzali

At Izumo airport, we bought "Sora-ben " ("sky bento") for dinner. "Sora-ben" is a dish that is prepared to be purchased at the airport to take more advantage of air travel and is also perfect for people who want to eat quickly.
Haneda Airport
Joanna Lemanska

During a short stay in Japan, splitting the visit between several famous Tokyo sites and Shimane Prefecture is a good way to get to know this dream country a little better. Undoubtedly, it is an ideal route for those who appreciate the extraordinary blend of an ultra-modern and bubbling city with small villages that take you back in time. You can travel while continuously enjoying a plethora of exceptional and surprising dishes.

Aala Kanzali

The route is nice, pleasant and above all offers an original mix between Tokyo, its dynamic, modern side, with a huge presence of people and Shimane prefecture where you have the impression to have arrived in another world. Shimane showed the beauty of Japan with its traditional culture and the serenity of nature.
RECOMMENDATIONS FROM TRAVELERS
Let's discover Shibuya, one of the most vibrant neighbourhoods in Tokyo and let's get lost in Harajuku, the famous cradle of "kawaii" culture. A surprising starting point for a short trip to Shimane's prefecture, full of historical and sacred sites. A unique blend of new trends and traditional culture.
Joanna Lemanska

Travel Blogger
Reside in Originally from Poland

Hobby

Traveling

Number of visits to Japan

2 times
RECOMMENDATIONS FROM TRAVELERS
I think this is a tour that can be interesting for those who want to discover the essence of Japan by feeling its "atmosphere" in Tokyo and learning the traditional culture of Shimane, just a few hours away.
Aala Kanzali

Travel and lifestyle editor
Reside in Tokyo
Home country: France

Hobby

Walks, travel, cooking, photos

Length of stay in Tokyo

From 2011 onwards
Other recommended route in same area