LATEST TREND & TRADITIONAL CULTURE
Harajuku is a birthplace for many of Japanese fashion trends well known as 'Kawaii Culture' in Tokyo. Especially, the Takeshita-dori Street is gathered by young people from all over Japan and the world to look for latest 'Kawaii' trends. Leave from the spot of latest cultural trends, then head to a historical place, the Izumo-Taisha Great Shrine where is believed that all of the myriad deities throughout the country gathering to this consecrated place in Shimane prefecture. Great trip to have enough traditional cultural experiences and to see what's like Japanese latest trends.

Official Tokyo Travel Guide
https://www.gotokyo.org/en/

Local government official website
http://www.kankou-shimane.com/en/


COMING SOON!
Two people are traveling this route right now!
Their travel reports will be posted soon.
Paris Charles De Gaulle Airport
JAL046 Examine the directions from your country
Haneda Airportmore
The airport serves as an air gateway for Tokyo. The passenger terminal is filled with various commercial facilities, and visitors can command a panoramic view of Tokyo Bay from the rooftop observation deck, so that every one, even those who are not flying, can enjoy the terminal.
Tokyo Metropolitan Area
Day
1
TOKYO
Shibuyamore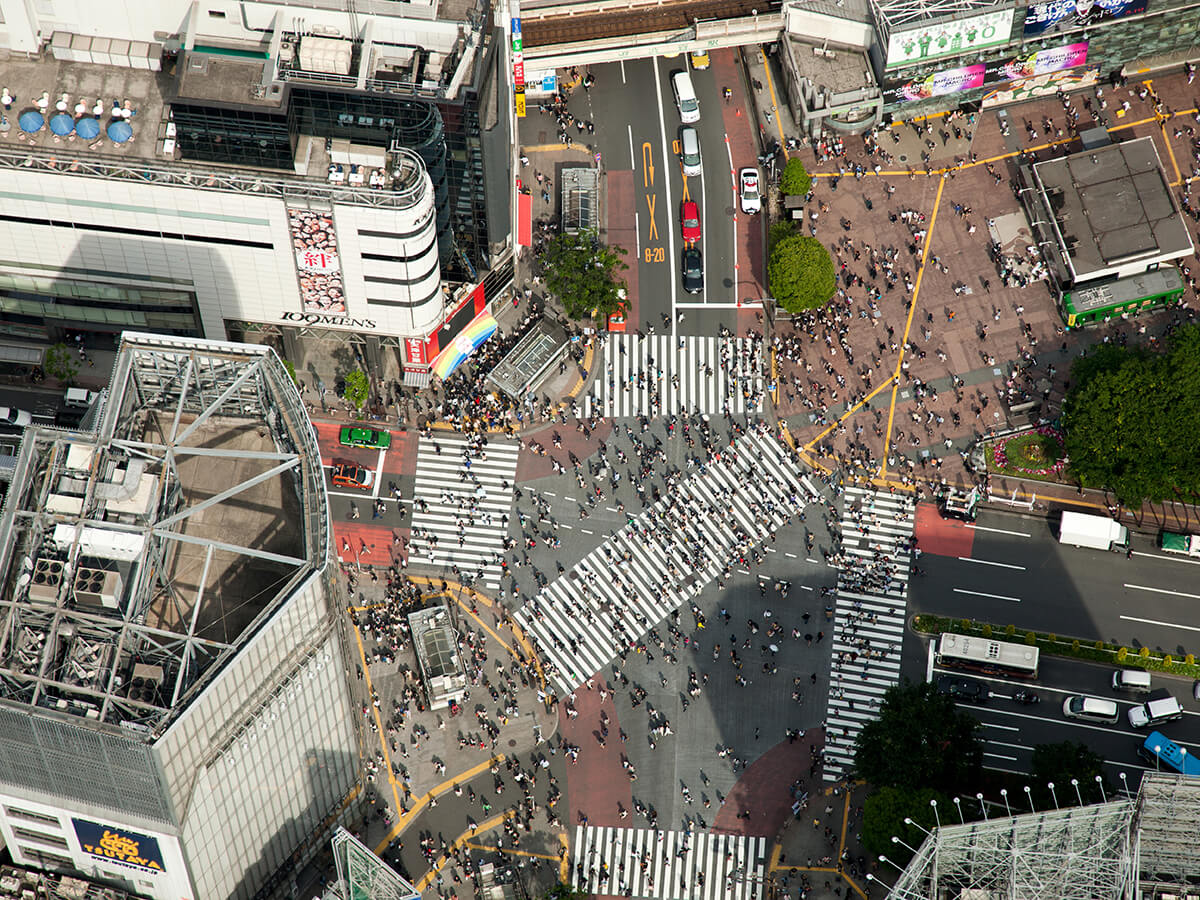 Shibuya district is the origins of youth culture. You will find several famous restaurants, bars, night clubs and live music venues flourishing among rows of stylish department stores and shops with a constant vibrant and youthful atmosphere. Shibuya is definitely the place to go to if you want to get the latest kawaii (cute) trends published in magazines. In addition, you can also enjoy dining at fashionable cafés and affordable eateries. Situated in front of Shibuya Station are some of the district's landmarks such as the statue of Hachiko and the "Shibuya Scramble Crossing."
JR Yamanote Line
Shibuya → Harajuku
About 3 minute
Harajuku Takeshita Streetmore
RECOMMENDED DESTINATIONS
Harajuku's main street loaded with kawaii goods from across Japan. This 350-meter long street is lined to the brim with shops selling fashion items, sundries, crepes, print club machines, and 100-yen shops for the young, among others. The street is often crowded with people, including many foreign visitors, on the weekend and summer vacation. There are also back alleys lined with popular restaurants that have lineups to get in. The Harajuku Tourist Information Center is located near the intersection at the end of Takeshita Street.
About 7 minutes on foot from JR Harajuku Station / Meiji-jingumae Station
Tokyo Metro Fukutoshin Line (direct service on the Tokyu Toyoko Line)
Meiji-jingumae → Daikan-yama / Immediately adjacent
About 5 minutes / 280 yen
Daikanyamamore
Daikanyama is the starting point of the latest modes. Daikanyama, also known for its high end residential properties, is dotted with embassies and houses owned by foreign nationals, providing a unique, cosmopolitan ambience. The main streets that fan out from Daikanyama Station include Hachiman Street that continues on to Shibuya, the former Yamate Street that heads to Komaba, and Komazawa Street that goes to Ebisu. Along these streets is Hillside Terrace, which stands as a symbol of the neighborhood with its high end and unique shops and restaurants, providing for fun outings in terms of both shopping and dining out. The wide streets lined with greenery and many tall trees, despite its downtown location, provide a perfect backdrop for a walk.
Tokyo Metropolitan Area
Day
2
CHUGOKU(SHIMANE)
Haneda Airport
JAL (JAL Japan Explorer Pass) Show details
Izumo Enmusubi Airportmore
As the gateway to Shimane Prefecture, Izumo Enmusubi Airport (Izumo Airport) is located close to tourist spots, such as Izumo Taisha Grand Shrine and Iwami Ginzan Silver Mine (World Heritage), making it a highly convenient airport for tourists. Rent-a-cars are also available at the airport.
[Ichibata Bus] Izumo Enmusubi Airport--> Izumo Taisha Grand Shrine 40 minutes/880 yen
or
[Ichibata Bus] Izumo Enmusubi Airport-->Izumoshi Station 25 minutes/720 yen
Izumoshi Station-->Izumotaisha seimon-mae 20 minutes/520 yen 
Izumo Taisha Grand Shrinemore
RECOMMENDED DESTINATIONS
Izumo Taisha Grand Shrine is an ancient shrine that appears in the Kojiki, the oldest historical chronicles of Japan. The shrine's main hall is currently designated as a National Treasure. The shrine's Kagura Hall features a special rope to cordon off a consecrated area that is 13 meters long and weighs five tons, making it one of the largest in all of Japan. It is believed that deities from across Japan gather in Izumo during the 10th month of the lunar calendar to hold a matchmaking conference.
[Ichibata Electric Railway] Izumotaisha-mae Station-->Kawato Station Around 10 minutes
<Transfer for Dentetsu-Izumoshi Station> Dentetsu-Izumoshi Station Around 10 minutes
[JR Sanin Main Line bound for Masuda] Izumoshi Station-->Yunotsu Station Around 1 hour
Yunotsu Hot Springs
Day
3
Yunotsu Hot Springs
[JR Sanin Main Line bound for Yonago] Yunotsu Station-->Odashi Station Around 20 minutes/410 yen
[Iwami Kotsu Bus Omori Line] Odashi Station-->Omoridaikansho-ato Around 25 minutes/630 yen
Iwami Ginzan Silver Mine World Heritage Sitemore
At its height, the Iwami Ginzan Silver Mine was Japan's largest silver mine, helping Japan produce about one-third of all the silver in the world. The entire area is now a World Heritage Site.
The Omori district features a number of historical buildings preserved in their original state, including the homes of samurai and merchants, as well as the Kumagai Residence, each from the Edo period. The cafe located in a renovated old house is a popular spot to relax and unwind.
It takes about 40 minutes on foot from Omori townhood to reach Ryugenji Mabu*, the mine shaft where silver was once extracted. Be sure to wear comfortable fitting clothes for the long walk.
[Iwami Kotsu Bus Omori/Oe Line] Omoridaikansho-ato-->Odashi Station Around 25 minutes/630 yen
[JR express train bound for Yonago, Limited express train bound for Tottori, etc.]
Odashi Station--Matsue Station
Express: Around 1 hour 25 minutes/1,140 yen
Limited express: Around 55 minutes/2,320 yen

Around 30 minutes by foot from Matsue Station or
JR Matsue Station #7 bus stop Lake Line bus to Otemae 10 minutes/200 yen
Matsue Castlemore
Matsue Castle, built 400 years ago, is one of only five castles in Japan with a castle tower that has been designated a National Treasure. The castle tower offers 360-degree panoramic views of the city of Matsue.
A footpath has been built around the castle, allowing visitors to enjoy seasonal flowers, including azaleas and camellias. Around the time the cherry trees blossom, the Oshiro Matsuri (Castle Festival) is held, attracting crowds of people who come to see the flowers.
The Horikawa Sightseeing Boat that takes people on leisurely cruises around the 3.7km moat surrounding Matsue Castle offers views of the castle tower, as well as a Samurai Residence in the traditional Japanese scape of Shiomi Nawate Street and other charming, historical spots.
[Ichibata Bus] Kokuhomatsuejokenchomae-->Tamatsukuri Onsen Around 40 minutes/560 yen
Around Matsue City
Day
4
Around Matsue City
[Ichibata Bus]
Tamatsukuri Onsen-->Tamatsukuri Onsen Station entrance Around 10 minutes/170 yen
[JR Express train bound for Tottori, Sanin Main Line bound for Yonago, etc.]
Tamatsukuri Onsen Station--->Yasugi Station
Local Around 45 minutes/500 yen
Express Around 25 minutes/1,250 yen
[Free shuttle bus]
Yasugi Station-->Adachi Museum of Art Around 20 minutes
Adachi Museum of Artmore
This 165,000 sq m garden has been selected by The Journal of Japanese Gardening as Japan's best garden 14 years running, and was also awarded a three-star rating by the Michelin Green Guide Japan, a travel guidebook published in France.
The collection of Japanese paintings is popular, with the Yokoyama Taikan collection a true highlight.
[Free shuttle bus]
Adachi Museum of Art-->Yasugi Station Around 20 minutes
[JR Express train bound for Izumoshi, Sanin Main Line bound for Nishi-Izumo]
Yasugi Station-->Matsue Station
Local Around 20 minutes/410 yen
Express Around 15 minutes/1,160 yen
[Airport shuttle bus]
Matsue Station-->Izumo Enmusubi Airport 30 minutes/1,030 yen
Izumo Enmusubi Airport
JAL (JAL Japan Explorer Pass) Show details
Haneda Airport
Other recommended route in same area