ACT & RELAX
After fulfilling a once-in-a-lifetime dream of transforming into a samurai, visit Yamaguchi Prefecture's Iwakuni and Hagi, areas steeped in history. The hot spring waters at Yuda Onsen, famous for their beautifying effects, will ease the fatigue of travel.

Official Tokyo Travel Guide
https://www.gotokyo.org/en/

Local government official website
https://www.visit-jy.com/en/


TRAVELER
Traveled : September 2016

Victoria Brewood

Blogger
Reside in United Kingdom

Traveled : September 2016

Lily Crossley-Baxter

TOKYO CHEAPO Writer
Reside in Tokyo
Home country: United Kingdom
London Heathrow Airport
ANA212 Examine the directions from your country
Victoria Brewood

<Flight>
The 11 hour flight from London to Tokyo with ANA was really comfortable and the staff were friendly. The Economy cabin had a modern interior, with USB ports at every seat for charging mobile phones, as well as on-board WiFi (for pay). My seat offered plenty of legroom and generous seat recline, so I managed to get plenty of sleep throughout the flight!
Haneda Airportmore
The airport serves as an air gateway for Tokyo. The passenger terminal is filled with various commercial facilities, and visitors can command a panoramic view of Tokyo Bay from the rooftop observation deck, so that every one, even those who are not flying, can enjoy the terminal.
Tokyo Metropolitan Area
Day
1
TOKYO
Samurai Training Tokyomore
RECOMMENDED DESTINATIONS
"Try out the authentic samurai experience!"

Yumenoya is place dedicated to Japanese cultural experiences produced by the Takafuji-ryu style of creative traditional Japanese dance with a history of over 80 years. The main content is the Samurai Experience.

The Samurai Experience is the only service of its kind in the Asakusa tourist area.

Change into a hakama (man's formal divided skirt) and after learning basic sword forms and movements, try out what you learned in a staged sword fight. At the end, you'll receive an official "Samurai Training" certificate from the school.

The entire experience takes just about 60 minutes, so it's easy to fit into your schedule.
Victoria Brewood

<SAMURAI TRAINING TOKYO>
The Samurai training was lots of fun and would be great for families with children. Our teacher was very funny, showing us how to hold a Samurai sword and perform some basic movements. Obviously we didn't train with real swords (there would probably be some injuries if we did!) so we trained with wooden sticks. We pretented to kill each other then perform a Chiburi move (shaking the blood off the sword), so it involved some dramatic acting!

Lily Crossley-Baxter

<SAMURAI TRAINING TOKYO>
The samurai training was fun and definitely a good activity for families with children. The instructions were simple and demonstrations meant it was easy to follow, even without much Japanese. Learning the moves and having enough time to practice was fun, and we enjoyed seeing the different swords.
Walk
3 minutes
Ebisuya Rickshawmore
The Ebisuya Rickshaw is currently one of Japan's most popular activities.

The rickshaw driver is dressed in a cool ninja style, and the excellent riding comfort and the nimble and unique guide will add another layer of excitement to your trip.

In addition to guiding you to the major tourist spots, your driver will take you to small, out-of-the-way places hidden among the small back streets that are characteristic of Asakusa and unreachable by buses or taxis. See the Geisha Town, Tokyo's oldest Buddhist temple, and get food info only known by locals that you can't find in any guidebook.

On the way, the driver will take the perfect photos of you in their favorite spots with their favorite photo compositions! These are sure to make excellent mementos for any trip. If you're wondering, "Where should we go besides Senso-ji Temple?", leave it to us.

We will expertly introduce spots where you can walk and have fun. You're certain to have a fulfilling tour of Asakusa even after getting off the rickshaw.

For a thorough taste of Tokyo's Asakusa, leave everything up to the Ebisuya Rickshaw!
Victoria Brewood

<Rickshaws in Asakusa>
In the UK our rickshaws have bicycles attached, so it was very different to ride a rickshaw in Japan where the drivers use just their legs to pull it along. I was very impressed by how athletic and strong the drivers are to be able to run around the city like that! I really enjoyed our journey round Asakusa because it allowed me to take photographs and see the sights such as the Sensoji Temple from the comfort of a chair.

<LUNCH in Asakusa(soba-noodle)>
At lunchtime we ate soba noodles, which come either hot or cold with toppings such as tempura prawns or scrambled egg. I had the hot noodles with seaweed and the soup was full of flavour.

Lily Crossley-Baxter

<Rickshaws in Asakusa>
Riding through Asakusa in a rickshaw was a really great way to see the streets, as you were higher up and could enjoy the view without having to walk on busy streets. It also meant you could see much more in a shorter amount of time. I was a little nervous as it felt quite steep but the guide was very steady and I felt very safe, even on the busier roads.

<LUNCH in Asakusa(soba-noodle)>
The exterior was very beautiful and it felt like a high quality restaurant when we entered as it was simple but stylish. The option to sit on the Tatami floor was nice and visitors would enjoy the traditional experience. The soba was delicious and the tempura very crispy, the portions were large and we were all very full and content after.
Toei Asakusa Line
Asakusa Station → Asakusabashi Station
3 minutes
JR Sobu Line
Asakusabashi Station → Shinjuku Station
20 minutes
Depachika (Isetan Shinjuku Store)more
Located near the Shinjuku Sanchome subway station is the Shinjuku branch of Isetan department stores, whose aim is to be the "world's best fashion museum". This "fashion" can also be felt on the food floor.

This floor features a lineup of food from in and outside Japan, such as well-reputed delicatessen items made with fish, meat, and vegetables, exquisite sweets, and ingredients that would make foodies sing praises. The variety of food on this floor is garnering a lot of attention.

With visually beautiful Japanese sweets that change with the seasons, a sake-tasting corner, and a delicatessen serving Japanese food that should definitely be tried when visiting Japan, Japanese culture can be experienced on the food floor.
Victoria Brewood

<Depachika (Department Store Underground Food Shops)>
The Depachika department store reminded me a little bit of the Selfridges food hall in London - it had a luxurious atmosphere with all kinds of artisan food and drinks including cakes, pastries and sake. We saw the most expensive mushroom in the world and some incredibly expensive grapes that cost $10 per grape! I love food so this was like heaven being able to try all sorts of different things in one place.

<Stroll Around Shinjuku>
After the Depachika we visited another department store next door called NEWoMan where we did some shopping for beauty products (like paper face masks) and sat in massage chairs to rest our legs! Afterwards we visited the coffee shop 'Blue Bottle Coffee' - a trendy, modern venue with the best coffee.

Lily Crossley-Baxter

<Depachika (Department Store Underground Food Shops)>
The department store was very interesting as we could see some of the nicest omiyage stores and were allowed to try samples. We saw some of the specialities from different prefectures which was especially interesting as if you are not able to travel much out of Tokyo you can still try the best foods from different prefectures. The staff at each shop were very polite and always smiling which gave a very friendly but professional atmosphere. One of the most interesting parts was seeing the expensive fruit and mushrooms which sell for very high prices, as this is one thing tourists may have read about Japan and would enjoy seeing in real life. Trying the samples was really fun and would definitely encourage people to buy souvenirs as they may not be sure about some flavours.

<Stroll Around Shinjuku>
We also wandered around the streets a little, near Shinjuku station, and it felt like the Tokyo you see in media, as it was busy with lots of tall buildings. It was very clean though, which stands out from a lot of busy cities. We enjoyed the high quality coffee shops and it was nice to be able to rest in such a busy area.
JR Chuo Line (JR EAST PASS)
Shinjuku Station → Tokyo Station
13 minutes
Victoria Brewood

<Dinner at Kaiten-Zushi restaurant>
The Kaiten-Zushi restaurant we visited in was called "Ginza Numazuko" located on the 8th floor of the "Kitarita Ginza" landmark. I believe it is the only conveyor belt sushi restaurant in the area. We sat down at the counter, watched the sushi being prepared by the chef and picked what we wanted from the belt. I ate around 7 or 8 plates - I was hungry and the fish was fresh and of good quality!

Lily Crossley-Baxter

<Dinner at Kaiten-Zushi restaurant>
The food was delicious and felt very fresh, as we could see the chef preparing it in front of us. It was great to be able to request items and it was easy to do. The menus had English names and descriptions so we could easily order. The prices were reasonable for such high quality fish prepared for you. The drinks menu has a nice variety of traditional drinks you could try like umeshu and sake which would be really good for people new to Japan.
Hotel Ryumeikan Tokyo
Victoria Brewood

<Stay at Ryumeikan Hotel Tokyo>
The Ryumeikan hotel in Tokyo is a comfortable and cosy hotel located very close to the station so it's easy to get to and from the airport by train or bus. My room was compact in size but filled with features, such as a bed that vibrates and plays music to help you fall asleep!Breakfast at the hotel was really tasty, with a special station where you can boil fresh vegetables yourself.

Lily Crossley-Baxter

<Stay at Ryumeikan Hotel Tokyo>
The hotel was very smart and the staff very very polite and professional throughout. The rooms were very nice, with an excellent shower and high quality fittings. It managed to balance Western and Japanese very well as the additions such as a yukata and Japanese snacks meant you felt you were still in Tokyo, even if you weren't staying in a traditional tatami room.
Day
2
CHUGOKU(YAMAGUCHI)
06:55 Haneda Airport
ANA631 (ANA Experience JAPAN Fare) Show details
Victoria Brewood

<Flights to Yamaguchi>
Our ANA flight was on time and was comfortable, with good service and complimentary soft drinks like tea or juice.

Lily Crossley-Baxter

<Flights to Yamaguchi>
We were seated on our plane and staff were helpful and polite the entire time we were there. The flight was very comfortable and we were given drinks and blankets. It was a short flight and was relaxing.
08:35 Iwakuni Kintaikyo Airportmore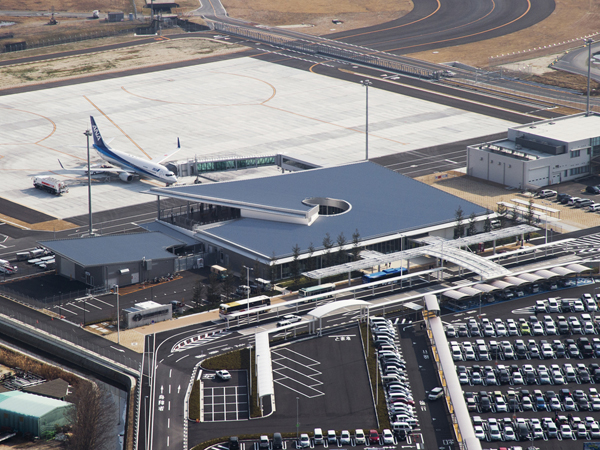 This clean, new airport was opened in December 2012.

Upon entering the terminal building, travelers have a view of the entire building and can see the compact structure is easy to understand and use.

In the building's center, a "light garden" atrium is bathed in natural light pouring in from outside. In addition, the front wall of the passenger waiting room is made completely of glass, letting people see the passenger jets waiting on the tarmac and immersing them more into air travel.

Passenger jets can be observed up close even on the observation deck! Why not take a commemorative photo with planes in the background?

The terminal building has a universal design that is accessible to all travelers.
Iwakuni Bus
Iwakuni Kintaikyo Airport → Iwakuni Station
About 10 minutes
Lily Crossley-Baxter

<Iwakuni Bus>
The bus in Iwakuni arrived on time and was very nice, as it was an old-style bus. This made the journey much more enjoyable as it was a novelty. It definitely gave the impression that we had left the city behind and were in a very traditional part of Japan.
Iwakuni Bus
Iwakuni Station → Kintaikyo
About 20 minutes
Kintaikyo Bridgemore
Kintaikyo was built in 1673 and is a wooden bridge symbolic of Japan. The bridge is a series of five wooden arches, a rare sight even outside Japan. It is the culmination of masterful techniques and this tradition lives on through the replacement of the bridge rafters.

There are many tourist attractions nearby, including historical buildings such as Iwakuni Castle, the Old Mekata Family's House, and the Nagayamon Gate of the Kagawa Family, as well as art and history museums like the Iwakuni Choko-kan Museum, the Iwakuni Art Museum, and the Iwakuni Shirohebi (white snake) Museum.

The Iwakuni Shirohebi Museum, in particular, is a National Natural Monument and the only place in the world that the "Iwakuni white snake" inhabits. Visitors can learn about the life and history of white snakes through games and scale models.
Victoria Brewood

<Kintaikyo Bridge>
Stretching across the Nishiki river, the Kitaikyo bridge is an incredible piece of architecture. I love its beautiful, curved arches and the stunning scenery all around. Our guide told us it is nice to see the bridge in different seasons, particularly during cherry blossom season when the river banks are in full bloom. In Autumn the leaves turn yellow and red, while in the winter there is snow surrouning the Shiroyama mountain.

<Lunch at Hira-sei;Janome-Gozen(Japanese traditional dishes served on a tray)>
Hira-sei has an upstairs dining room with a window offering views of the Kintaikyo bridge. The food was very tasty, with lots of little dishes all served on a tray. We ate things like miso soup, tempura, lotus root and the local Iwakuni speciality 'Iwakuni-zushi'.

Lily Crossley-Baxter

<Kintaikyo Bridge>
Seeing Kintaikyo in real life was great as it was much steeper than I had thought from seeing pictures. The river and setting was lovely, and I can imagine how beautiful it must be in cherry blossom season. It was quiet and had a very relaxing atmosphere. The views were great and being able to see the castle, river and bridge was very special.

<Lunch at Hira-sei;Janome-Gozen(Japanese traditional dishes served on a tray)>
The restaurant looked very old and traditional, and the staff were very friendly. We had an amazing view of the bridge and could try all the local specialities. Iwakuni sushi is on many posters of the town and it was great to try something so different to the usual examples of sushi. We really enjoyed lunch and were very full.
Iwakuni Bus
Kintaikyo → Shin-Iwakuni Station
About 10 minutes
Shinkansen
Shin-Iwakuni Station → Shin-Yamaguchi Station
About 40 minutes
Victoria Brewood

<JR Shinkansen>
The JR Shinkansen was very fast with large, comfortable seats in rows of 2x2. It took around 30 minutes to get to our destination and during this time I managed to get some sleep!

Lily Crossley-Baxter

<JR Shinkansen>
The shinkansen was very smooth and efficient. Even the train toilets were clean and pleasant, which is very unusual in other countries. The announcements were made in plenty of time and we enjoyed the views from the train immensely.
Bocho Bus
Shin-Yamaguchi Station → Akiyoshido
About 40 minutes
Victoria Brewood

<Bus Pass>
The bus pass for foreign tourists is an economical and affordable way to get around Yamaguchi area since it offers an unlimited number of bus journeys. The bus pass can be used on all Yamaguchi commuter bus routes and any buses accepting the pass will have a sticker in front of the body of the bus and windows near the entrance. All you have to do is show it to the driver when you get off the bus. To buy the pass you need to show your passport and fill out the application form at a designated ticket window.
http://www.visit-jy.com/travel_assets/images/common/bus_pass.pdf

Lily Crossley-Baxter

<Bus Pass>
Buying the bus pass was very easy and quick. We had everything explained and could understand the different options easily. The pass provides great value for money and is very flexible as you can decide how many days you would like.

http://www.visit-jy.com/travel_assets/images/common/bus_pass.pdf
Akiyoshidai Plateau/Akiyoshido Cavemore
Akiyoshidai Plateau is the largest karst plateau in Japan, at an altitude of 200 to 400 m, and mainly consists of limestone from the Paleozoic era, and numerous limestone caves eroded by rainwater. Akiyoshido Cave is the largest cave in Japan, located at the foot of the Akiyoshidai Plateau. The cave is said to be about 11 km long, but the first one kilometer is open to visitors.
Victoria Brewood

<Akiyoshidai>
Akiyoshidai is Japan's largest karst plateau and has a scenic lookout point offering magnificent countryside views. The vast grassland is sprinkled with white limestone spreading as far as the eye can see and I loved how green this area was. The limestone that forms its majestic landscape was created about 350 million years ago as coral reefs in the southern sea, which over many many years formed the plateau that you see today.

<Akiyoshido Cave>
Akiyoshido cave is one of the largest limestone caves in Japan with a 1km long tourist path inside. Since the temperature inside is a steady 17 degrees celcius throughout the year, it is warm in the winter and cool in the summer. My favourite parts were the "Golden Pillar" and "One Hundred Plates", which has hundreds of dishes filled with water. It is wonderful to see how nature can create something so incredible over 100 million years.

Lily Crossley-Baxter

< Akiyoshidai>
Although the weather was cloudy, the views from the observatory were very impressive and it was really great to be in such open space. The site is easy to navigate and it was great that so many easy hiking trails were marked out. The festival sounds very exciting and the community spirit sounds fantastic - they explained that over 1000 people come to help set and put out the fires. This would be an amazing experience for visitors and would be very special. Knowing that the caves are below makes the rock formation more interesting as you can understand the full effects, and vice versa.

<Akiyoshido Cave>
We travelled down to the cave via the lift and it was real contrast to go from the wide open spaces to the dark cave. It was nicely lit and felt very atmospheric.The paths were easy to follow and spotting different sights in the cave was very easy as there were so many. The best part was the information recording where you could select a language and the whole group could easily hear. It felt like you were exploring as it was quiet and haunting. The cave exit was beautiful and felt like you were entering a magical forest, as it was so different to the cave. It was really stunning, and the contrast between the plateau above, the dark cave and the exit were lovely.
Chugoku JR Bus
Akiyoshido → Yuda Onsendori
About 40 minutes
Yuda Onsenmore
RECOMMENDED DESTINATIONS
Yuda Onsen hot spring is said to have been born approximately 800 years ago. There is a legend of an injured white fox submerging itself into the hot spring water to heal its wounds.

Located near the Yamaguchi Ube Airport and Shin-Yamaguchi Station, a Shinkansen stop, Yuda Onsen's location in the center of the prefecture makes access to other tourist attractions in the prefecture convenient.

This area is a nexus for locally-brewed sake, mountain and sea food ingredients, and local specialties. Here, izakaya, restaurants, and many other kinds of shops let visitors enjoy Yamaguchi cuisine.
Victoria Brewood

<Yuda Onsen>
At the yuda hot springs we were able to bathe our feet in a natural hot spring, which made me feel well rested after a very long day of walking around sightseeing! This footbath had a romantic atmosphere with twinkling lights so it was a pleasure to sit on a cushion and rest my acheing feet. Legend has it that a spiritual white fox came to Yuda Onsen to nurse his wounds and was discovered there by a Buddhist priest, so you can see fox paw prints that have been embedded in the stone.

<Rurikoji-Temple>
This five-storied pagoda is known as the 'national treasure' and is a masterpiece of the Ouchi culture. While the pagoda is beautiful in the daytime, it is even more beautiful when illuminated at night from sundown until 22:00. It was amazing to stand and look at the beautiful green colour, which was reflected in the water.

Lily Crossley-Baxter

<Yuda Onsen>
The foot spa we visited was really relaxing after a day of walking and we enjoyed it a lot. Although there are plenty of free local foot baths available, having a smarter private one was really great as you could order drinks, sit down and enjoy the relaxing atmosphere. Having the outside pool with beautiful lighting was really calming and felt like you were miles away from any cities. This was one of the highlights of the area as it felt really special and revitalising.

<Rurikoji-Temple>
The night illuminations of Rurikoji Temple and Five-Storied Pagoda were stunning, and we were amazed that it was so close, and free to enter. The temple was grand and very impressive, with the surrounding park giving a calm and quiet atmosphere. Being able to view it across the lake with reflections was really nice and made for some lovely photographs. It felt very traditional and reminded me of Nara.
Walk
Yuda Onsendori bus stop → Matsudaya Hotel
1 minutes
Matsudaya Hotel
Victoria Brewood

<Matsudaya Hotel>
Staying at the Matsudaya Hotel was a highlight of my trip to Yamaguchi. This was my first time staying in a Ryokan and I had such a good night's sleep lying on the Tatami floor! My room looked out onto a peaceful Japanese garden which was built during the Edo era so this was a wonderful place to unwind and switch off from the outside world. There is a big onsen for guests but I also had my own private onsen in my room, so it was nice to relax, unwind and enjoy the therapeutic effects of the water in private.

Lily Crossley-Baxter

<Matsudaya Hotel>
The ryokan was amazing, and definitely would be one of the highlights of the trip for any visitors. The traditional rooms and garden were stunning and felt like your were royalty. The service was impeccable, with staff taking care of everything and ensuring you were comfortable throughout. We explored the garden and were able to enjoy private onsens as well as the hotel onsen. The calm environment of the entire hotel meant you felt completely relaxed throughout and completely separated from modern life.
Day
3
Matsudaya Hotel
Chugoku JR Bus, Bocho Bus
("Hagi-go" limited express)
Yuda Onsendori → Hagi Bus Center
About 1 hour and 10 minutes
Hagi Maru Loop Bus on the West Loop
(Shinsaku-kun)
Hagi Bus Center → Hagi Hakubutsukan Mae
About 5 minutes
World Heritage Sites: Hagi Castle Town and the Shokasonjuku Academymore
Hagi was constructed as a castle town when the Sengoku period daimyo (feudal lord) Mori Terumoto built Hagi Castle in 1604. Since then, for 260 years, it prospered as the center of politics, government, and economy for the Hagi (Choshu) Domain.

The townscape, with its castle ruins, samurai residences, and earthen walls, is reminiscent of those times, and even now, it is thick with nostalgia. It has also been chosen as one of Japan's 100 most beautiful historical sites.

In addition, the Shokasonjuku Academy, built by the famous samurai Yoshida Shoin, also stands in the city. It is a small building just 50㎡ wide, and while the term for students here was only a little over 2 years long, it turned out many outstanding and talented people that played important roles in remaking the country from the end of the Tokugawa Shogunate into the Meiji Restoration.

In 2015, a collection of Sites of Japan's Meiji Industrial Revolution", including Hagi Castle Town and the Shokasonjuku Academy, were registered as World Cultural Heritage Sites."
Victoria Brewood

<Hagi city>
When walking around the World Heritage Hagi Castle Town my impressions were that it's a really peaceful place with some well-preserved traditional houses. I really liked the black and white cross-hatched walls, which have retained their appearance from the Edo period.

<Shoin Shrine>
Next on our journey we visited the Shoin Shrine which is a shrine to one of Japan's most important historical activists, Yoshida Shoin. Here we saw the Sokasonjuku Academy - a private school where he accepted and taught students for more than 2 years, producing great talents who made major contributions during the Meiji Restoration. We also purchased a fortune , I tied it to a tree!

<Toko-ji Temple>
Toko-ji temple in Hagi is one of the family temples of the Mori clan. Constructed in 1691, it features over 500 stone lanterns and hosts the graves of the odd-numbered Mori Lords. The main gate, Sanmon gate, bell tower and Daiyuhoden have been listed on the National Reigster of Important Cultural properties. This ancient temple is very impressive and covered in green moss - photographs don't fully capture how stunning this temple actually is.

<About the Experience of Wearing Kimono>
It was really fun to try on a kimono and see how many layers are worn underneath. It was interesting to see how she chose the colours of the belt to match my kimono and she put my hair up into a beautiful bun with flowers. Walking in a straight line in the kimono was a little bit difficult since it is so restrictive but it was definitely good for my posture! It was certainly nice to dress up and experience the Japanese culture through fashion.

Lily Crossley-Baxter

<Hagi city>
Hagi city was one of the highlights of the tour. The quiet streets and shrines were magical and it really felt like ancient Japan.

<Shoin Shrine>
The Shoin shrine was fascinating, and had many unique and fascinating elements which I had not seen before in Japan. The history of the school and house were very interesting, and it was great to see the actual buildings as you could appreciate the size and simplicity. One of the unusual touches was getting your fortune on a small umbrella, and many visitors would enjoy this, as you can leave bad luck behind and add to the umbrellas in the trees, which is very pretty. We enjoyed the history and it was exciting to be in such an important place in Japanese history. The grounds were quiet and it felt very peaceful.

<Tokoji Temple>
This was an amazing opportunity, and felt like you were back in traditional Japan. The fact that it was so quiet and peaceful made it even better.

<Experience wearing Kimono>
Trying the kimono would be a great experience for any visitor, as you could try Japanese cuture yourself rather than seeing pictures or reading about it. We were allowed to walk along the streets in our kimonos and it was really fun. We could see the traditional buildings and felt like we were stepping back in time. The outfits were really interesting to try as we could understand how women would have felt and what it was like to be a woman in ancient Japan. The beautiful gardens and streets near by meant we could get lovely pictures which would make amazing memories of the trip in Japan. Having empty streets and quiet roads meant we could take our time and not feel crowded.

<Lunch at Garden Cafe Hotoritei>
We had a lovely cafe with a really simple and stylish setting. It had a traditional garden we could enjoy whilst we ate. I had the curry and it was really delicious, it tasted homemade and the presentation of all of our dishes was elegant and beautiful.
Chugoku JR Bus and Bocho Bus
("Super Hagi-go")
Hagi-Meirin Center → Shin-Yamaguchi Station
About 60 minutes
Ube Bus
Shin-Yamaguchi Station → Yamaguchi Ube Airport
About 30 minutes
Yamaguchi Ube Airportmore
Yamaguchi Ube Airport is a coastal airport with a high service rate adjacent to the city. It is blessed with a lush green natural environment and the calm climate of the Seto Inland Sea.

The airport is conscientious of its surrounding environment and has a "Fureai Park" that gives people tranquility and warmth.About 900 roses (140 varieties) are planted on the airport grounds.

The domestic 2F departure lobby has shops selling a lineup of diverse souvenirs representative of Yamaguchi Prefecture, such as sweets, kamaboko fish paste, puffer fish, and locally-brewed sake.

The menus of restaurants on the 2nd floor are associated with roses, so why not enjoy a relaxing time in the 2F lobby after taking a stroll through the garden?
ANA (ANA Experience JAPAN Fare) Show details
Haneda Airport
RECOMMENDATIONS FROM TRAVELERS
My tour of Tokyo and Yamaguchi enabled me to compare city life with rural life in Japan. It was great to get off the beaten track and see places that you don't read about much in the guide books. This was my first time in Japan and so I had lots of new experiences, such as trying real Japanese cuisine, wearing a kimono and bathing in the onsen.
Victoria Brewood

Blogger
Reside in United Kingdom

Hobby

Travelling, Gourmet

Number of visits to Japan

First time
RECOMMENDATIONS FROM TRAVELERS
I really enjoyed the tour as it was great to see so much in such a short time. The transport was reliable and made it relaxing to travel. I would recommend Yamaguchi to people who are looking to experience traditional Japan without the crowds of more popular places like Kyoto or Nara.
Lily Crossley-Baxter

TOKYO CHEAPO Writer
Reside in Tokyo
Home country: United Kingdom

Hobby

Culture (Art, Literature), food, Exploring prefectures

Length of stay in Tokyo

2 years
Other recommended route in same area