CITYSCAPE FROM THE SKY
After looking out over Tokyo from Skytree, Japan's tallest radio tower, head out to Bitchu Matsuyama Castle. This castle is known for being located at the highest point of all mountain castles with castle towers. Reflect on bygone history as you look out on the townscape stretching out beneath you.

Official Tokyo Travel Guide
https://www.gotokyo.org/en/

Local government official website
https://www.okayama-japan.jp/en/


TRAVELER
Traveled : October 2018

Jasmine T. Blossom

Blogger,Translator
Reside in Germany

Traveled : October 2018

Tessa Karina 

Author of German blog site  
Reside in Tokyo
Home country: Germany
Frankfurt Airport
ANA224 Examine the directions from your country
Jasmine T. Blossom

I have flown with ANA many times and I love how nice and welcoming the staff is. The flights are usually on time, the onboard entertainment offers a lot to choose from and I never felt too cramped in my seat - even in economy class. I also like the food and they choose good times to serve it. It's always a pleasure to fly with ANA.
Haneda Airportmore
The airport serves as an air gateway for Tokyo. The passenger terminal is filled with various commercial facilities, and visitors can command a panoramic view of Tokyo Bay from the rooftop observation deck, so that every one, even those who are not flying, can enjoy the terminal.
Tokyo Metropolitan Area
Day
1
TOKYO
TOKYO SKYTREE®more
RECOMMENDED DESTINATIONS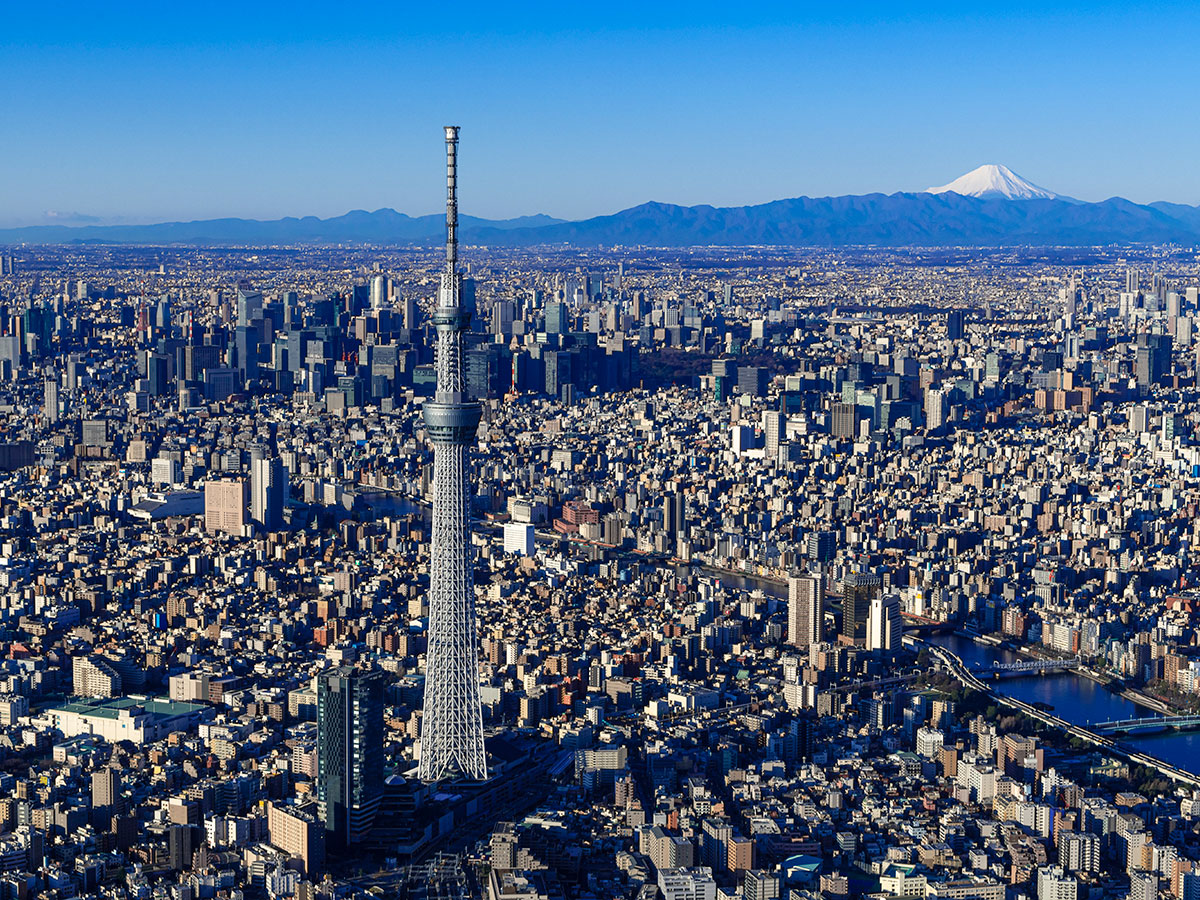 TOKYO SKYTREE® was listed in the Guinness World Records™ as the tallest tower in the world, standing at a height of 634 m. The Tembo Deck, at an elevation of 350 m, offers 360-degree panoramic views of the Kanto area, and even distant views of Mt. Fuji on a clear day. Tembo Galleria, a further 100 m up at an elevation of 450 m, offers even more expansive 360-degree panoramic views of the Kanto area. Moreover, the tower is lit up beautifully at night, alternating every day between "Iki," a soft blue light, and "Miyabi," a royal purple light. Special lights are also implemented for every season of the year. At the foot of the tower is Tokyo Solamachi®, a commercial facility packed with a wide selection of over 300 shops and restaurants, as well as a planetarium and an aquarium, offering a full day of enjoyment for visitors. The tower is a landmark that Tokyo boasts to the world.
Jasmine T. Blossom

When the weather is clear, Tokyo Skytree surely is one of the best options to enjoy Tokyo's skyline from above. If you're lucky you even can see Mt. Fuji. Just be aware that lines can be very long. You can get "fast track" tickets in advance, so you don't have to wait, but as the date is set you might end up with a bad weather day. It's a bit of a gamble, but you'll surely be happy if you catch a great view of Tokyo on a clear day. It's definitely a breathtaking experience, especially if you've never seen Tokyo from above before. It also offers a wider view than some of the other towers and observation platforms within Tokyo.

If you're visiting Tokyo Skytree, you shouldn't leave immediately. In the lower floors of Solamachi you'll find several shops, cafes and restaurants.
And if you're up for a special experience, then I recommend eating at "Shokkan Solamachi" which is a restaurant on the 30th floor, offering also breathtaking views of Tokyo.
It's on the east side, so you won't get to see Mt. Fuji, but you can enjoy delicious food (tempura, steak, sashimi) while looking down on Tokyo's skyscrapers. It's not the cheapest restaurant as you pay for the view, but it's still quite affordable.

Tessa Karina 

At 634 m, Tokyo Skytree is the tallest broadcast tower in Japan, and is a must-see in Tokyo. Of particular note are its two observation decks. They are at 350 m and 450 m and offer a gorgeous view of the wonderful landscape stretching from Tokyo to Mr. Fuji. Do not forget to stop by the souvenir shop in Tokyo Skytree. They sell souvenirs that cannot be found anywhere else.
Toei Asakusa Line Oshiage Station → Asakusabashi Station Around 10 minutes
JR Chuo-Sobu Line Asakusabashi Station → Ryogoku Station Around 10 minutes
Edo-Tokyo Museummore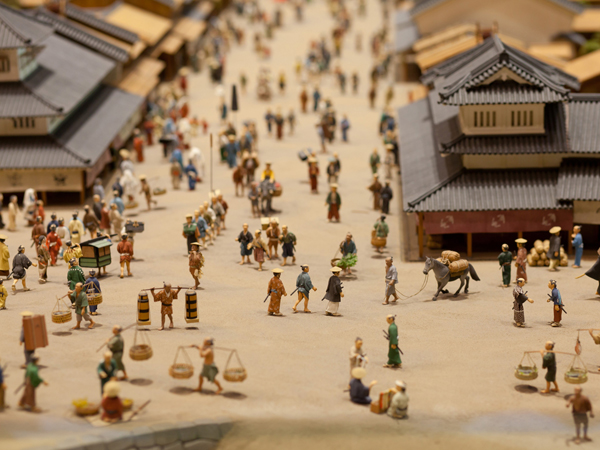 The museum allows visitors to learn about the history, culture and lives of people in Edo-Tokyo. In the permanent exhibition area are life-size models of Nihombashi Bridge and a drama theater in the Edo Period, as well as models of the Rokumeikan Hall and the brick streetscape of Ginza in the Meiji Period, showing what life was like at the time through three-dimensional exhibits. A wealth of real-life materials including ukiyoe paintings, kimonos, and daily household items are also exhibited to coincide with the changing of the seasons, allowing visitors to enjoy learning about the history of Edo and Tokyo.
Jasmine T. Blossom

If you're interested in the history of Tokyo (formerly known as "Edo") then the Edo-Tokyo Museum is a great place to visit. It's also a good option on a rainy day as all the exhibitions are inside.
You'll see replicas of many former buildings of Edo. You can even walk over the famous Nihonbashi. Learn how Tokyo became what it is today and how everything had to be rebuilt several times in the past due to natural disasters. It's hard to believe how Edo started out when you see what a big metropolis Tokyo has become nowadays. The Edo-Tokyo Museum helps you visualize this change.

Tessa Karina 

I visited the Edo-Tokyo Museum. When I visited, it had just reopened after being renovated. I was surprised at way people lived during the Edo period (1603-1868).
Edo is the old name for Tokyo, and the city was ravaged numerous times by earthquakes, tsunami, and other disasters, over its long history. At the museum, you can see how a small fishing village evolved into one of the biggest cities in the world.
Toei Oedo Line Ryogoku Station → Ueno Okachimachi Station Around 15 minutes
JR Yamanote Line Ueno Station → Komagome Station Around 12 minutes
Then walk for around 7 minutes
Rikugien Gardensmore
These gardens were constructed by Yanagisawa Yoshiyasu on land given to him in 1695 by Tokugawa Tsunayoshi, the fifth shogun of the Edo bakufu. Yoshiyasu spent seven years constructing a garden with paths around artificial hills and a pond. As the land was part of the flat Musashino region, when building the gardens he had to dig a pond, create hills, and bring in water from the Senkawa water supply to fill the pond.
Jasmine T. Blossom

If you want to experience something typical Japanese or if you simply want to take a break from the big city life, then checking out one of the Japanese-style landscape gardens is a great idea.
Rikugien Gardens features a huge pond and a tea house where you can enjoy matcha and wagashi (traditional Japanese sweets). Like most Japanese landscape gardens it offers something in every season. Personally I like autumn the best where you can gaze at the vibrant colors of the foliage.

If you're up for something rustic, why not check out a small Japanese izakaya such as "Denjiro"? You can share food with your friends, enjoy alcohol and you're also allowed to smoke in there. Typical food includes fried potatoes, yakitori and fried rice balls.

Tessa Karina 

In the afternoon, I took public transportation to the famous Rikugien Gardens. It is one of Tokyo's oldest and most beautiful gardens. It was built around 1700 by the fifth Tokugawa Shogun and reproduces 88 scenes from famous waka poems. There is a pond and tea house in the middle gardens, where I enjoyed some matcha tea.

Next to Rikugien Gardens is an izakaya pub called Denjiro where you can smoke, and you can enjoy a cigarette with local residents in the relaxed atmosphere. The pub is known for its kushiyaki and fried beef offal (hormone).
Daiichi Hotel Annex
Jasmine T. Blossom

This was my first time staying at Daiichi Hotel Annex which is just a short walk (2-3 mins) from Shimbashi Station. That means it's located on the Yamanote Line which is super convenient. It also has a good connection to Haneda Airport.
The rooms are relatively spacious, the beds are comfortable and the bath amenities are lovely. The buffet-style breakfast offers a good variety of Japanese and Western food. You can even choose the location for breakfast. Either in the hotel itself or in the sister hotel right next to it. On top of that there are several restaurants nearby as well as convenient stores.

Tessa Karina 

The Daiichi Hotel Annex is conveniently located near Shinbashi Station, and has everything a traveler needs from slippers and nightwear to toothbrushes. The breakfast is excellent and raises my impression of the hotel. Shimbashi Station is the perfect place for travelers as it is in the heart of Tokyo.
Day
2
CHUGOKU(OKAYAMA)
Haneda Airport
ANA (ANA Expericence JAPAN Fare) Show details
Jasmine T. Blossom

I was positively surprised by the machine we got for this domestic flight with ANA from Tokyo Haneda to Okayama in Western Japan. It was a really modern one that had a full-fledged entertainment system on board. Just like with an international flight you had a personal screen in front of you and could either watch a drama or listen to music. As always I enjoyed the free on-board service as I like the coffee they offer. Again I couldn't see Mt. Fuji from above which was a shame. The flight was so comfortable that I was sad it was so short. I could have stayed in the airplane for much longer.

Tessa Karina 

I flew from Haneda Airport to Okayama Momotaro Airport the next morning. It is very convenient to travel from Shimbashi station to the airport as I did not have to transfer to get to Haneda. They took my bags at the ANA check-in counter and I was able to enjoy a hassle-free, pleasant trip. During my one-hour flight, I enjoyed some candy and a couple of drinks. The seats were comfortable even for such a short flight. I was able to pick up my bags in no time, waiting for about five minutes at the carousel for them to arrive.
Okayama Momotaro Airportmore
Okayama Momotaro Airport has three domestic routes (to Tokyo, Sapporo, and Okinawa) and four international routes (to Seoul, Shanghai, Hong Kong, and Taipei). Numerous charter and provisional flights operate here as well. It is positioned in a highly convenient location, around 30 minutes by car from central Okayama City, and easily reached from neighboring major cities by regular buses from Okayama Station and Kurashiki Station. To get to the northern region of the prefecture, it is convenient to use a shared taxi or a rental car.
Okayama Momotaro Airport limousine bus
Okayama Momotaro Airport-->Okayama Station West Entrance
Around 30 minutes
Jasmine T. Blossom

I've visited Okayama a few times already, but unfortunately I never bothered to peek into the side streets. That's a shame because I missed out on "Ajitsukasa Nomura" where I ate the best katsu ever. They use their own secret family recipe for the demi glace sauce. Also, they use mostly local and organic ingredients and you can really taste it. It's a cozy little restaurant that's been running for 80 years and is now in the 4th generation. When I visit Okayama next time, I'll be sure to go there again. It's just a few steps away from the main road that leads from Okayama Station to the famous Korakuen Garden and Okayama Castle.

Tessa Karina 

After arriving in Okayama, I headed to Restaurant Ajitsukasa Nomura. The restaurant serves up a unique dish of a breaded pork cutlet in a secret demi glace sauce. The standard version of this in Japan has an egg in it. Here, you can try either type. It's delicious!
Okayama Korakuen bus
Okayama Station-->Okayama Korakuen Garden
Around 10 minutes
Okayama Korakuen Garden and Okayama Castlemore
Okayama Korakuen Garden

One of Japan's Three Great Gardens. It was made approximately 300 years ago by the 2nd feudal lord of the Okayama Domain, Ikeda Tsunamasa. A circuit-style Daimyo (feudal lord) garden, its wide lawns, ponds, artificial mountains, and tearooms are tied together with walkways and waterways.

It has a three-star rating from the Michelin Green Guide Japan. Every year, in the summer and autumn, the park is specially opened at late at night for the "Garden of Dreams" and "Autumnal Fantasy Garden" events.



Okayama Castle

The castle was built in 1597 by the military commander, Ukita Hideie. Its black-lacquered exterior of wooden boards earned it the nickname, "Crow Castle." However, the main tower, which was a National Treasure before World War 2, burned down due to war damage and was later reconstructed.

Within the main tower are a shop, a cafe, and other attractions, such as a free fitting corner for feudal lord and princess outfits.
Jasmine T. Blossom

I've been to the garden many times already and I love coming back there. Each season has its own charm. The garden is especially popular during cherry blossom and autumn foliage season. There is so much to explore that you find something new every time you visit. It's one of Japan's top 3 landscape gardens. I have been to all three and Korakuen is my favorite by far. I've already dragged family and friends along to show them around. Green tea fields, ponds, koi carps, cherry blossoms, plum blossoms … and the list goes on and on. The highlight, tough, is that you can see the black "Crow Castle" in the background which makes it an even more special experience. Make sure to stop at the tea house to enjoy some matcha and Kibi dango (famous regional sweets).

As a huge castle fan I've visited Okayama Castle countless times. Although it's not an original tower anymore, I like its shape and black color. A big bonus is that you have one of Japan's top 3 landscape gardens right next to it. You can take great photos of the castle featuring sceneries from within the garden. Okayama Castle's black color is the exact opposite to nearby Himeji Castle with its white castle tower. It's the Black Crow Castle vs. the White Heron Castle. You really should visit both. It's just a short ride on the Shinkansen after all.

The dinner at "Kidoairaku" was a special experience. Before we got to eat, we actually had a lesson about how to prepare sushi and decorate the side dishes. Our teacher was a famous sushi master who has also appeared on TV several times. We learned how to correctly do nigiri sushi and also how to divide and hold chopsticks correctly. We were taught how to pick up and eat nigiri sushi the correct way. Even the Japanese people who were with us said they didn't know about it yet. After we created our own dinner plate which you can see on the photo, we were able to enjoy delicious seafood together. It certainly was an evening I won't forget so fast.

Tessa Karina 

I took a bus from Okayama Station and headed to Okayama Korakuen. The bus fare was only 100 yen. At Korakuen, I enjoyed the vast, lush landscape, stunning scenery, and had tea at a tea house. I found it hard to leave as I enjoyed some matcha tea while taking in the scenery of the garden. That said, waiting in the wings behind the scenery was my next destination: Okayama Castle!

Just a short walk from Korakuen is the black-painted Okayama Castle. It is black so that it cannot be seen at night. The impressive walls and defenses around the castle are breath-taking. Inside the castle, you can try on kimono for free and dress up as a feudal lord or a princess. It took no time to dress up and was a fantastic experience.

At night, I went for sushi at the famous restaurant, Kidoairaku. The chefs here teach you how to make sushi. The lesson started with me learning knife handling skills by cutting up some cucumbers, and then tried my hand at Okayama's unique kakushi sushi (hidden sushi). It was difficult to make but I had a great time!
Okayama Korakuen bus
Okayama Korakuen Garden-->Okayama Station
Around 10 minutes
Hotel Via Inn Okayama
Jasmine T. Blossom

The hotel "Via Inn Okayama" is right within the JR station building. Thus it's conveniently located if you have to catch an early train the next morning. The rooms aren't very spacious, but you'll find everything you need. I enjoyed taking a long shower and washing my hair and it wasn't a problem at all. The bed and the provided massage pillow were extremely comfortable and helped me fall asleep very quickly. They offer a buffet-style breakfast with both, Japanese and Western-style food. As the hotel is within the JR station building, you have several shops, convenience stores and restaurants right there.

Tessa Karina 

The Hotel Via Inn Okayama is a very convenient hotel being located next to Okayama Station. Breakfast was a buffet that started from 6:30 in the morning. My room and the dining room offered amazing views of Okayama.
Day
3
Hotel Via Inn Okayama
JR Hakubi Line Okayama Station-->Bitchu-Takahashi Station
Yakumo limited express
Around 35 minutes
Jasmine T. Blossom

Taking the JR Yakumo is a very fast and convenient way to travel around in Chugoku, e.g. when going from Okayama to Bitchu-Matsuyama Castle or even further to the famous Izumo Taisha Shrine in Shimane Prefecture.
It's a limited express where you can reserve seats, but there are also unreserved seats available. It's similar to a Shinkansen, just not as fast. The seats are a lot more comfortable than in a local train. The Japan Railpass is valid on this train. They also provide extra storage for large luggage.

Tessa Karina 

The Yakumo express train takes you to Bitchu-Takahashi Station in no time. The seats on the Yakumo have generous legroom and the train is on time. You can also have a bite to eat while you are on an express train and they even have trash cans!
Bitchu Matsuyama Castle Shared taxi
Bitchu-Takahashi Station-->Fuigo Toge
Around 10 minutes
Around 20 minutes by foot after disembarking from the taxi
Bitchu Matsuyama Castlemore
RECOMMENDED DESTINATIONS
Truly a castle in the sky, floating in a sea of clouds
The fact the castle remains standing despite being on a mountain is what earned its designation as an important cultural asset. It is famous for being the only mountain castle remaining in Japan. Along the approach to the castle is a huge rock wall more than 10 meters tall, illustrating how impregnable the castle was. In addition, many fans visit from the early morning to see the "Castle in the Sky" for its fantastic appearance as if it were floating in a sea of clouds.
Jasmine T. Blossom

In rural Bitchu-Matsuyama you can experience a phenomenon that is called "sea of clouds". Only the peak of the surrounding hills can be seen, the city itself will vanish beneath a sea of clouds. You have to be very lucky to experience this phenomenon. Your chances are best from October to November in the morning hours (7-9 a.m.). On one of the hills that peek out of the clouds, you'll see the famous Bitchu-Matsuyama Castle. I was so excited to take a shot of a "castle in the sky", but unfortunately there weren't enough clouds on that day. It was still a great experience and the observation platform provides stunning views of the city and the surrounding hills.

Bitchu-Matsuyama Castle is one of the 12 remaining original castle towers in Japan. As I've been to all 12 I can say that I loved coming back to this one. Last time I went in spring and the scenery certainly changes for the better in autumn. The castle is the highest among the 12 oldest castle towers, so you really shouldn't miss out on this one. Needless to say that you also have stunning views from up there. The remaining castle walls, especially when approaching the castle tower, are breathtaking.

After the castle hike, we were looking forward to our lunch at "Uotomi". It's a small, cozy restaurant that serves a variety of food (e.g. tempura, udon, fresh seafood). The lunch set was quite affordable. I went for the sashimi and udon set and it was really tasty. The staff was nice and the food was served quickly after we ordered.

It was my first time experiencing how hina dolls are being made. I've always loved looking at the beautiful displays during the Hina Matsuri in March, but I had no idea how much work and effort goes into making these traditional dolls. You'll definitely look at hina dolls with different eyes once you learned all about the process that goes into making them. It was a lot of fun walking through the halls, seeing all the different types of pattern of cloth that are being used to create the colorful kimono. Some are traditional, some a bit more modern. The sizes of the dolls also vary greatly. The larger they are, the more expensive, of course. Unfortunately we didn't have much time. I'd love to visit again, hopefully then with a bit more time at hand. I once visited Bitchu-Matsuyama during the Hina Doll Festival and people displayed their really old hina dolls in their houses for everyone to see. It feels like Bitchu-Matsuyama is THE hina doll city.

Tessa Karina 

I took a taxi from Bitchu-Takahashi Station and headed to the observation deck. From the observation deck you can see Bitchu Matsuyama Castle floating in the clouds. The best time to see this is usually 7 AM to 9 AM in the morning from October to March, but your chances of seeing it are best in October and November. We arrived at 8:45 AM and our luck could not have been better!

I then took a taxi along the mountain road leading to Bitchu Matsuyama Castle. After a 20-minute drive, big defensive walls and wonderful viewing spots appeared. You can see the precious history of the living castle in the keep.

At Bitchu-Takahashi, I visited the famous seafood restaurant, Uotomi. They offer delicious sashimi served on rice, and I enjoyed a delicious meal in a relaxed environment. It is very easy to miss this place and pass by it, but it is definitely worth visiting!

A short walk took me to the Hina Doll Kiho Workshop. Here, I learned how the famous dolls used for the Hinamatsuri doll festival are made. First, you select the material, fasten the torso, put clothes on it, bend it into position, and then finally put the head on. Once you seat the doll on the pedestal, you are done!
Around 20 minutes to the shared taxi stand
Bitchu Matsuyama-jo Kanko Shared Taxi
Fuigo Toge-->Bitchu-Takahashi Station
Around 10 minutes
Scheduled route bus
Bitchu-Takahashi Station-->Fukiya
Around 60 minutes
Fukiya Furusato Villagemore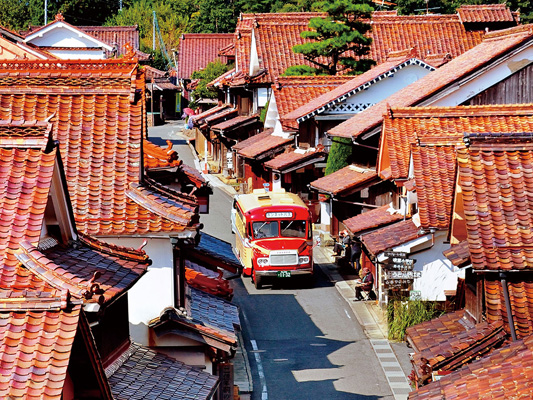 A nostalgic cityscape with uniform sekishu-gawara roof tiles and bengara color
Once a flourishing mining town during the Edo (1603–1868) to Meiji (1868–1912) periods, this village was famous as a major producer of vivid red "bengara" color pigment made from oxidized iron. The village is designated as an Important Preservation District for Groups of Traditional Buildings, and the uniform red copper sekishu-gawara roof tiles and bengara buildings are part of the cultural heritage left by Fukiya's elders. The workshop plans for making handkerchiefs or bags using the bengara pigments are popular.
Jasmine T. Blossom

I've never been to Fukiya Furusatomura before. It feels like a hidden village in the mountains of Okayama. The village is famous for "bengara" which is a color pigment made from oxidized iron. You'll notice that color at almost all of the houses and especially the walls there. As the village is in the mountains, you can enjoy autumn colors there earlier than in Okayama City. The leaves seemed almost in their peak when we visited in early November. We also got to make our own tote bags using bengara colors. It was a lot of fun! The village is a quiet getaway and you can experience the real Japanese countryside there. They also have lodging up there, so you could even stay the night.

In the evening we arrived at Ryori Tsurugata Ryokan, a traditional Japanese guesthouse where dinner was served in our room. The food there is praised to be very exclusive and delicious. There were several courses and one was better than the other. Each and every course was displayed in a beautiful manner with expensive looking plates that enhanced the dish. I liked the fact that they offered a detailed explanation for each course. They also had a printed menu featuring Japanese and English. Having your meal served to you in your room makes you feel very special, so it was a great experience. Thus far I've only experienced having breakfast served in my room in a Japanese ryokan.

Tessa Karina 

I traveled to Fukiya Furusato Village via a bus with a red-painted hood. This area is famous for its red clay tile roofs. There is a mine nearby, and it was known for producing a red pigment (iron oxide). You can paint cups and other things at the studio. The dyes are all made from the mine.

At night, I checked in at the Tsurugata ryokan. Here, you can enjoy a delicious dinner and fine wine in your room. Tsurugata is the second oldest ryokan in Kurashiki and is perfect for taking a walk around Kurashiki during the day or night. While I was in the hot spring, the staff cleaned up my table and laid out my futon.
Scheduled route bus
Fukiya-->Bitchu-Takahashi Station
Around 60 minutes
JR Hakubi Line
Bitchu-Takahashi Station-->Kurashiki Station
Yakumo limited express
Around 20 minutes
Hotel Tsurugata
Jasmine T. Blossom

Obviously we also stayed the night at said ryokan. It wasn't my first time in a Japanese ryokan, but I liked the fact that you had your own huge bathtub with a view into your private little Japanese-style garden outside. They also have a small public bath which was very clean and convenient. The staff is very helpful and makes sure you have everything you need to make your stay as pleasant as possible. The ryokan is located right next to the river in the historical district of Kurashiki, so you can stroll around in the evening or early morning to take photos with no people around. The guesthouse is the second oldest building in the historical quarter and is quite famous and popular, especially among newly-weds.

Tessa Karina 

The room at the ryokan had its own private bath and a futon set for two, and was warm and comfortable (thanks to the air conditioner) even in winter. Breakfast was all laid out in separate room, and the grilled fish and other dishes were delicious. Each room has its own small Japanese garden and taking in its beauty is a great way to pass the time.
Day
4
Hotel Tsurugata
Around 15 minutes
Kurashiki Bikan Historical Quartermore
The beautiful white-walled city scape radiates historical romance and art.

The Kurashiki Bikan Historical Quarter preserves the beauty of traditional Japanese architecture for the present day, with its rows of willow trees gently swaying in the wind, and the beautiful contrast between the white walls and the black-and-white namako walls casting their shadows onto the Kurashiki River below. Fashionable shops stocking Kurashiki brands, such as "Kurashiki Hanpu" (Kurashiki-produced canvas), and cafes made from remodeled townhouses are lined up together. Many cultural facilities have gathered here, including the "Ohara Museum of Art," which has a collection of world-famous paintings.
Jasmine T. Blossom

Strolling along the river in the historical district of Kurashiki makes you almost forget that you are in Japan. There are many folks craft and art museums along the way. It's a very calm area with many tiny cute cafes and restaurants. If you have enough time, make sure to take a short boat tour on the river. The photos you take from within the boat will offer yet another perspective. You'll also understand why some call it the "Venice of Japan". My personal highlight is the toy museum. You can spend hours in there staring at all the dolls, kites, traditional toys and masks that are being displayed.

The lunch at Pesce Luna presents the adaption of Italian food in Japan very well. The location used to be a garage, but you wouldn't notice it at all. It offers a very cozy atmosphere and the lunch menu consisting of a soup, white bread, spaghetti and a plate with fresh seafood is affordable and delicious. The restaurant is conveniently located within the historical district of Kurashiki.

There are many cycling tours you can actually do in Okayama. A very relaxed and yet beautiful one leads you through the Japanese countryside from one shrine and temple to the next. That's why the Kibi district cycling tour is quite popular. There are no steep hills, so it's an easy ride. Along the path you'll also learn more about Momotaro's legend. Don't forget to take a break and eat Kibi dango! It was my second time doing the cycling tour. It's not crowded at all and as you ride along rice fields you can soak in the true Japanese lifestyle. I used to live nearby, so it felt like being back home again. It's certainly a different experience from all the crowded and well-known tourists spots.

On the highest floor in one of the neighboring buildings of Kurashiki Station you'll find "Hamura Chaya". From up there you'll have a great view of Kurashiki Station and surroundings.
I like how they offer many different tiny portions of food, so you can enjoy a lot of different things at once without overeating. Their specialty is sesame tofu with kuzuan. Of course I had to try it and I really liked it. If I ever go to Kurashiki again, I'll make sure to eat it once more.

Tessa Karina 

The next morning, I took a walk through the old town of Kurashiki. I strolled the streets, visiting a toy museum and a museum of famous people from the city. I also took a boat ride back in time down the canal and tried a locally-renown fruit parfait.

Pesce Luna is located just outside the old town and serves up delicious pasta dishes. There are three types to choose from with one always being tomato-sauce based. You are served bread and olive oil before your meal.

Not far from Kurashiki Station is Soja Station, where I rented a bicycle for a cycling tour. Over the course of two to three hours, the tour took me to temples, old graveyards, market halls, and rice paddies. The tour is suitable for people who do not normally ride bicycles as it takes you through mostly flat terrain.

At night, I enjoyed dinner at Hamura Chaya, not far from Kurashiki Station. There is a variety of delicious fish to choose from, and the view from the bus terminal is fantastic. It is not crowded during weekdays, so it feels like you have the whole place to yourself.
10 minutes
Okayama Momotaro Airport Limousine Bus
Kurashiki Station North Exit → Okayama Momotaro Airport
About 35 minutes
Okayama Momotaro Airport
ANA (ANA Expericence JAPAN Fare) Show details
Haneda Airport
Jasmine T. Blossom

Tokyo is definitely a great starting point when you travel to Japan and no matter how often you visit, there's always something new to explore. However it's really worth checking out other parts of Japan as well to get a good contrast to the modern life of the famous metropolis. If you want to experience rural Japan while enjoying one of Japan's top landscape gardens and stunning castles, Okayama is a great choice! It's on the main Shinkansen line that leads from Tokyo to Kyoto to Hiroshima, so definitely go check it out and enjoy some of the famous food there as well (grapes, Kibi dango etc.).

Tessa Karina 

Overall, this was an excellent tour recommended for people who want to experience the authentic Japan. What makes this tour stand out from others is the contrast between the metropolis of Tokyo and rural Okayama.
RECOMMENDATIONS FROM TRAVELERS
If you are in Tokyo on a very clear day, you should consider visiting Tokyo Skytree. Chances are high, you'll be able to see Mt. Fuji. On a rainy day, you can instead visit the Edo-Tokyo Museum. And if you want to escape the stressful big city life, Tokyo offers some lovely Japanese-style gardens where you can relax while enjoying a cup of matcha. As great as Tokyo is, if you want to experience the real Japan you should explore other regions as well. Two impressive castles, one of them among the 12 oldest in all of Japan, as well as one of Japan's top 3 gardens will await you in Okayama. It's conveniently located on the main Shinkansen line on your way from Kyoto to Hiroshima, so it's a great idea to get off there and explore!
Jasmine T. Blossom

Blogger,Translator
Reside in Germany

Hobby

photography, travelling, hiking, healthy food

Number of visits to Japan

more than 10 times
RECOMMENDATIONS FROM TRAVELERS
The Tokyo-Okayama tour is perfect for individual travelers who want to see places beyond Tokyo and is also for those who are interested in the beautiful history of Japan found in large cities as well. I want to contrast the cutting edge and the traditional and also show you a unique side to Japanese.
Tessa Karina 

Author of German blog site  
Reside in Tokyo
Home country: Germany

Hobby

Traveling, Japan and Hiking

Length of stay in Tokyo

5 Years
Other recommended route in same area