STUNNING NATURE
After having a taste of refined Japanese cuisine at a quiet garden in the center of a metropolis, take a trip to the Oki Islands UNESCO Global Geopark surrounded by vast nature. This journey will allow you to thoroughly enjoy the pleasures of both manmade and natural beauty.

Official Tokyo Travel Guide
https://www.gotokyo.org/en/

Local government official website
http://www.kankou-shimane.com/en/


TRAVELER
Traveled : October 2016

Renaud BONNET

Travel blogger
Reside in Paris, France

Traveled : October 2016

SAMANTHA LASSAUX

Information exchange website writer
Reside in Tokyo
Home country: France
Paris Charles De Gaulle Airport
Renaud BONNET

<JAL>
I flew JAL for the first time, taking flight JL046. I was pleasantly surprised with the detailed care and kindness of the cabin attendants. Meals were served several times as expected on long flights, and I felt that care again when dinner and breakfast (Japanese food) were courteously offered.
The flight took off and landed on time. There were also various services during the flight (clean toilets, snacks, drinks, etc.). It gave me a good impression of Japan Airlines.
JAL046 Examine the directions from your country
Haneda Airportmore
The airport serves as an air gateway for Tokyo. The passenger terminal is filled with various commercial facilities, and visitors can command a panoramic view of Tokyo Bay from the rooftop observation deck, so that every one, even those who are not flying, can enjoy the terminal.
Tokyo Metropolitan Area
Day
1
TOKYO
Happo-en: Enjumore
RECOMMENDED DESTINATIONS
Enju is found inside the wedding venue, Happo-en, overlooking an expansive Japanese garden. To allow enjoyment of the changing of the four seasons through foods in season and views of the garden, diners are served original multi-course Kaiseki meals featuring different bowls of seasonal foods for every month of the year that are also a feast for the eyes. Moreover, diners can savor chef-recommended Kaiseki dishes prepared in ways that take full advantage of seasonal delicacies at the height of their deliciousness.
Renaud BONNET

<Happo-en>
Despite the dreary weather, I had a wonderful encounter with Happo-en Japanese gardens.
Overall, I was deeply impressed by the beauty of the garden - its authentic and thorough attention to detail backed by tradition. I also enjoyed the bonsai collection set on a large wooden table. Some of the trees were truly wonderful.
I happened upon a wedding while I was there (photographs were being taken in the garden), and enjoyed the beautiful kimono worn in Japanese ceremonies. Fantastic!

<Lunch at Happo-en>
This restaurant's elaborately-decorated, exquisite lunch combines modern and traditional elements. Opening onto the gardens, the restaurant is bathed in beautiful light.
A young woman in a traditional kimono provided us with our meal, and we had a pleasant time. The restaurant is an excellent blend of luxury and authenticity.

SAMANTHA LASSAUX

<Happo-en>
Happo-en is a wonderful place in the center of Tokyo for events and weddings. There are gardens of different heights, numerous bonsai trees, and hundreds of Japanese carp swimming in a pond. I cannot help but be attracted by these beautiful things. The tea room in a bamboo grove also oozes charm.

<Lunch at Happo-en>
The Japanese atmosphere of the restaurant was pleasant and relaxing. The prompt service, pleasant staff, and good food is underscored by the reasonable price. I whole-heartedly recommend this restaurant if you wish to enjoy authentic Japanese food while relaxing.
Tokyo Metro Namboku Line
Shirokanedai Station → Tameike-sanno Station
Tokyo Metro Ginza Line
Tameike-sanno Station → Asakusa Station
About 30 minutes
Tobu Railway
Asakusa Station → TOKYO SKYTREE
About 3 minutes
TOKYO SKYTREE®more
TOKYO SKYTREE® was listed in the Guinness World Records™ as the tallest tower in the world, standing at a height of 634 m. The Tembo Deck, at an elevation of 350 m, offers 360-degree panoramic views of the Kanto area, and even distant views of Mt. Fuji on a clear day. Tembo Galleria, a further 100 m up at an elevation of 450 m, offers even more expansive 360-degree panoramic views of the Kanto area. Moreover, the tower is lit up beautifully at night, alternating every day between "Iki," a soft blue light, and "Miyabi," a royal purple light. Special lights are also implemented for every season of the year. At the foot of the tower is Tokyo Solamachi®, a commercial facility packed with a wide selection of over 300 shops and restaurants, as well as a planetarium and an aquarium, offering a full day of enjoyment for visitors. The tower is a landmark that Tokyo boasts to the world.
Renaud BONNET

<TOKYO SKYTREE>
Tokyo Skytree is an impressive and powerful piece of architecture with an incredibly fast but comfortable elevator.
Even here, the quality of the tower staff and their hospitality is great. Looking over Tokyo from this height is something special.

SAMANTHA LASSAUX

<TOKYO SKYTREE>
Skytree has a lot of different shops. The dizzying speed of the elevator was a fun experience. Naturally, the view of Tokyo is unforgettable. There are several cafes and restaurants where you can take a break.
Tobu Railway
TOKYO SKYTREE → Asakusa Station
About 3 minutes
Sumida River Cruising (Hotaluna)more
Hotaluna has a metallic silver, streamlined body, made in the image of a spacecraft, with gullwing doors and a promenade deck on the roof, allowing people to enjoy the view from outside the boat. Moreover, the glass windows at the back of the boat emit a pale light, lighting up Sumida River like a firefly through the night from dusk.
SAMANTHA LASSAUX

<Sumidagawa Cruising (Hotaluna)>
This is a fun way to cross over from Tokyo to Odaiba by boat. The design of the boat is also interesting and there are enough windows and sofas to make you comfortable while on the move.
Hotaluna
Asakusa → Odaiba
About 60 minutes
Renaud BONNET

<Walking tour of Daiba>
Odaiba, built on reclaimed land, is an interesting place thanks to its numerous restaurants and attractions.I was surprised by the full-size Gundam statue. It's size and manga-esque aspects are impressive. Coming here to take pictures of this huge robot is a "must do" for this area.

<Dinner at a kushiage restaurant>
This is an attractive restaurant with an interesting Japanese-style interior design. Various dishes were served promptly. The food was flavored with mouth-watering Japanese seasonings.
I recommend coming here to relax and enjoy the atmosphere of a Tokyo restaurant at night.

SAMANTHA LASSAUX

<Walking tour of daiba>
There is a replica of the Statue of Liberty and a faithfully reproduced Gundam robot in Odaiba that are fun to look at, and is good for a little walk in the afternoon. Odaiba is spacious and a great place to take a break from the narrow confines of Tokyo. You can also step back in time to the Showa period at the Decks Tokyo Beach Daiba 1-chome Shoutengai shopping arcade.

<Dinner at a kushiage restaurant>
It is a traditional Japanese restaurant in a good sense. The menu is written on the wall and the staff are friendly. The second floor is spacious. The sauce that everyone shared and the delicious meal put me in a good mood.
New Transit Yurikamome
Daiba Station → Shimbashi Station
About 15 minutes
Walk
Hotel Villa Fontaine Tokyo-Shiodome
Renaud BONNET

<Hotel Villa Fontaine Tokyo-Shiodome>
I had a room that offered a sense of luxury and a nice view. The desk, washroom, large bed, and bathroom made me feel at home. The quality of the bedding was perfect (but a little on the hard side if you compare it to European standards, so be careful). Despite my jet lag, I was able to have a good night's rest in genuine "business class" comfort.

SAMANTHA LASSAUX

<Hotel Villa Fontaine Tokyo-Shiodome>
This is a comfortable hotel with professional staff who speak English. There are stores in the building, which is convenient for some quick shopping.
Day
2
CHUGOKU(SHIMANE)
07:10 Haneda Airport
Renaud BONNET

<Haneda Airport>
I am impressed with the high quality behind the concept of Japanese airports. There are plenty of staff on hand to receive travelers, and they offered me advice and were always friendly. Everything from flight departures, notification displays, and waiting areas were easy to understand and clear. It is a big difference from the European experience.
Flight JL 277 took off on time, and I had a comfortable journey. The cabin attendants were very friendly and helpful.

SAMANTHA LASSAUX

<Haneda Airport>
Haneda has a pleasant atmosphere. The staff are very friendly and professional. My flight was on time and comfortable. The in-flight Wi-Fi service is convenient.
JAL277 (Japan Explorer Pass) Show details
8:35 Izumo Enmusubi Airportmore
A gateway to Shimane Prefecture, Izumo Enmusubi Airport (Izumo Airport) is close to tourist spots, such as Izumo Taisha Grand Shrine and Iwami Ginzan Silver Mine (World Heritage), making it a highly convenient airport for tourists. Car rentals are also available at the airport.
Renaud BONNET

<Izumo Airport>
The last flight of the day is a small propeller plane with about 30 seats, which adds to the appeal of the travel experience and makes me feel like I'm really on a journey. There is nothing scary about the flight, and it was comfortable, offering beautiful views of the ocean and the intricate coastline. Taking a propeller airplane was a great experience.

SAMANTHA LASSAUX

<Izumo Airport>
This was the smallest airplane and airport I have ever seen! However, the service was perfect as always, and there were several shops where I could do some shopping. The staff are pleasant and the shops offer local products. The flight is pleasant and quick, and is a suitable means for traveling to an island.
Izumo Enmusubi Airport → Oki Islands Global Geopark Airport
About 30 minutes
Oki Islands Global Geopark Airportmore
The Oki Islands are divided into Dozen and Dogo. Dozen includes three inhabited islands - Chiburijima (Chibu-mura), Nakanoshima (Ama-cho), and Nishinoshima (Nishinoshima-cho), while Dogo is just one inhabited island (Okinoshima-cho).
The Oki Islands Global Geopark Airport is on Dogo (Okinoshima-cho), and regular flights fly to and from the island once a day, every day, directly from Izumo Airport in Shimane and Osaka International Airport.
Rent-a-cars and tourist taxis are convenient for traveling on the islands.
Tourist taxis are available on each island offering recommended routes,
as well as custom routes according to the requests of visitors.
Oki Islands UNESCO Global Geopark (Kuniga Coast )more
RECOMMENDED DESTINATIONS
The Oki Islands were formed several hundred million years ago and its unique ecosystem and culture that has not changed since ancient times is why it's designated as a UNESCO Global Geopark.
The Kuniga Coast is one of Oki's most well known scenic areas. Spanning about 7 kilometers from east to west the majestic sight of bluffs, sea cliffs and caves is truly amazing.
Don't forget Matengai Cliff. This huge sea cliff rises 257 meters above the ocean, making it the tallest in Japan. Viewing the ocean from atop this cliff provides a grand scale that will make you feel tiny in comparison.
Tourist taxis are available on each island offering recommended routes,
as well as custom routes according to the requests of visitors.
Renaud BONNET

<Tamawakasumikoto Shrine and Yaosugi>
Exploring this place is very inspirational and perfectly matches the real Japan that I seek. The shrine is a beautiful dark wooden building in an idyllic setting that makes for excellent photos.
Thanks to the bright and sunny weather, the discovery of this beautiful and inspirational place was a delight.

<Lunch at Restaurant Umisachi>
This is an interesting place, and I was immersed in the local culture that is the custom of the islanders. The restaurant is spacious, and the wood and light create a beautiful atmosphere. The meal was cold soba with several vegetable side dishes. It is an ideal place to unwind before you head out to discover the island.

<Boathouses>
This is a place that you can take 10 minutes to enjoy. Originally storage for fishing boats, the old buildings were rebuilt several years ago. Wooden boats floating on the water create a beautiful image that is aesthetically pleasing. Definitely worth visiting!

<Dangyo Waterfall>
I found something very beautiful deep in the woods, surrounded in a wonderful atmosphere. With bright and sunny weather, I enjoyed the fragrance of the forest and the dreamy light. Following a not-so-difficult trail, you'll discover the waterfall and a shrine. Beautiful statues line the path to the shrine. I highly recommend this place!

<Cape Nagu>
This cape is a "must visit." The view is spectacular when the weather is good. As you follow a long trail, you can make your way down to the lighthouse below. It is somewhat difficult to climb down to, but the area is kept in good condition.

SAMANTHA LASSAUX

<Tamawakasumikoto Shrine and Yaosugi>
This is the shrine of the gods who created the Oki Islands. It is a quiet environment where you will find the giant Yaosugi cedar tree. Located in the middle of the shrine, it is said to be over 2,000 years old, and is propped up by several supports. From the lake next to the shrine, you can view the back of the building, which is of a rare construction. The surrounding trees offer shade to visitors, and you can enjoy the shrine in the forest at your leisure. There is a small sanctuary open next to the shrine where you can see one of the few remaining station bells in Japan that government officials once used.

<Lunch at Restaurant Umisachi>
A very nice restaurant where you can eat simple, local cuisine. It has a high wooden ceiling and laid back atmosphere. It is a place that will not only fill your stomach but make it difficult for you to not stay.

<Boathouses>
Here, you can get a glimpse of the real landscape of Japan. The old boathouses are still in use, depending on the time of year. The colorful scenery, waves, the smell of the ocean, and the sounds are relaxing.

<Dangyo Waterfall>
The waterfall is probably the place I like the most on this trip. Deep in the forest, the scenery that unfolds at the top of the stone steps is unreal. At the bottom of the valley, sunlight illuminates the waterfall and a wooden shrine next to it. There are no tourists, and the place is quiet and transcends time.

<Cape Nagu>
The air is fresh and the ocean views are amazing. It is a beautiful setting in fine weather. A cute wooden staircase will take you down to the shore.
Japanese inns and guesthouses on the islandsmore
There are a few large hotels on the islands, but the Japanese inns and guesthouses are where visitors can experience the local cuisines, daily life and warmth of people on the islands. It is needless to say that the delicacies from the surrounding ocean are delicious. Come and enjoy the local cuisine, that is unique to the Oki Islands. Many of the places are small-scale operations, so it is recommended to make your bookings in advance.
Tajimaya, an inn in Ama-cho , strives for perfection by not only in serving fresh fish, vegetables and rice, but by making eggs, natto, and even miso in-house in an effort to achieve self-sufficiency. At dinnertime, the proprietress entertains guests with traditional, local folk songs and dancing, enveloping everyone in a warm atmosphere.
Strolling around the neighborhood you will realise that despite being close to the sea, there are rice paddies nearby, backyard vegetable gardens and free-range chickens. Visitors can see how the self-sufficient lifestyle of Tajimaya extends throughout the neighborhood.
10min by car from Hishiura Port.
Pick-ups are available on request.
Japanese inn, Tajimaya
Renaud BONNET

<Japanese inn, Tajimaya>
This Japanese inn is an authentic minshuku. The large building is located a little inland from the harbor, and has several Japanese style rooms. The receptionist is incredibly kind. A one-night stay includes dinner and breakfast, and provides the best way to catch a glimpse into the daily life of a Japanese family.
Dinner is substantial and refined. It is prepared with local ingredients and tastes delicious. Everything is served with the utmost care. A shamisen performance followed dinner, and I was able to see and hear traditional dancing and songs. It was fantastic!
If you want to experience a minshuku, this is the place to go! You are also able to experience local culture and its delicacy up close.

SAMANTHA LASSAUX

<Japanese inn, Tajimaya>
We were warmly welcomed by the managing family of the inn and were able to soon relax. Meals were made with ingredients from the garden and the island, and the excitement for the night was song and dance. The room was clean, spacious, and comfortable. Sleeping on a real futon was a chance to experience real Japanese living. The traditional Japanese breakfast was delicious, and I left the minshuku knowing that I wanted to come back soon. The minshuku is close to the ocean, so I could enjoy a pleasant morning walk.
Day
3
Japanese inn, Tajimaya
Inter-island ferry
Hishiura Port (Ama-cho) → Beppu Port (Nishinoshima-cho)
About 7 minutes
Oki Islands UNESCO Global Geopark (Sekiheki(Red Cliff))more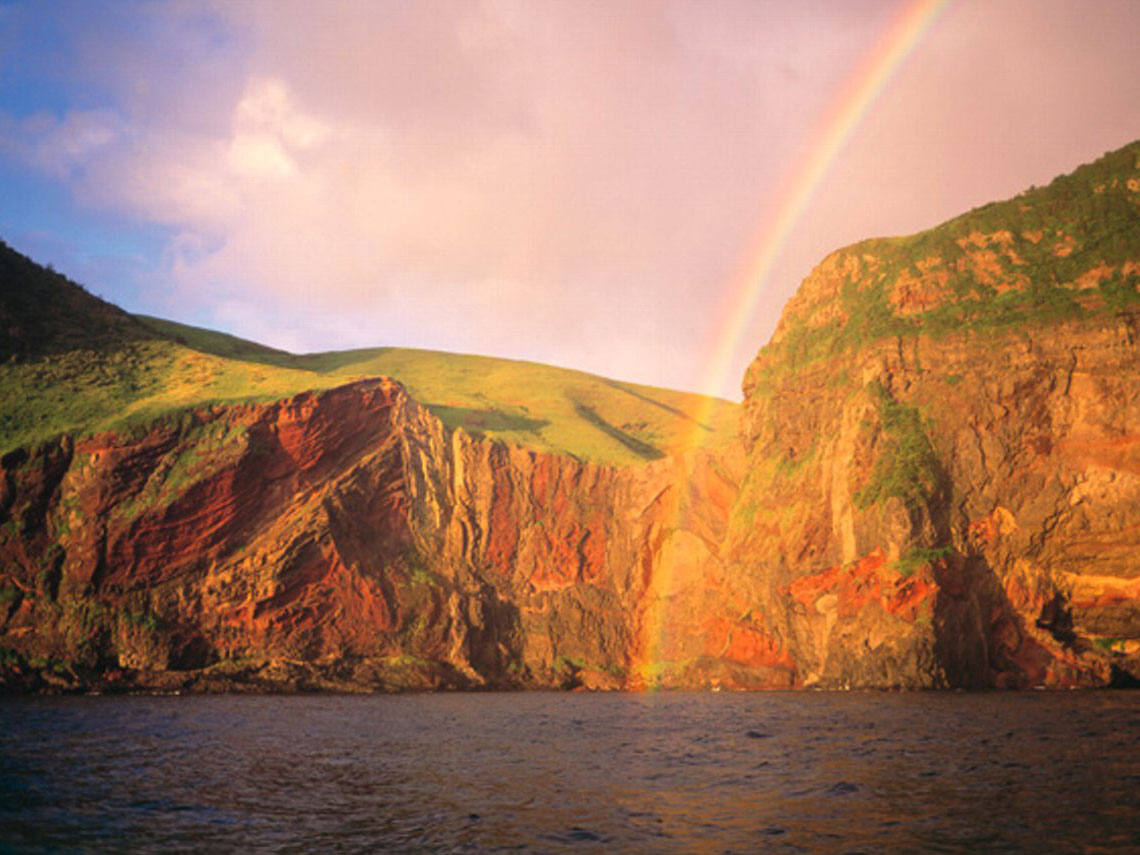 On the west side of Chiburijima Island, part of the Oki Islands, there is a 1-kilometer stretch of coastline that has been eroded to bare rock. As its name suggests "Sekiheki" or Red Cliff has gotten its color from the specific nature of the eruption that occurred there. Its distinct geology features are found in its layers of various colors and patterns. It has become a symbol of Chiburijima Island, and is one of the most spectacular coastlines of the Global GeoPark designated Oki Islands. You can enjoy the scenery, especially in the evening, when the red cliff walls and setting sun reflect on the blue sea.
Renaud BONNET

<Nishinoshima tenku sky walking>
Nishinoshima was a discovery of strikingly beautiful nature. Walk the sloped, narrow streets to enjoy the beautiful natural environment and fine views.There are alternating views of dense forest and the island's intricate coastline. Above us on the route were a number of horses, half of them grazing on pasture, that lent a wild feeling to this place. The end of the route offers spectacular scenery with a nearly 360°view.
After a short walk, you can freely roam around the large meadow on the hill and other wonderful view points. I particularly recommend this walk as a simple activity that will nevertheless make a deep impression.

<Kunigahama (Tsutenkyo Bridge, Kuniga Shrine)>
This is an experience with a geological charm owing to the natural bridge arching over the ocean. The charm of the bridge really comes into focus when the skies are clear and there is plenty of light. The surroundings are very simple, but the raw beauty is apparent.These rare geologic charms are the things that don't come to mind when you think of Japan.

<Yurahime Shrine>
I really liked this shrine with its impressive atmosphere. As with other places, the heavy wood buildings surrounded by sublime forests and trees are fresh and give me a sense of the country's unique culture.You can take great photos and enjoy an authentic Japanese atmosphere at the aesthetically beautiful shrine and its surroundings. I think that it is best to visit only in the morning so that you can capture the vivid light.

<Lunch at Nishiwaki Fish Mart>
You can enjoy authentic Japanese food at this popular shop! Several tables are arranged under the awning of this small fish shop where you can enjoy excellent, high quality seafood. This kind of small restaurant is alluring and will surely captivate French tourists.

SAMANTHA LASSAUX

<Nishinoshima tenku sky walking>
This is an island of untamed landscapes and magnificent views. Cows and horses roam around freely. At the top of the hill a wonderful ocean view awaits visitors. The tourist information guide was very friendly and provided detailed information about the island. There was an inviting little shrine near the ocean.

<Kunigahama (Tsutenkyo Bridge, Kuniga Shrine)>
Kunigahama is a unique landscape that is part of a very special island. The history of the geographical formations is also very interesting.

<Yurahime Shrine>
It is a beautiful shrine with interesting stories of the squid that became the symbol of the island and the shrine. In the little port in front of the shrine is a neat sign in the shape of people fishing squid out of the water.

<Lunch at Nishiwaki Fish Mart>
Lunch was at this little restaurant near the port. We received warm hospitality from the owner of the family-run business. The seafood used for lunch was delicious, and the restaurant has an English menu that is helpful for foreigners. I left with a full stomach.
Ferry
Beppu Port (Nishinoshima-cho) → Shichirui Port (Matsue City)
About 2.5 hours~
or Fast speed ferry
About 1 hour
Connecting bus
Shichirui Port → Matsue Station
40 minutes
Lakeline Bus
JR Matsue Station → Ote-mae (the closest bus stop to Matsue Castle)
10 minutes
Matsue Castlemore
Matsue Castle, built 400 years ago, is one of only five castles in Japan with a castle tower that has been designated a National Treasure. The castle tower offers 360-degree panoramic views of the city of Matsue.
A footpath has been built around the castle, allowing visitors to enjoy seasonal flowers, including azaleas and camellias. Around the time when the cherry trees blossom, the Oshiro Matsuri (Castle Festival) is held, attracting crowds of people who come to see the flowers.
The Horikawa Sightseeing Boat takes people on leisurely cruises around the 3.7-kilometer moat surrounding Matsue Castle. The routes offer views of the castle tower, as well as the Former Samurai Residence along the traditional Japanese landscape of Shiomi Nawate Street and other charming, historical spots.
Renaud BONNET

<Matsue Castle>
I have special memories of this castle. It is not just its beauty but its size. Of the places I visited, this castle is one of my favorites, and I spent several hours here, wanting to feel the spirit of this place, touch it, and become closer to it.The wooden structure that is hundreds of years old, the dizzying stairs, the creaky floors, the smell of wax...all of it promises a rare experience. I recommend it 500%!
The soft light at the end of the day around 17:00 gives the castle a refined appearance. I can't recommend this scene enough!

SAMANTHA LASSAUX

<Matsue Castle>
Matsue Castle is one of the 12 remaining original castles in Japan. The exterior is wonderful, and the castle is surrounded by its historic moat, where sightseeing boats cruise. The castle tower has interesting exhibits of armor and helmets that help to understand Japan's feudal age and the evolution of the castle. The castle keep offers a splendid 360-degree view of Matsue. Don't miss visiting this charming place.
Izumo Enmusubi Airport
JAL (Japan Explorer Pass) Show details
Haneda Airport
RECOMMENDATIONS FROM TRAVELERS
I had a variety of experiences in both Tokyo and Shimane, which made for a very pleasant trip overall. I discovered many things, and was blessed with mostly good weather. I met many friendly people and received warm hospitality.
Renaud BONNET

Travel blogger
Reside in Paris, France

Hobby

Travel, photography, movie-making, artistically creative activities

Number of visits to Japan

3times
RECOMMENDATIONS FROM TRAVELERS
Tokyo is a city I already know, but it was a good opportunity to explore it from a new perspective. In Shimane Prefecture, it was a pleasure to visit the locals and the places that are close to them. Getting to know these places by seeing them through their eyes was a wonderful experience.Compared to the famous cities of Kyoto and Hiroshima, Shimane Prefecture is not well known. However, the prefecture is absolutely worth visiting. It is a perfect example of a distant land where traditional culture remains, unchanged by the needs born of excessive tourists visiting, and that is still relatively rural.
SAMANTHA LASSAUX

Information exchange website writer
Reside in Tokyo
Home country: France

Hobby

Volleyball, reading, attending seminars, Kaiseki cuisine

Length of stay in Tokyo

7 years
Other recommended route in same area