PANORAMIC VIEW
After exploring around Tokyo with open top double decker vehicles and it makes you feel like fly in the air, take a trip to the Tsunoshima island in Shimonoseki City, Yamaguchi prefecture. The scenery from the Tsunashima Bridge, connected between with Tsunoshimas island and main island is a MUST see! Great trip to feel at one with sky and ocean.

Official Tokyo Travel Guide
https://www.gotokyo.org/en/

Local government official website
https://www.visit-jy.com/en/


TRAVELER
Traveled : October 2017

Silvia Lawrence

Travel Blogger
Reside in USA

Traveled : October 2017

Noam Katz

Japanophile, engaged in translation, interpretation, journalism, food tours, modeling, acting, and voice acting.
Reside in Tokyo
Home country: USA
John F. Kennedy International Airport
ANA109 Examine the directions from your country
Silvia Lawrence

This was my first time flying direct from New York to Tokyo, and not having to stop in the middle made the trip so much quicker and more comfortable. Flying with ANA, I was happy to find so much space even in economy class. The plane has many thoughtful touches, like high footrests for added comfort, and the seats slide forward as you recline them so that you won't disturb your neighbor behind you. The flight attendants were cheerful and attentive, and the quality of the meals was very high.

Haneda Airportmore
The airport serves as an air gateway for Tokyo. The passenger terminal is filled with various commercial facilities, and visitors can command a panoramic view of Tokyo Bay from the rooftop observation deck, so that every one, even those who are not flying, can enjoy the terminal.
Tokyo Metropolitan Area
Day
1
TOKYO
Tokyo Panorama Drivemore
RECOMMENDED DESTINATIONS
Take a ride on the double decker open-air bus called 'O Sola mio.
Tour the many sights and sounds of Tokyo, including Tokyo Tower, Ginza, and Toranomon Hills, among others.
Don't miss the stunning views of the harbor as you cross the Rainbow Bridge.
Enjoy a feeling almost like flying through the air.
Silvia Lawrence

Tokyo is a big city with so much to see, and taking the open-top Hato Bus gave me a good look at the city ! We passed many famous sights like the Rainbow Bridge. And you can find a headset translating the tour into many languages, so I could listen to the bus tour in English and understand everything.

If you take the Hato Bus then you should also visit Sushi Ikki for lunch, as it's conveniently right by the Hato Bus stop and the food is delicious! The sushi was so good (you haven't tried sushi until you taste it in Japan!)

Noam Katz

The Panoramic Tokyo Drive course operated by Hato Bus takes you on a double-decker open-top sightseeing bus through famous areas such as Tokyo Station and Ginza, and offers spectacular views of the city as it crosses over Tokyo Bay via the Rainbow Bridge, all the while providing details about the history and landmarks though a multilingual headset service.

Located in close proximity to the Marunouchi side of Tokyo Station, Sushi Ikki serves up fresh, reasonably priced sushi. The restaurant has a refined atmosphere and during lunchtime we were surrounded by many businesspeople working in the nearby office buildings.
Tokyo Metro Marunouchi Line
Tokyo → Kasumigaseki
Tokyo Metro Hibiya Line
Kasumigaseki → Roppongi
About 12 minutes
Tokyo City Viewmore
Tokyo City View, situated in the heart of Tokyo, features an indoor observation gallery 250 meters above sea level and an outdoor Sky Deck 270 meters above sea level. It commands a view of landmarks such as Tokyo Tower and TOKYO SKYTREE, and on a clear day even Mt. Fuji. The Sky Deck is a special space open to the sky and breeze.
Silvia Lawrence

This was my first time visiting Tokyo City View and I was amazed to see a full panorama of the entire city. This is a must-see for anyone visiting Tokyo, as the views are spectacular and you can get a 360 degree view of all of Tokyo. There's also a very nice coffee shop in the building where you can sit with a view over the city.

Roppongi Hills is an interesting place to see a mix of foreign and Japanese cultures. I was also impressed by the skyscrapers here and all of the nice boutiques and cafés. You also shouldn't miss the steel spider and the beautiful Mohri Garden, which are both right by Tokyo City View.

Noam Katz

Tokyo City View at the very top of the Mori Tower in Roppongi Hills presents a way to make sense of it and take in most of the downtown metropolis at a glance. Not only is there a spacious indoor area with large glass panels to take it all in, visitors can also head to the rooftop if weather permits to enjoy a magnificent, open-air panorama!

Roppongi Hills is a very interesting place that is representative of Tokyo in many ways, from the high-end shopping stores to the Japanese garden. One can really sense the energy of Tokyo while also appreciating modern architecture and a place that offers something for everyone.
Toei Subway Oedo Line
Roppongi → Shinjuku
About 9 minutes
About 5 minutes on foot from the East Exit of JR Shinjuku Station
Shinjukumore
Shinjuku is the center of Tokyo culture, and it is continuously developing. One of the district's landmarks is the Tokyo Metropolitan Government Building, the center of Tokyo's administration. With plenty of spots to see, the area is centered around JR Shinjuku Station, which serves 3.5 million passengers a day, the largest in Japan. The vicinity of the station's East Exit is full of bustling streets such as Kabuki-cho and Golden-gai, and shopping areas such as department stores and large-scale stores. On the other hand, the business area of the West Exit is where the Tokyo Metropolitan Government Building stands, along with an array of high-rise office buildings, hotels and public art installations. For those who are looking for a pleasant place to walk, the terraces among the buildings of the South Exit are perfect. Visitors can also come across more attractions around town including Shinjuku Gyoen National Garden, an oasis in the city.
Silvia Lawrence

Shinjuku is the perfect place to see modern day Tokyo, mixed with Tokyo's more historic spots like Golden Gai. If you're new to Tokyo and want to get an immediate feel for the city, definitely consider a stroll around Shinjuku.

If you wouldn't visit England without going to an English pub, then you can't go to Japan without visiting an izakaya. I had dinner at Kyuemon in Shinjuku, where I enjoyed grilled chicken and other snacks with some drinks. The atmosphere was very relaxing, with small private rooms and traditional decor.

Noam Katz

We saw many highlights of Shinjuku including bustling Kabukicho district and Golden Gai as well as Memory Lane. These places are full of atmosphere and they make quite a contrast to the tall skyscrapers that comprise the business district of Shinjuku.

Izakaya are Japanese gastropubs that are almost a cross between a bar and a restaurant. Kyuemon, in the heart of Kabukicho, offers an extensive drink menu and a wide selection of classic izakaya dishes designed to be shared among customers, including french fries, fried chicken, salads and yakitori (grilled chicken on skewers).
Keio Plaza Hotel
Silvia Lawrence

Keio Plaza Hotel is the perfect central location in Shinjuku, with convenient access to the subway and airport. I stayed on the 16th floor with amazing views over the city. And I had three different restaurant options for breakfast, so on my first morning I enjoyed a traditional Japanese breakfast, and on my second morning I tried the Western buffet. All the food was delicious and the staff were so friendly and helpful, and they all spoke very good English.

Noam Katz

The Keio Plaza Hotel may be just a short walk from Tokyo's bustling Shinjuku Station, yet it offers an oasis of serenity, as well as outstanding views of the city from its more than 1,400 rooms. For breakfast, guests can choose from among three different restaurants, but you'll want to allow plenty of time in order to sample all of the delicious options.
Day
2
CHUGOKU(YAMAGUCHI)
Haneda Airport
ANA (ANA Expericence JAPAN Fare) Show details
Silvia Lawrence

It's so convenient to fly out of Haneda Airport, as it's so close to the Tokyo city center and easy to reach with the monorail. I flew with ANA to Iwakuni City and everything moved swiftly, so I could quickly pick up my luggage as soon as I got off the plane.

Noam Katz

Foreign visitors can book flights on All Nippon Airways (ANA) departing from Haneda to destinations all over the country for only ¥10,800 with the ANA Experience JAPAN Fare. The friendly staff offer customer service that goes above and beyond — specifically, I observed them providing cups with lids and straws to customers using laptop computers so as to protect them from spillage.
Iwakuni Kintaikyo Airportmore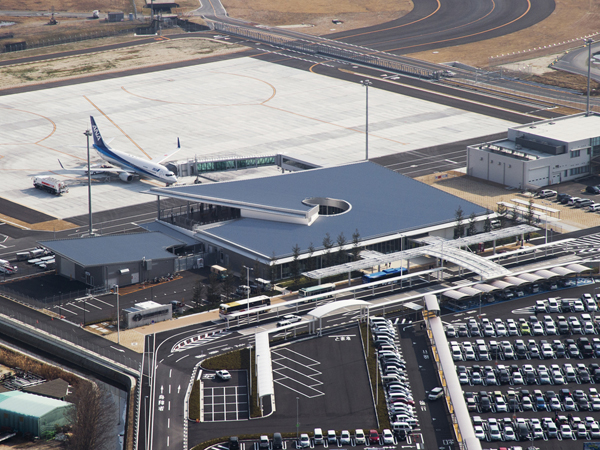 This clean, new airport was opened in December 2012.

Upon entering the terminal building, travelers have a view of the entire building and can see the compact structure is easy to understand and use.

In the building's center, a "light garden" atrium is bathed in natural light pouring in from outside. In addition, the front wall of the passenger waiting room is made completely of glass, letting people see the passenger jets waiting on the tarmac and immersing them more into air travel.

Passenger jets can be observed up close even on the observation deck! Why not take a commemorative photo with planes in the background?

The terminal building has a universal design that is accessible to all travelers.
Iwakuni Bus
Iwakuni Kintaikyo Airport Bus Stop → Iwakuni Station Bus Stop
About 10 minutes

Iwakuni Station Bus Stop → Kintaikyo Bus Stop
About 20 minutes
Kintaikyo Bridgemore
Kintaikyo was built in 1673 and is a wooden bridge symbolic of Japan. The bridge is a series of five wooden arches, a rare sight even outside Japan. It is the culmination of masterful techniques and this tradition lives on through the replacement of the bridge rafters.

There are many tourist attractions nearby, including historical buildings such as Iwakuni Castle, the Old Mekata Family's House, and the Nagayamon Gate of the Kagawa Family, as well as art and history museums like the Iwakuni Choko-kan Museum, the Iwakuni Art Museum, and the Iwakuni Shirohebi (white snake) Museum.

The Iwakuni Shirohebi Museum, in particular, is a National Natural Monument and the only place in the world that the "Iwakuni white snake" inhabits. Visitors can learn about the life and history of white snakes through games and scale models.
Silvia Lawrence

Kintaikyo Bridge is probably one of the most famous sights in Yamaguchi. This wooden arch bridge was originally built in 1673, and has been rebuilt several times. The shape is so unique and looks beautiful over the water with the mountains in the background.

Iwakuni Art Museum is the perfect place to learn about Yamaguchi's history, especially the role of the samurai warriors in the region. The museum boasts an impressive collection of samurai swords and armor, and at the museum you can learn about the intricate craftmanship and symbolism used when creating them.

We stopped at Irori Sanzoku for lunch, and their outdoor seating under kotatsu tables, which are covered in thick blankets and have heaters under them to essentially give you the coziest dining experience ever. Irori Sanzoku is famous for their enormous Sanzoku musubi rice balls, which are apparently the same size that bandits would have eaten here in the past! The decorations here are so elaborate and the atmosphere was really fun for lunch.

Downtown Yanai has a beautifully preserved Edo Period neighborhood, and as the city is famous for goldfish lanterns I of course had to join a workshop to learn how to make them! The lantern made a fun souvenir to take with me back home to the US.

It was so exciting to actually get a chance to try a kimono on and take photos in the beautiful gardens of Saikotei in Yamaguchi City. I was amazed by how quickly the woman dressing me was able to tie the beautiful sash. I'm sure I will treasure the photos from the kimono experience for a long time as a special memory of this visit to Yamaguchi.

Ruriko-ji Temple Five-Storied Pagoda is a Japanese National Treasure, and it must be one of the most magnificent temples in Japan. I loved how quiet the area around the temple is as well, and we enjoyed the temple in the beautiful quiet garden.

Noam Katz

Located in the city of Iwakuni near the border with Hiroshima Prefecture, Kintaikyo Bridge is one of Japan's three great bridges and is truly an icon of Yamaguchi Prefecture. First constructed in 1673, this distinctive wooden bridge are rebuilt every 20 years to preserve traditional techniques.

The Iwakuni art museum offers the museum's excellent exhibits on armor, swords and other types of traditional weapons, including naginata, a kind of blade attached to a long pole. Many items on display were from his personal collection, but it was his descriptions of the items that made it interesting. He explained such details as the work involved in creating daimyo armor and the significance of decorations on battle helmets and clan symbols.

Hugging the curved road in the mountains of Yamaguchi, Irori-sanzoku offers an unforgettable dining experience. "Sanzoku" refers to the old mountain bandits, and the food is served in giant portions that a mountain bandit might eat. Popular items include large pieces of chicken on long bamboo skewers and onigiri rice balls that are over three times the size of typical ones. Eat inside surrounded by old suits of samurai armor or dine outside on tables scattered around its expansive grounds. In the colder months, these tables have kotatsu heaters to keep people's legs warm.

Making a goldfish lantern at Yanai Nishigura wasn't difficult to complete than I thought since we were given a chance to practice brushstrokes beforehand. It was nice to be able to make my own custom souvenir.

I really enjoyed this experience at the Yamaguchishi City Saikotei. Although I've worn kimono before, I never had the chance to walk around an old Japanese garden and building in such traditional Japanese clothing. I had a wonderful time imagining that I had gone back in time.

We visited Ruriko-ji Temple five-story pagoda in the evening and its stately, majestic appearance nestled among a backdrop of greenery made me imagine the Japan of yesteryear. I liked the rustic atmosphere of its thatched roof that stands in contrast to many other pagodas in Japan which have tiled roofs.
Iwakuni Bus
Kintaikyo → JR Shin Iwakuni Station
About 15 minutes
JR Sanyo Shinkansen
Shin Iwakuni Station → Shin Yamaguchi Station
About 30 minutes

"Super Hagi" Bus
Shin Yamaguchi Station → Hagi Meirin Center Bus Stop
About 60 minutes
Gensennoyado Hagihonjin
Silvia Lawrence

We stayed the night at Hagihonjin Hotel, which was such a special experience. The hotel is set on the top of a hill overlooking Hagi, so I woke up to beautiful views in the morning, and it also has both indoor and outdoor hot spring baths to relax after a day of travel.

We also had dinner and breakfast here, both with traditional Japanese food that was super delicious. And I stayed in a beautiful tatami room, which gave me the full traditional experience that I could only have in Japan.

Noam Katz

The Japanese inn called Hagihonjin was excellent and I only wish I could have stayed longer. Both the course dinner and the buffet breakfast were delicious and filling. I absolutely loved their hot springs, which had a wonderful warm ambience at night and offered so many different types of rotemburo outdoor baths to choose from. The staff really made guests feel welcome.
Day
3
Gensennoyado Hagihonjin
Hagi Junkan Maaru Bus
Gunji Chuzojo Iko Hiroba Mae → Hagi Shiyakusho
About 20 minutes
Hagi Uragami Museummore
The museum of mainly ukiyo-e works, oriental ceramic wares and modern potteries located in the center of Hagi-shi. It has obtained two stars in the Michelin Green Guide Japan (the revised fourth edition).
Silvia Lawrence

The Hagi Uragami Museum has impressive collections of both traditional and modern art, including ukiyo-e woodblock prints and East Asian ceramics. But my favorite part of the museum might actually be the building itself. It was designed by architect Tange Kenzo to perfectly house the exhibits, and walking through the winding corridors is meant to feel like walking through the streets of Hagi Castle Town.

Hagi Castle was contructed in 1604 and you can still experience the original layout of the castle town today. Walking through Hagi Castle Town felt like a journey back in time, with the town's beautiful traditional buildings, and beautiful gardens.

The Hagi Meirin School Building is a museum showcasing Yamaguchi's role in the Meiji Period. So if you want to learn more about Japan's history, visiting the Meirin School Building will give you a very helpful summary, including the key figures and heroes of the Meiji Period.

We ate lunch at Hagi-goyomi, which is the perfect place to stop after visiting the museum in the Meirin School, because the it is in the same building. The lunch menu included many local specialties, and I especially enjoyed the chestnut rice and variety of fish dishes.

Motonosumi Inari Shrine was one of the highlights of Yamaguchi for me, with some of the most magnificent views of my trip to Japan. The location on the edge of the sea is stunning, and it might have the most beautiful set of torii gates I've seen in Japan - including the famous gates in Kyoto and Miyajima. At the top of the 123 torii gates you'll find the shrine, with what locals joke is the most challenging offertory box in all of Japan. I tried and failed to donate my 10 yen many times!

Noam Katz

The Hagi Uragami Museum erected in 1996 and designed by an architect who also created many notable structures in Tokyo, the building layout itself imitates the castle town of Hagi. Small corridors connect larger rooms that feature a splendid collection of oriental arts including woodblock prints and Hagi-yaki pottery.

Everything about the Hagi Castle Town was enjoyable and a highlight of the trip. Walking through the narrow streets and seeing the namako-kabe walls almost transported me back into the Edo Period. The Mansion of the Kikuyas was lovely and we were very fortunate to walk through some of the well-manicured grounds that have been off-limits to the public in other years. The Hagi Meiringakusha which is an old school building museum has very appealing and informative exhibits, and the fact that some information is available in English should make it more worthwhile to foreign visitors that understand English.

I absolutely loved this little restaurant Hagigoyomi in the Hagi Meirin school building. It had a very bright and modern Japanese atmosphere, and the food was really well presented and delicious. Their focus on Hagi fish and local, seasonal vegetables made the meal all the more enjoyable, and they provided us with very quick and attentive service.

The Motonosumi Inari Shrine has the sight of 123 red torii gates in a scenic spot along the rugged Sea of Japan coastline left an indelible impression. I could see why American news channel featured this as a must-see place because the setting is so different from any other type of Inari shrine.
JR Sanin Main Line
Tamae Station → Kottoi Station
About 70 minutes
Tsunoshima Fixed-Route Bus
JR Kottoi Station → Hotel Nishinagato Resort Iriguchi
About 15 minutes
Tsunoshima Ohashi Bridge more
RECOMMENDED DESTINATIONS
The marvelous prospect of the Tsunoshima Ohashi Bridge has enchanted a lot of tourists since its opening in 2000 with its beautiful scenery overlooking the "Amagase" cobalt blue sea and mesmerizing sky. As a toll-free bridge connecting remote islands, the bridge has served as the shooting place for numerous movies, advertisements and television programs. It is one of the longest bridges in Japan, extending over a length of 1,780 meters.
Not only is Tsunoshima Ohashi Bridge a perfect location for photography enthusiasts, it's an amazing destination for couples who are looking for a romantic car-drive and also for cyclists who can take on the challenge of the 1,780 meter length of Tsunoshima Ohashi Bridge while overlooking a breathtaking natural view at the same time.
Silvia Lawrence

The ocean views over the Tsunoshima Bridge show off one of my favorite things in Japan: the amazing beaches! And after seeing so many historical sights around Yamaguchi, it was lovely to see one of Yamaguchi's impressive modern construction, with equally beautiful views.

Noam Katz

Yamaguchi Prefecture claims coastline along both the Seto Inland Sea and the Sea of Japan. On the rugged and rocky Sea of Japan side, Tsunoshima Ohashi bridge runs two kilometers across emerald green waters to connect the mainland to Tsunoshima, a small, scenic island which has even been used as a filming location. Visitors can also climb the steep, spiraling staircase of Tsunoshima's stone lighthouse (which dates back to 1876) to enjoy scenic views of the coastline.
Tsunoshima Fixed-Route Bus
Hotel Nishinagato Resort Iriguchi → JR Kottoi Station
About 15 minutes
Jr Sanin Main Line
Kottoi Station → Nagato-shi Station (Transfer to JR Mine Line)
JR Mine Line
Nagato-shi Station → Nagato Yumoto Station
About 60 minutes
Yamamura Annex
Silvia Lawrence

We had dinner and spent the night at Yamamura Annex, a tradtional Japanese ryokan that again also had hot spring baths. I stayed in another beautiful tatami suite here. The food here was delicious - both dinner and breakfast featured local specialties, including blowfish.

Noam Katz

I loved every bit of this stop at the Yamamura Bekkan. After taking a warm bath first and changing into a yukata, I felt just right outside and there were several footbaths that kept my feet warm. Walking around in yukata made me feel as though I was a local instead of a traveler. The hotel was wonderful in every way and I loved having an onsen bath in my room.
Day
4
Yamamura Annex
Silvia Lawrence

Akiyoshidai Plateau has beautiful views and walks that you can take along a really interesting landscape. And then you can go underground to see the massive Akiyoshidai Cave! The entrance to the cave is beautiful, and inside you'll be amazed by how extensive the cave is and all the interesting corners to explore.


Noam Katz

These two sights are also very unique. The Akiyoshidai highland offers very different scenery from other parts of Japan, and were it not for the rain, I would have eagerly ventured out along one of the hiking paths.

There are caves all over the world and scattered throughout Japan, yet few offer such magnificent scenery as Akiyoshidai Cave. The terrain inside the cave is easy to traverse yet the sights are stunning.
JR Mine Line
Nagato Yumoto Station → Asa Station (Transfer to Sanyo Main Line)
JR Sanyo Main Line
Asa Station → Shimonoseki Station
About 100 minutes
Fixed-route bus
Shimonoseki Station → Karato Bus Stop
About 7 minutes
Karato Marketmore
The Karato Market serves as the kitchen of citizens where the general public can purchase all sorts of fresh fish and seafood. On Friday, Saturday and Sunday every week and on national holidays, the first floor of the market turns into the big open-air seafood stall "Iki-iki Bakangai." There, crowds of visitors from all over Japan and other countries enjoy fresh hand-rolled sushi, "fuku jiru" blowfish soup and "fuku sashi" blowfish sashimi in a festive mood.
Silvia Lawrence

Karato Market in Shimonoseki is the biggest fish market I've been to. At most stands you can just get a box and pick out whichever sushi you want, and it might have been the best sushi I've ever had! It's also fun to just wander through the busy market stalls, and then on a nice day you can enjoy your meal outside in the sunshine.

Noam Katz

When in the port of Shimonoseki, which also happens to be the prefecture's largest city, paying a visit to the lively Karato Market is a must. Normally a fish market for vendors, wholesalers sell to consumers only on Friday, Saturday, Sunday and national holidays and visitors will be rewarded for their efforts with a cornucopia of fresh fish in large portions at inexpensive prices.
Expressway Bus
Karato Bus Stop → Yamaguchi Ube Airport
About 80 minutes
Silvia Lawrence

I got to tour the Nagayama-honke Shuzo Brewery in Ube City to see how sake is made and learn about the history of this specific brewery. It was so interesting to taste the differences in the various types of sake and hear about what makes each type of sake unique.

Noam Katz

We visited the Nagayama-honke Shuzo Brewery in the Ube city. This was a very interesting place and the old Meiji Era building with 130 years of history really added to the charm. Tasting the many different types of sake after the brewery tour was a treat.
Yamaguchi Ube Airportmore
Yamaguchi Ube Airport is a coastal airport with a high service rate adjacent to the city. It is blessed with a lush green natural environment and the calm climate of the Seto Inland Sea.

The airport is conscientious of its surrounding environment and has a "Fureai Park" that gives people tranquility and warmth.About 900 roses (140 varieties) are planted on the airport grounds.

The domestic 2F departure lobby has shops selling a lineup of diverse souvenirs representative of Yamaguchi Prefecture, such as sweets, kamaboko fish paste, puffer fish, and locally-brewed sake.

The menus of restaurants on the 2nd floor are associated with roses, so why not enjoy a relaxing time in the 2F lobby after taking a stroll through the garden?
ANA (ANA Expericence JAPAN Fare) Show details
Silvia Lawrence

On the flight back from Yamaguchi to Tokyo I enjoyed a "soraben," or bento in the air! My bento that a restaurant near the airport made had rice, and a variety of fish, meats, and vegetables, and everything in it was tasty.

Noam Katz

I was impressed by how much variety there was in the bento (or sora-ben). There was a nice mix of both Japanese items, such as tempura with matcha shio green tea salt, as well as Western fare, such as beef and cheese wrapped in ham, made by a restaurant near the airport.
Haneda Airport
Silvia Lawrence

I think combining a trip to Tokyo with a trip to Yamaguchi gives the perfect mix of big city, small town, and regional traditional experiences in Japan. I did not know much about Yamaguchi before this trip, so I was amazed to discover such a variety of landscapes. There's a strong sense of history and culture in the region, with lots of historic sights and many places. Considering how easy it is to take a flight from Tokyo down to Yamaguchi, I'd recommend this trip to anyone who wants to see the best aspects of Japan all in one short trip.


Noam Katz

I thoroughly enjoyed this trip and I hope more visitors will realize how easy it is to venture beyond Japan's big cities and head into the regions. I firmly believe that it is in Yamaguchi where visitors can find the best of Japan — incredible scenery, delicious local food and beverage and old traditions that continue to live on.
RECOMMENDATIONS FROM TRAVELERS
Japan is a land of both deep traditions and modern innovation, and while there's no better place to experience Japan's modern, almost futuristic side than Tokyo, visiting Yamaguchi prefecture offers a special glimpse into Japan's rich history and beautiful countryside. I was interested to see big city life in Tokyo, and then it was easy to take a flight down to Yamaguchi to see a totally different side of Japan and learn more about the country's history and traditions.


Silvia Lawrence

Travel Blogger
Reside in USA

Hobby

travel, dancing, and reading
RECOMMENDATIONS FROM TRAVELERS
This route starts off in Tokyo and provides several ways to enjoy panoramic views of the city. It then takes you out to Yamaguchi Prefecture in western Japan to enjoy some very different scenery, including stunning coastlines, historic buildings, museums and hot-spring towns, with plenty of delicious cuisine to enjoy along the way.
Noam Katz

Japanophile, engaged in translation, interpretation, journalism, food tours, modeling, acting, and voice acting.
Reside in Tokyo
Home country: USA

Hobby

photography, foreign culture, traveling, hiking, tennis, cycling and martial arts.

Length of stay in Tokyo

10years
Other recommended route in same area