PLEASURE BOATS
After seeing the wonders of Tokyo by modern sightseeing boat on the Sumida River, take a trip to Kurashiki, an area that prospered under the rule of the Edo Shogunate. As you ride in a nostalgic rowboat, you'll feel as if you've slipped back in time from Tokyo to the far-off Edo period.

Official Tokyo Travel Guide
https://www.gotokyo.org/en/

Local government official website
https://www.okayama-japan.jp/en/


TRAVELER
Traveled : July 2016

Boy

Blogger
Reside in Bangkok, Thailand

Traveled : July 2016

Pok

Journalist
Reside in Tokyo
Home country: Bangkok, Thailand
Suvarnabhumi Airport
ANA848 Examine the directions from your country
Boy

<International flight>
We travelled to Japan on an All Nippon Airways flight that departed late in the morning, at 11:25. Fortunately we were able to get plenty of rest before beginning our Tokyo trip.
I watched a lot of movies during the flight, and ate a lot. I got a window seat, and because the window glass adjusted the degree of brightness automatically, my eyes did not get tired. We arrived in Tokyo at 20:00, and rested to prepare for our trip from the following day.
Haneda Airportmore
The airport serves as an air gateway for Tokyo. The passenger terminal is filled with various commercial facilities, and visitors can command a panoramic view of Tokyo Bay from the rooftop observation deck, so that every one, even those who are not flying, can enjoy the terminal.
Tokyo Metropolitan Area
Day
1
TOKYO
Happo-en: Enjumore
Enju is found inside the wedding venue, Happo-en, overlooking an expansive Japanese garden. To allow enjoyment of the changing of the four seasons through foods in season and views of the garden, diners are served original multi-course Kaiseki meals featuring different bowls of seasonal foods for every month of the year that are also a feast for the eyes. Moreover, diners can savor chef-recommended Kaiseki dishes prepared in ways that take full advantage of seasonal delicacies at the height of their deliciousness.
Boy

<Happo-en>
Happo-en was very impressive. The Japanese-style garden that has been around from as long as 400 years ago is very beautiful, to the point where you could spend an entire day here taking photographs. I could see why 2,000 Japanese couples hold their wedding ceremonies here every year. Events and seminars are also held here. I find it really interesting to think that the scenery here is sure to change with each season, which must be really beautiful.

<Enju>
We ate a Kaiseki lunch at Enju, which I really enjoyed, although I wished I could have seen them making the nigiri sushi. The dishes at this restaurant are arranged really beautifully, and the waiters bring them out one by one.

Pok

<Happo-en>
Happo-en is a purely Japanese-style garden created 300 or more years ago. There is a large number of bonsai within the garden, including some trees that are 500 years old or older. The garden is now used to hold wedding ceremonies and take wedding photos. It also has a restaurant and cafe, and enjoying a meal while soaking up Happo-en's atmosphere is superb. The garden is just the right size for exploring on foot, and the purely Japanese-style landscaped garden is perfect for people wanting to drop by for a rest.

<Enju>
This time, we ate lunch at Enju, a Japanese restaurant inside Happo-en. The dishes here utilize seasonal ingredients. The set menu, which featured tempura and sushi as the main dishes and concluded with a Japanese-style dessert at the end, was just the right amount and was delicious. People who love eating Japanese cuisine while enjoying the atmosphere of a Japanese-style garden should visit here at least once.
Tokyo Metro Namboku Line
Shirokanedai Station → Tameike-sanno Station
Tokyo Metro Ginza Line
Tameike-sanno Station → Asakusa Station
About 30 minutes
Boy

<Subway>
Traveling on Tokyo's subway system was really enjoyable and exciting. Thanks to the subway, we were able to complete our schedule on time.
Tobu Railway
Asakusa Station → TOKYO SKYTREE
About 3 minutes
TOKYO SKYTREE®more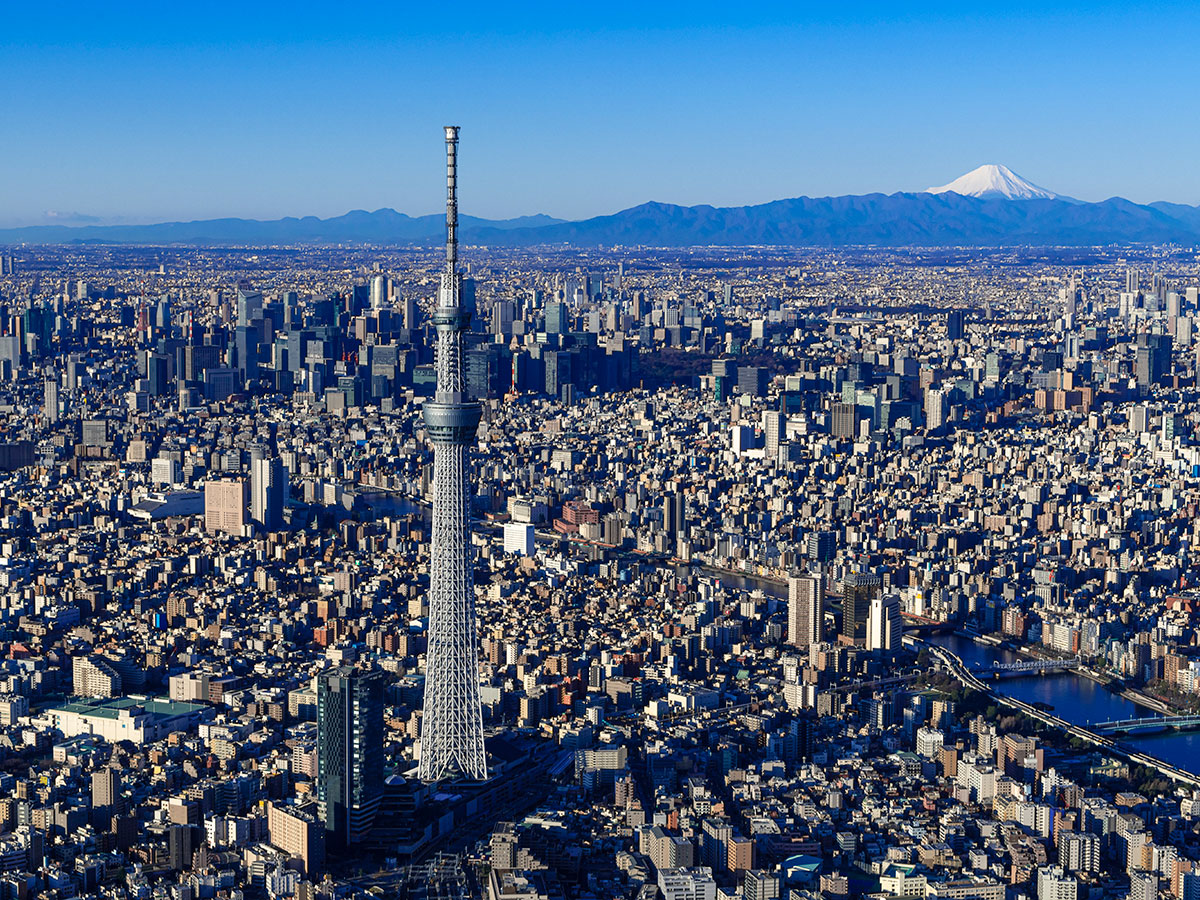 TOKYO SKYTREE® was listed in the Guinness World Records™ as the tallest tower in the world, standing at a height of 634 m. The Tembo Deck, at an elevation of 350 m, offers 360-degree panoramic views of the Kanto area, and even distant views of Mt. Fuji on a clear day. Tembo Galleria, a further 100 m up at an elevation of 450 m, offers even more expansive 360-degree panoramic views of the Kanto area. Moreover, the tower is lit up beautifully at night, alternating every day between "Iki," a soft blue light, and "Miyabi," a royal purple light. Special lights are also implemented for every season of the year. At the foot of the tower is Tokyo Solamachi®, a commercial facility packed with a wide selection of over 300 shops and restaurants, as well as a planetarium and an aquarium, offering a full day of enjoyment for visitors. The tower is a landmark that Tokyo boasts to the world.
Boy

<TOKYO SKYTREE>
This was my first visit to TOKYO SKYTREE, and it was a lot of fun. The thing that surprised me to begin with was the elevators, which travel at a speed of 600 meters per minute. We reached the top level in less than a minute. The elevators were also very smooth. The Tembo Deck observation deck was also amazing, and I could see why TOKYO SKYTREE is recognized as the world's highest tower. A sloped "air walk" winds around the Tembo Deck, and as you walk along it you can see the view from a higher elevation, so various things catch your eye. Next time I come I think I would like to spend a day here.

Pok

<TOKYO SKYTREE>
I went up to the Tembo Deck observation deck for the first time. Usually I just take photos out the front and stroll around the shopping mall inside, but this time I went up to the top and enjoyed the beautiful 360-degree views of Tokyo. Here you can take in the Tokyo landscape, as well as commemorative photos before returning home. Next, we purchased tickets to go up to the Tembo Galleria. There is a see-through elevator that connects to the top, allowing you to take in the outside view as you travel up or down. On the day we visited, there was an Ultraman exhibition on at the Tembo Galleria featuring replicas as well as actual filming equipment and other items on display that we could look at as we walked about. The exhibition was arranged so that we could read the history of Ultraman in chronological order as we walked. Descending to Floor 340, you can stand on top of a glass floor and can take high-angle photographs.
Tobu Railway
TOKYO SKYTREE → Asakusa Station
About 3 minutes
Sumida River Cruising (Hotaluna)more
RECOMMENDED DESTINATIONS
Hotaluna has a metallic silver, streamlined body, made in the image of a spacecraft, with gullwing doors and a promenade deck on the roof, allowing people to enjoy the view from outside the boat. Moreover, the glass windows at the back of the boat emit a pale light, lighting up Sumida River like a firefly through the night from dusk.
Boy

<Sumida River Cruising (Hotaluna)>
My dream of catching a cruise boat came true. It was a modern cruise boat. The tickets were not for designated seats, but that was not problem at all. I prefer to walk around taking photographs, so I did not sit on a seat.
The cruise boat departed Asakusa and travelled to Odaiba, and passed under a large number of beautiful bridges. After a little while the roof opened up and everyone could go up and take photographs. It was a lot of fun, and the entire experience was thrilling.

Pok

<Sumida River Cruising (Hotaluna)>
After the Skytree, we used Tokyo Cruise Ship Co., Ltd.'s services and took a 50-minute cruise from Asakusa to Odaiba on a sightseeing boat. The boat we rode this time was the Hotaluna, which can carry 261 passengers. The boat's transparent interior means you can look out at your surroundings, such as the view of the Sumida River. We headed downriver to Odaiba and arrived at just the right time. The ceiling of the boat can be opened so that passengers can go out on deck and enjoy the atmosphere, and after waiting for the ceiling to open you can go up on top. The boat then arrives at its final destination (Odaiba Seaside Park). This seashore is also a place that becomes crowded with beachgoers. A shopping mall and Fuji Television Network, inc. are also located nearby.
Hotaluna
Asakusa → Odaiba
About 60 minutes
Boy

<Walking in Odaiba>
Odaiba is one place you just have to visit, I think. It boasts some of the most beautiful scenery in Tokyo. There is a beach, and you can relax and take photographs. It is a public space, but a very interesting place. It is also possible to take in the Statue of Liberty with a bridge as a backdrop. When you visit Odaiba you get a genuine sense that you have come to Tokyo.

Pok

<Walking in Odaiba>
After we arrived in Odaiba we walked to a Tokyo television station. It is a walk known to those in the know. At the entrance to the building there was a Chibi Maruko Chan Cafe. This charming cafe features a diverse food and drink menu, and it is cutely decorated in the manner of the famous manga. Furthermore, it is possible to look around inside the building. The spherically-shaped "Hachitama" Spherical Observation Room is this building's symbol.
New Transit Yurikamome
Daiba Station → Shimbashi Station
About 15 minutes
Boy

<Dinner in Shinbashi>
We went to one of the local restaurants that is an absolutely must. It was an oden restaurant and an English menu is also available. I knew that there were many different varieties of oden, and I wanted to taste all of them, so I asked for an assortment of dishes to try. It was a very clean restaurant and it was wonderful that there is a place to leave your bags!

Pok

<Dinner in Shinbashi>
Today we ate dinner at Otakou, an oden restaurant in Shinbashi. This oden restaurant has been in business for 84 years, having opened in 1932 in the Showa period. The oden menu consists of ingredients stewed in soup made using Odako's special recipe. Many people who work in Tokyo like to drop in for a drink here. If you go on a weekday, you will undoubtedly be surrounded by the hustle and bustle of chatting office workers who have accompanied each other here on their way home from work.
ROYAL PARK HOTEL THE SHIODOME, TOKYO
Boy

<Accommodation: Royal Park Hotel The Shiodome, Tokyo>
That night we stayed at the Royal Park Hotel The Shiodome, Tokyo. I thought we had returned to the hotel a little late, but a clock near the hotel said it was around 20:00. The service at the hotel was excellent. We had stayed there the previous night also, but were upgraded to rooms with nice views. Luckily, each of the rooms we stayed in was a twin room. I really liked the desk in my room. It was fully equipped with a communications cable and was very convenient to use.
Because our rooms were on high floors we had outstanding views. The hotel's lobby is on the 24th floor, and so we ate breakfast while taking in Tokyo Tower.

Pok

<Accommodation: Royal Park Hotel The Shiodome, Tokyo>
The hotel we stayed at this evening was the Royal Park Hotel The Shiodome, Tokyo in Shinbashi. The guest rooms were just the right size, and were contemporarily decorated and well fitted out with equipment. The beds were soft and comfortable, and were very rejuvenating after the exhaustion of the day's sightseeing. The hotel offers two options for breakfast, Chinese or Western. We opted for the Western breakfast, and we enjoyed the sausages here in particular. They were really delicious.
Day
2
CHUGOKU(OKAYAMA)
Boy

<JR>
Getting around by train in Tokyo is very fast and convenient. Trains are the principal means of travel because they run on time, allowing you to manage your time efficiently.
10:05 Haneda Airport
ANA653 (ANA Experience JAPAN Fare) Show details
Boy

<Domestic flight>
On this trip, we experienced the true Haneda Airport. We departed Tokyo for Okayama on an All Nippon Airways flight from Domestic Terminal 2. You can use a self-check-in system and self-service bag drop system (ANA Baggage Drop Services). We arrived in Okayama in a little over an hour.

Pok

<Domestic flight>
On this trip to Okayama we decided to travel by airplane. This time we chose ANA, and Okayama Airport was an hour and 15 minute flight away.
11:20 Okayama Momotaro Airportmore
Okayama Airport has three domestic routes to Tokyo, Sapporo, and Okinawa and four international routes to Seoul, Shanghai, Hong Kong, and Taipei. Numerous charter and provisional flights operate here as well.
Very conveniently located, it is just 30 min. by car from central Okayama City, and just 10 min. away from the nearest highway interchange. With regular buses to Okayama City and Kurashiki City, travel to nearby large cities is simple. Furthermore, since the cities of Kobe, Osaka, Hiroshima, Yonago, Takamatsu, and Kochi are just 2 hours away by highway, many people from in and outside the prefecture use Okayama Airport for domestic, international, and business travel.
Okayama Momotaro Airport Limousine Bus
Okayama Momotaro Airport → Okayama Station West Exit
About 30 minutes
Okayama Electric Tramway's (streetcar)
Higashiyama Line toward Higashiyama
Okayama-Ekimae → Shiroshita
5 minutes
Boy

<Streetcar>
I really liked the streetcar. I would like to take about 10 round trips while looking around the town.

Pok

<Streetcar>
It is possible to get on an Okayama City streetcar near Okayama Station, and to pay with an IC card or cash, just like on a train. We boarded the streetcar in front of Okayama Station (Okayama-Ekimae) and headed toward Okayama Castle, and then walked from there to Okayama Korakuen Garden.
Walk
10 minutes
Okayama Korakuen Garden and Okayama Castlemore
Okayama Korakuen Garden
One of Japan's Three Great Gardens. It was made approximately 300 years ago by the 2nd feudal lord of the Okayama Domain, Ikeda Tsunamasa. A circuit-style Daimyo (feudal lord) garden, its wide lawns, ponds, artificial mountains, and tearooms are tied together with walkways and waterways.
It has a three-star rating from the Michelin Green Guide Japan. Every year, in the summer and autumn, the park is specially opened at late at night for the "Garden of Dreams" and "Autumnal Fantasy Garden" events.

Okayama Castle
The castle was built in 1597 by the military commander, Ukita Hideie. Its black-lacquered exterior of wooden boards earned it the nickname, "Crow Castle." However, the main tower, which was a National Treasure before World War 2, burned down due to war damage and was later reconstructed.
Within the main tower are a shop, a cafe, and other attractions, such as a free fitting corner for feudal lord and princess outfits.
Boy

<Lunch at Shikisai restaurant>
We at lunch at Okayama Korakuen Garden. We enjoyed famous local dishes at a restaurant in front of the garden. The small fish had a sweet-and-sour taste. The dishes were arranged very prettily.

<Okayama Korakuen Garden>
The structure of Korakuen's garden is very interesting. Various plants have been planted and you can have a variety of experiences. There is a Japanese-style garden corner that was really pretty. The thing I liked the most were the cranes. I'm sure this garden would be beautiful in the fall also. It was also great that people visiting the garden are able to experience the tea ceremony. I certainly hope you try the delicious Japanese apricot ice-cream.

< Okayama Castle>
It is possible to view a large number of historical exhibits at Okayama Castle. It was great to be able to dress up like a feudal lord here. There are many stores on the first floor. You can view Okayama Korakuen Garden from the top of the castle.

Pok

<Lunch at Shikisai restaurant>
After entering Okayama Korakuen Garden, before we admired the park we stopped by the Shikisai restaurant for lunch. Okayama City is close to the sea, and is famous for its seafood. We decided to eat a conger eel rice bowl here. Conger eel is similar to eel, but not so chewy, making it easy to eat. Our meals came with hot buckwheat noodle soup, which made a very delicious accompaniment.

<Okayama Korakuen Garden>
With our stomachs full and our energy restored, we moved on to admiring Okayama Korakuen Garden, which has a three-star rating from the Michelin Green Guide Japan. Korakuen is one of the oldest gardens in Japan, having been created some 400 years ago. Because the trees and flowers undergo beautiful color changes with the seasons, it is a beautiful garden that can be visited in any season. In addition to the beautiful garden, we also took in Okayama Castle, a well-known sightseeing spot here. On top of that, there was also tea and Japanese sweets available for purchase. You can choose to drink the tea outside or inside the old house, and so we decided to sit inside the house so we could enjoy our tea while taking in the garden from inside. We took in the garden through the windows, from inside the house. Framed by bamboo, the view was like a work of art. It was beautifully attractive and most enjoyable. Incidentally, various events are held here at Korakuen throughout the year.

< Okayama Castle>
Okayama Castle is a castle that was built in the 16th Century, meaning it counts as an extremely old castle even in Japan. Like other castles in Japan, this castle was destroyed by fire during World War II, but it has been newly restored. Within the castle, ornaments that were used to decorate the castle and the castle's history are on display, and going up to the top level will give you an unbroken view of Okayama City. Furthermore, there is also a service available that enables you to see the cityscape more clearly using a telescope. And within the castle here is a corner where you can put on costumes from that period and dress up like a feudal lord and a princess together.
Walking in Okayama City (The City of Fruit Parfaits)more
The Land of Sunshine, Okayama, is a "Fruit Kingdom" famous for fruits such as peaches and Muscat grapes. Springing from the desire to let people easily enjoy the exquisite fruits grown in Okayama, the "Okayama: City of Fruit Parfaits" project was started in 2009. There are over 30 shops in Okayama City where visitors can enjoy many different kinds of parfaits.
Boy

<Oshiro Chaya>
I thought the parfaits were very creative. I am sure Thai people would like them. I thought they were beautiful and healthy. This shop is also one location that appears in the Detective Conan manga series.

Pok

<Oshiro Chaya>
After looking over the castle, it was time for a snack. Inside the old castle is Oshiro Chaya, an ice-cream shop. It is summer now and July, the peach season, but when we arrived in this "town of peaches" that has an affinity with Momotaro we were unable to sample them, so we enjoyed the peach-based desserts at this shop. The sweetness and aroma of peach and ice-cream in the peach parfait go perfectly with jelly. This shop is also one location that appears in the Detective Conan manga series. For true Conan fans, it cannot be missed.
Walk
10 minutes
Okayama Electric Tramway's (streetcar)
Higashiyama Line toward Higashiyama
Shiroshita → Okayama-Ekimae
5 minutes
Boy

<Lunch at AEON MALL Okayama>
We went to AEON to seek out the informal dinners that the locals eat. The quality of the meals was in fact very good.

Pok

<Lunch at AEON MALL Okayama>
In the early evening we went to AEON MALL. We had an easy going dinner at the food court. We chose katsudon (pork cutlet with egg on rice).
ANA Crowne Plaza Okayama
Boy

<Accommodation: ANA Crowne Plaza Okayama>
We went back to our rooms and took a bath. The hotel is located on the other side of the station, and is very convenient, with a lot of transportation facilities and restaurants nearby. I really liked the hotel's atmosphere. In particular, the atmosphere at breakfast on the top floor was fantastic. There was a window-side table available, and the hotel staff were kind enough to preferentially show us to the table.

Pok

<Accommodation: ANA Crowne Plaza Oyakama>
Following that we checked in at the ANA Crowne Plaza Oyakama, a hotel next to Okayama Station. The hotel's guest rooms were neat and tidy, and we could rest comfortably on the soft beds. The hotel breakfast is a buffet-style Western breakfast, but there is also a Japanese menu that uses local ingredients.
Day
3
ANA Crowne Plaza Okayama
Marine Liner rapid service train
on the JR Seto-Ohashi Line (Honshi-Bisan Line)
Okayama Station → Kojima Station
23 minutes
Boy

<JR>
We left our bags at the station and travelled to Kojima by train. It took just 30 minutes to reach this "town of jeans".

Pok

<JR>
Travelling from Okayama Station to Kojima Station was easy.
Shimoden "Tokohai-go" bus
Kojima Station → Kojima Bunka Center Mae
About 5 minutes
Kojima Jeans Streetmore
The birthplace of domestic jeans production, Kojima, with its high level of technology, is renowned as a holy ground for Japanese denim. It's said that the biggest feature of Kojima jeans is the texture. Tourists from all around Japan visit here searching for a unique pair of denim just for themselves.
Stretching for approximately 400m, from the front of the Nozaki's Historical Residence to the Ajino No. 2 Park, the street is lined with jeans brand shops from Kojima, cafes, and general stores.
Boy

<Visit to the Betty Smith Jeans Museum>
We made mobile phone straps at the Jeans Museum. There are workshops held at the museum that allow travelers to learn about how jeans are made. It is also possible to decorate your jeans, but this requires time. There is also a service that enables you to create your own entirely custom-made jeans. Once finished the museum will ship these jeans to your home.

Pok

<Visit to the Betty Smith Jeans Museum>
When we arrived at the Betty Smith jeans workshop and museum, considered to be the birthplace of branded jeans in Japan, we also tried to craft objects using jeans ourselves. We created key holders out of jeans. After choosing fabrics and buttons that we liked, we combined them using a button press. We visited the museum next. Here we listened to an explanation about the emergence of Japan's first generation of jeans and how they were manufactured, as well as the journey that Japanese jeans followed from the outset through to the present. Finally, we went to the Betty Smith outlet shop. Here you will find a variety of jeans products, as well as jeans at accessible factory prices.
Shimoden "Tokohai-go" bus
Kojima Bunka Center Mae → Kojima Station
About 5 minutes
Boy

<Lunch at Setouchi No Aji Seika>
It was not far from the station to a renowned steak house. The meat was very tender and there was also plenty of it. I wanted to eat it all, but I couldn't finish it.

Pok

<Lunch at Setouchi No Aji Seika>
Because we were still in Kojima at lunchtime, we went to Setouchi No Aji Seika, a steakhouse only a few hundred meters away from the train station. The steak here is really delicious and you can choose how well-done you want your meat to be grilled. The meat smells delicious, and it is tender and easy to chew, so it is heaven for someone who loves beef.
Marine Liner rapid service train on the
JR Seto-Ohashi Line (Honshi-Bisan Line)
Kojima Station → Okayama Station
JR Sanyo Line
Okayama Station → Kurashik Station
47 minutes
Boy

<JR>
We travelled to Kurashiki by train. It only took an hour. Along the way we were able to take in the rural landscape.
Kurashiki Bikan Historical Quartermore
RECOMMENDED DESTINATIONS
Kurashiki Bikan Historical Quarter preserves the beauty of traditional Japanese architecture for the present day, with its rows of willow trees gently swaying in the wind, and the beautiful contrast between the white walls and the black-and-white "namako" walls casting their shadows onto the Kurashiki River below.
During the Edo period, this area prospered as a place for rice shipping, and the earthen storehouses let visitors have a glimpse into the past.
This quarter is also home to many cultural establishments, including the Ohara Museum of Art, which has many world-famous works of art, the Kurashiki Museum of Folkcraft, the Kurashiki Archaeological Museum, the Japanese Rural Toy Museum, and others.
Sightseeing riverboats can be ridden and enjoyed on the Kurashiki River, which, in days past, used to bustle with the back-and-forth traffic of riverboats loaded with cargo.
Boy

<Kurashiki Bikan Historical Quarter>
The Kurashiki Bikan Historical Quarter is an old streetscape resembling the Edo period. I think anyone would really enjoy this place. There are a large number of old-style gift shops and restaurants. There is also a cat cafe here. We made traditional confectionery that has been being made since 150 years ago, which was a great experience. There is also a Momotaro Karakuri Museum here. It was a lot of fun, so I certainly hope you will all experience it.

Pok

<Kurashiki Bikan Historical Quarter>
After we arrived in Kurashiki City, we visited the Kurashiki Bikan Historical Quarter, an old village of the Edo period. Originally it was lined with the warehouses of Edo period merchants, but today they have been remodeled into a variety of shops and museums. When we arrived at the village, to begin with we stopped by the Kikkodo Bikan Historical Quarter store, a confectionery store, in order to have a go at hand-making the store's famous "murasuzume" confectionery. Here, you can sit in the cafe corner and eat confectionery or have a go at making it. It costs 600 yen. Staff are on hand to give you advice while you make the confectionery. Following that, we went to the Momotaro Karakuri Museum. There are Momotaro-related on display here, as well as fun attractions featuring characters from the story. The entrance fee is 600 yen. After that we went to a dessert cafe called Parlor Kudamono Komachi. The menu here is extensive, and naturally we chose items that use the peaches the district is famous for. The dishes are delicious and go very well with ice-cream, and they are also a perfect match for the atmosphere of the cafe, which is arranged like a bamboo grove.
*Prices are for travelers at the time of use.
Okayama Momotaro Airport
Boy

<Domestic flight>
The flight to Tokyo departed at 19:55 and arrived at 21:55. There were a lot of people on the plane.

Pok

<Domestic flight>
There were shops and a small restaurant at the airport, so we bought a few souvenirs before returning. We used ANA for the return flight, just as we had to get there. In just an hour and a half we arrived safely back in Tokyo.
Haneda Airport
RECOMMENDATIONS FROM TRAVELERS
On this trip, we travelled to Tokyo and Okayama, two of Japan's major cities. We used all modes of transportation, including flying on domestic routes as well as the Tokyo subway system, monorail, streetcars, buses, and a cruise. It was a magnificent experience. Tokyo was constantly fascinating and very exciting. We were also lucky enough to experience Okayama's beautiful scenery and traditional culture.
Boy

Blogger
Reside in Bangkok, Thailand

Hobby

Photography, Reading, Painting

Number of visits to Japan

4times
RECOMMENDATIONS FROM TRAVELERS
This time we traveled from Tokyo to Okayama, famous as the location for the Japanese folk legend, Momotaro. The summer in Okayama brings about various dishes using peaches, and you can enjoy deliciously sweet peaches to your heart's content. It truely was ideal time to visit Okayama's famous places.
Pok

Journalist
Reside in Tokyo
Home country: Bangkok, Thailand

Hobby

Reading books, Studying Japanese culture

Length of stay in Tokyo

1years
Other recommended route in same area