CITYSCAPE FROM THE SKY
After looking out over Tokyo from Skytree, Japan's tallest radio tower, head out to Bitchu Matsuyama Castle. This castle is known for being located at the highest point of all mountain castles with castle towers. Reflect on bygone history as you look out on the townscape stretching out beneath you.

Official Tokyo Travel Guide
https://www.gotokyo.org/en/

Local government official website
https://www.okayama-japan.jp/en/


COMING SOON!
Two people are traveling this route right now!
Their travel reports will be posted soon.
Frankfurt Airport
ANA224 Examine the directions from your country
Haneda Airportmore
The airport serves as an air gateway for Tokyo. The passenger terminal is filled with various commercial facilities, and visitors can command a panoramic view of Tokyo Bay from the rooftop observation deck, so that every one, even those who are not flying, can enjoy the terminal.
Tokyo Metropolitan Area
Day
1
TOKYO
TOKYO SKYTREEmore
RECOMMENDED DESTINATIONS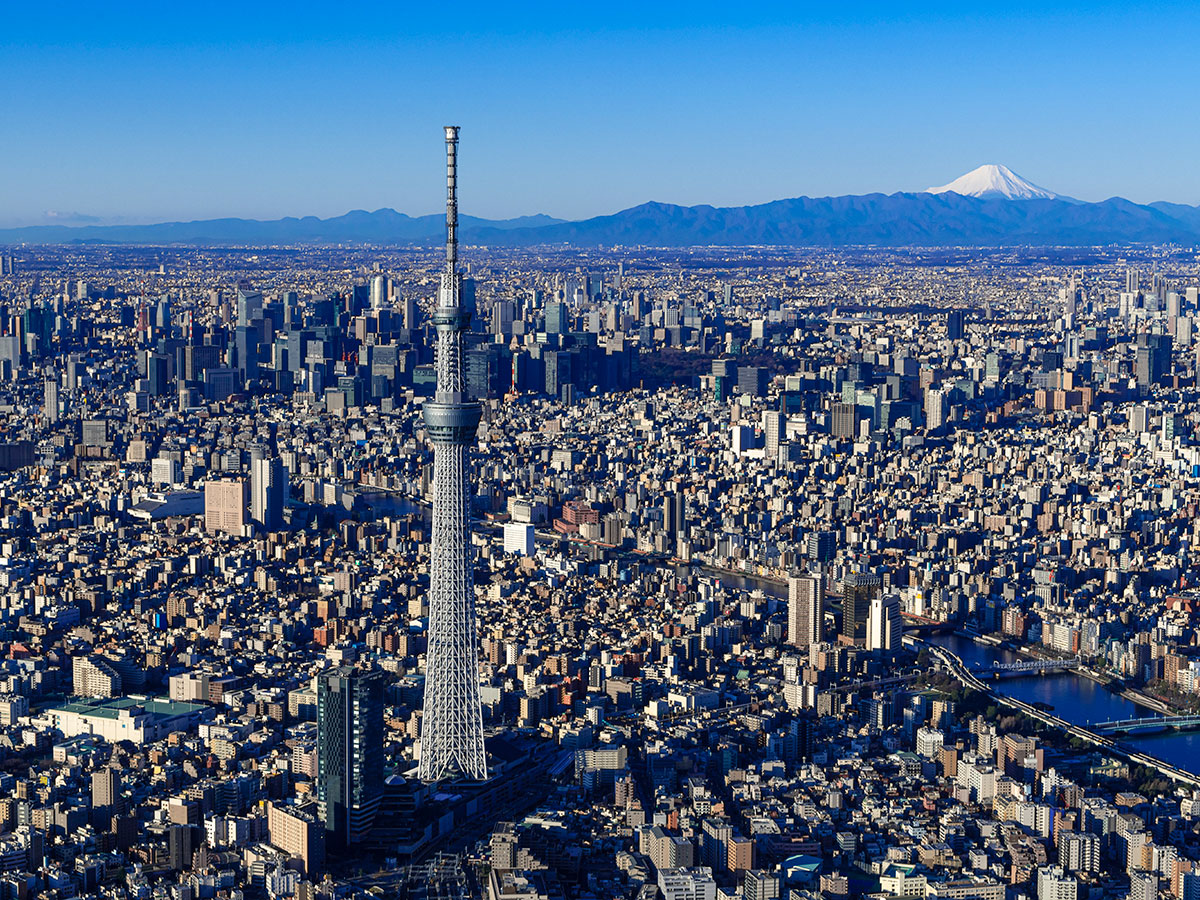 TOKYO SKYTREE was listed in the Guinness World Records™ as the tallest tower in the world, standing at a height of 634 m. The Tembo Deck, at an elevation of 350 m, offers 360-degree panoramic views of the Kanto area, and even distant views of Mt. Fuji on a clear day. Tembo Galleria, a further 100 m up at an elevation of 450 m, offers even more expansive 360-degree panoramic views of the Kanto area. Moreover, the tower is lit up beautifully at night, alternating every day between "Iki," a soft blue light, and "Miyabi," a royal purple light. Special lights are also implemented for every season of the year. At the foot of the tower is Tokyo Solamachi®, a commercial facility packed with a wide selection of over 300 shops and restaurants, as well as a planetarium and an aquarium, offering a full day of enjoyment for visitors. The tower is a landmark that Tokyo boasts to the world.
Toei Asakusa Line Oshiage Station → Asakusabashi Station Around 10 minutes 180 yen
JR Chuo-Sobu Line Asakusabashi Station → Ryogoku Station Around 10 minutes 140 yen
Edo-Tokyo Museummore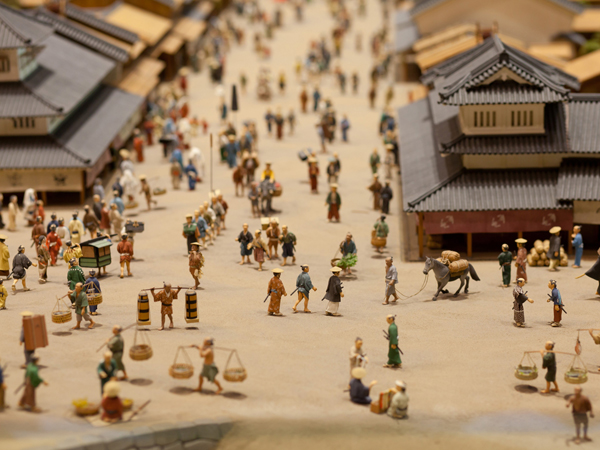 The museum allows visitors to learn about the history, culture and lives of people in Edo-Tokyo. In the permanent exhibition area are life-size models of Nihombashi Bridge and a drama theater in the Edo Period, as well as models of the Rokumeikan Hall and the brick streetscape of Ginza in the Meiji Period, showing what life was like at the time through three-dimensional exhibits. A wealth of real-life materials including ukiyoe paintings, kimonos, and daily household items are also exhibited to coincide with the changing of the seasons, allowing visitors to enjoy learning about the history of Edo and Tokyo.
Toei Oedo Line Ryogoku Station → Ueno Okachimachi Station Around 15 minutes 180 yen
JR Yamanote Line Ueno Station → Komagome Station Around 12 minutes 160 yen
Then walk for around 7 minutes
Rikugien Gardensmore
These gardens were constructed by Yanagisawa Yoshiyasu on land given to him in 1695 by Tokugawa Tsunayoshi, the fifth shogun of the Edo bakufu. Yoshiyasu spent seven years constructing a garden with paths around artificial hills and a pond. As the land was part of the flat Musashino region, when building the gardens he had to dig a pond, create hills, and bring in water from the Senkawa water supply to fill the pond.
Tokyo Metropolitan Area
Day
2
CHUGOKU(OKAYAMA)
Haneda Airport
ANA (ANA Expericence JAPAN Fare) Show details
Okayama Momotaro Airportmore
Okayama Airport has three domestic routes to Tokyo, Sapporo, and Okinawa and four international routes to Seoul, Shanghai, Hong Kong, and Taipei. Numerous charter and provisional flights operate here as well.
Very conveniently located, it is just 30 min. by car from central Okayama City, and just 10 min. away from the nearest highway interchange. With regular buses to Okayama City and Kurashiki City, travel to nearby large cities is simple. Furthermore, since the cities of Kobe, Osaka, Hiroshima, Yonago, Takamatsu, and Kochi are just 2 hours away by highway, many people from in and outside the prefecture use Okayama Airport for domestic, international, and business travel.
Okayama Momotaro Airport limousine bus
Okayama Momotaro Airport-->Okayama Station West Entrance
Around 30 minutes/760 yen
Okayama Korakuen bus
Okayama Station-->Okayama Korakuen Garden
Around 10 minutes/100 yen
Okayama Korakuen Garden and Okayama Castlemore
Okayama Korakuen Garden
One of Japan's Three Great Gardens. It was made approximately 300 years ago by the 2nd feudal lord of the Okayama Domain, Ikeda Tsunamasa. A circuit-style Daimyo (feudal lord) garden, its wide lawns, ponds, artificial mountains, and tearooms are tied together with walkways and waterways.
It has a three-star rating from the Michelin Green Guide Japan. Every year, in the summer and autumn, the park is specially opened at late at night for the "Garden of Dreams" and "Autumnal Fantasy Garden" events.

Okayama Castle
The castle was built in 1597 by the military commander, Ukita Hideie. Its black-lacquered exterior of wooden boards earned it the nickname, "Crow Castle." However, the main tower, which was a National Treasure before World War 2, burned down due to war damage and was later reconstructed.
Within the main tower are a shop, a cafe, and other attractions, such as a free fitting corner for feudal lord and princess outfits.
Okayama Korakuen bus
Okayama Korakuen Garden-->Okayama Station
Around 10 minutes/100 yen
Around Okayama Station
Day
3
Around Okayama Station
JR Hakubi Line Okayama Station-->Bitchu-Takahashi Station
Yakumo limited express
Around 35 minutes/1590 yen (of which 840 yen is a regular train ticket)
Bitchu Matsuyama Castle Shared taxi
Bitchu-Takahashi Station-->Fuigo Toge
Around 10 minutes/500 yen
Around 20 minutes by foot after disembarking from the taxi
Bitchu Matsuyama Castlemore
RECOMMENDED DESTINATIONS
The keep remaining on the mountain is designated as an important cultural asset, and is famous for being the only mountain castle with a keep. Along the approach to the castle is a huge rock wall more than 10 m tall, illustrating how impregnable the castle was. In addition, many visitors come to see the "castle in the sky" for its fantastic appearance as if it were floating in a sea of clouds.
Around 20 minutes to the shared taxi stand
Bitchu Matsuyama-jo Kanko Shared Taxi
Fuigo Toge-->Bitchu-Takahashi Station
Around 10 minutes/500 yen
Scheduled route bus
Bitchu-Takahashi Station-->Fukiya
Around 60 minutes/800 yen
Fukiya Furusato Villagemore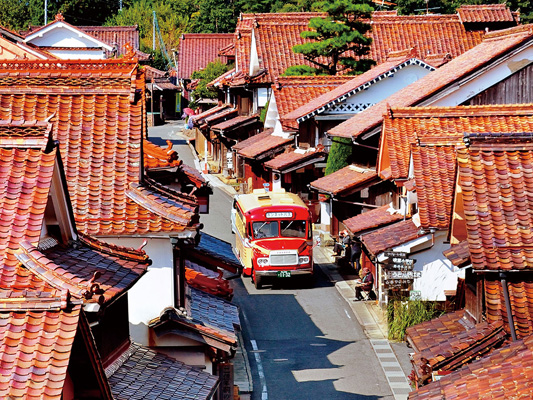 Once a flourishing mining town during the Edo to Meiji periods, this village was famous as a major producer of vivid red "bengara" color pigment made from oxidized iron. The village is designated an Important Preservation District for Groups of Traditional Buildings, and the uniform red copper sekishu-gawara roof tiles and bengara buildings is a cultural heritage left by Fukiya's elders.
Scheduled route bus
Fukiya-->Bitchu-Takahashi Station
Around 60 minutes/800 yen
JR Hakubi Line
Bitchu-Takahashi Station-->Kurashiki Station
Yakumo limited express
Around 20 minutes/1,330 yen (of which, 580 yen is regular train ticket)
Around Kurashiki Station
Day
4
Around Kurashiki Station
Around 15 minutes
Kurashiki Bikan Historical Quartermore
Kurashiki Bikan Historical Quarter preserves the beauty of traditional Japanese architecture for the present day, with its rows of willow trees gently swaying in the wind, and the beautiful contrast between the white walls and the black-and-white "namako" walls casting their shadows onto the Kurashiki River below.
During the Edo period, this area prospered as a place for rice shipping, and the earthen storehouses let visitors have a glimpse into the past.
This quarter is also home to many cultural establishments, including the Ohara Museum of Art, which has many world-famous works of art, the Kurashiki Museum of Folkcraft, the Kurashiki Archaeological Museum, the Japanese Rural Toy Museum, and others.
Sightseeing riverboats can be ridden and enjoyed on the Kurashiki River, which, in days past, used to bustle with the back-and-forth traffic of riverboats loaded with cargo.
10 minutes
Okayama Momotaro Airport Limousine Bus
Kurashiki Station North Exit → Okayama Momotaro Airport
About 35 minutes / 1,130 yen
Okayama Momotaro Airport
ANA (ANA Expericence JAPAN Fare) Show details
Haneda Airport
Other recommended route in same area