WATERSIDE BEAUTY
After taking in the metropolitan sights of the Tokyo Bay coastal area, take a journey to Itsukushima Shrine, a World Heritage Site floating in the sea. Then head to Onomichi, at the crossroads of the Seto Inland Sea. A trip to experience a Japan encompassed by the sea as the gentle ocean breeze blows around you.

Official Tokyo Travel Guide
https://www.gotokyo.org/en/

Local government official website
http://visithiroshima.net/


TRAVELER
Traveled : July 2016

Daniel Gritzer

Food & Cooking Writer
Reside in USA

Traveled : July 2016

Grace Mineta

Auther
Reside in Tokyo
Home country: USA
John F. Kennedy International Airport
JAL003 Examine the directions from your country
Daniel Gritzer

JAL flight to and from Tokyo and New York City were incredibly comfortable and pleasant. I had a nice big screen to watch a good selection of movies and television shows, plenty of food (I'm still impressed by the seafood congee we had for breakfast on my first flight and the Mos Burger on the return flight). Overall, the flights were very smooth and easy, despite the long travel time.
Narita International Airport
Narita Express
Tokyo Metropolitan Area
Day
1
TOKYO
Tokyo City Viewmore
Tokyo City View, situated in the heart of Tokyo, features an indoor observation gallery 250 meters above sea level and an outdoor Sky Deck 270 meters above sea level. It commands a view of landmarks such as Tokyo Tower and TOKYO SKYTREE, and on a clear day even Mt. Fuji. The Sky Deck is a special space open to the sky and breeze.
Daniel Gritzer

It's always helpful, when visiting a city for the first time, to see it from one of its highest points
. The Tokyo City views were astounding from the top of the skyscraper.

We didn't have much time to walk around Roppongi, but I enjoyed seeing Louise Bourgeois' spider sculpture, an artist whose work I've enjoyed before.

Grace Mineta

The weather was lovely and we were able to see most of Tokyo from the Roppongi Hills observation deck and from the helicopter pad on the roof. It was fun looking at the rooftop gardens and surrounding buildings.

Roppongi is a very chic town. I recommend walking tours of Roppongi for people who want to see the fancy side of Tokyo.
Tokyo Metro Hibiya Line
Roppongi Station → Ginza Station
About 10 minutes
Daniel Gritzer

We had a lovely kaiseki lunch in Ginza. Highlights included a shiitake chawan mushi with ginko nuts, some pristine sashimi, and the most enjoyable shabu shabu I've ever eaten.

Grace Mineta

Ginza is also a very expensive part of town. Even though I have lived in Tokyo for several years, I have only been to Ginza once or twice for shopping. During the weekends, the main road is only open to foot traffic, so it's a great place to stroll.

(Lunch at Kakiyasu)
We ate shabu-shabu or sukiyaki at this traditional Japanese restaurant. The food was delicious and the atmosphere was very welcoming. The portion size was huge and had a wide variety of dishes, ranging from roots and vegetables to meat and soups.
The Kimono Gallerymore
Tokyo is the center of Japan and Ginza is the center of Tokyo. Because Ginza beautifully fuses Japanese traditional clothing culture with modern shopping districts, one can dress themselves in elegant finery freely and set foot in Ginza, the Imperial Palace, Tokyo Station, Tsukiji, and the Kabuki-za. We will assist you in making a memory of a beautiful and fun day out.

You don't need to bring anything to enjoy the Kimono Experience, our rentals include everything from free fitting to simple hair arrangements and hair ornaments.

Men and women can both participate and single travelers are also welcome.

Our staff speak English and Chinese. Foreign guests are very welcome.
Daniel Gritzer

I didn't know what to expect when we visited the kimono gallery, and for certain I had no idea I'd be putting on a yukata. I was even more surprised to discover I'd be walkign around Ginza in the yukata. To be honest, it was a little embrassing being a foreigner in traditional Japanese clothes when everyone else on the street was not, but we had fun anyway, and posed for lots of photographs. Definitely an experience!

Tsuruya Yoshinobu is something special, completely mesmerizing to watch the chefs work bean paste in different colors into the most beautiful floral confections. I was also in love with the handmade jelly candies we tasted, each in a different floral flavor. My favorite was jasmine. I also loved the iced matcha tea they served us, and am planning on making it here in New York for the rest of the summer.

Grace Mineta

We got to pick out our favorite yukata (summer kimono), hair flower, and obi. I wore a bright blue yukata and my obi design was gorgeous. The staff in the shop were friendly and helpful. After getting dressed, we strolled through Ginza in our yukata and took pictures.

We went to Tsuruya Yoshinobu to watch Japanese confectionery making. That was my first time watching something like this – it felt like "dinner and a show." The makers were very skilled, the atmosphere was intimate, and the sweets were the perfect balance of sweet and texture.
Walk
20 minutes
Daniel Gritzer

We spent most of our time in Nihombashi at Mitsukoshi department store in the food hall on the lower level. This is an incredible place, and you could spend weeks and weeks just trying to eat everything there. One day I'll work up the nerve to buy a $45US melon and eat it.

Grace Mineta

We briefly went into the basement of a department store to look at the food stalls and lunch box stores. There were a lot of different types of food.
SKY BUS TOKYO(Odaiba Night Course)more
RECOMMENDED DESTINATIONS
On the Odaiba Night Course, the two-story open-deck SKYBUS TOKYO takes passengers to see the Tokyo Tower lit up against the night sky and also goes directly beneath the Rainbow Bridge. Since the SKYBUS TOKYO also takes highways along the way, passengers can feel like they are on a theme park attraction.

The SKYBUS TOKYO stops at Aqua City in Odaiba and allows passengers one hour of free time to get something to eat or take a commemorative photo with the Statue of Liberty and Rainbow Bridge in the background.

This two-hour tour is the perfect way to enjoy many of Tokyo's night spots in a short amount of time.
Daniel Gritzer

The Skybus drove us to Aqua City Odaiba, and we managed to get a nice view of Tokyo Tower from right below it.

Aqua City Odaiba offered a quick photo opportunity of the water and bridges, with some beautiful boats and lights. we had fun.

Grace Mineta

We rode on an open-air bus through Tokyo to Odaiba, over the Rainbow Bridge. The bus arrived on-time and had comfortable seating. The bus dropped us off in Odaiba for one hour of 'free time' before picking us up and taking us back across the Rainbow Bridge after sunset.

We ate tempura and soba noodles for dinner at Aquq City Odaiba. The restaurant portion size was huge and it had a wonderful location, overlooking Odaiba and the Rainbow Bridge. My favorite part was that they served wasabi root you grated yourself for the soba. It was an interesting experience.
Walk
PALACE HOTEL TOKYO
Daniel Gritzer

The Palace Hotel Tokyo is a seriously lux hotel in a gorgeous setting, which helpful and friendly staff. The room was exceptionally clean, the shower one of the best I've ever had, and everything was as comfortable as can be. I wish hotels in the USA did in-room coffee and tea as well as the Palace Hotel did.

Grace Mineta

Our room at Palace Hotel Tokyo was beautiful. The room itself was very classy and comfortable and the view over Tokyo was stunning. We were overlooking Tokyo Imperial Palace and were able to see Tokyo Tower lit up in the distance. There was a notecard informing us of the weather for the next day, which was thoughtful.
Day
2
CHUGOKU(HIROSHIMA)
6:50 Haneda Airportmore
The airport serves as an air gateway for Tokyo. The passenger terminal is filled with various commercial facilities, and visitors can command a panoramic view of Tokyo Bay from the rooftop observation deck, so that every one, even those who are not flying, can enjoy the terminal.
JAL253 (Japan Explorer Pass) Show details
Daniel Gritzer

Our trip to Hiroshima in the morning was as easy as can be, and JAL flight was quick and comfortable.

Grace Mineta

We took a flight on JAL from Haneda to Hiroshima. The check-in process at the airport was very easy and security went by quickly. Our flight was comfortable and I slept through the entire thing. I hadn't realized how close Hiroshima was to Tokyo by plane. I definitely need to visit again.
8:10 Hiroshima Airportmore
Hiroshima Airport is located 15 minutes away by bus from its nearest station--JR Shiraichi Station. It takes approximately 50 minutes from Shiraichi Station to Hiroshima Station, and 1 hour 20 minutes to Miyajimaguchi Station, which is the entrance to Miyajima, a world renowned site for the floating torii gate in the ocean. There are direct limousine bus services that connect Hiroshima Airport to downtown Hiroshima, including Hiroshima Station and Hiroshima Bus Center. Also, a direct bus runs between the airport and Onomichi Station, providing access to Seto Inland Sea.
Hiroshima Airport Limousine Bus
Hiroshima Airport → Hiroshima Bus
About 50 minutes
Daniel Gritzer

From the Hiroshima airport to the city center, the bus was on time and comfortable.

Grace Mineta

The bus left shortly after we arrived. It was comfortable and the ride was short. I like how close the airport is to the city.
Walk
5 minutes
Hiroshima Peace Memorial Park more
Hiroshima Peace Memorial Park is a large park established in the heart of Hiroshima near the center of the atomic bomb blast in hopes of sustained world peace. The park includes a number of points of interest such as the Hiroshima Peace Memorial Museum which documents Hiroshima in the time of the bombing, the Hiroshima Peace Memorial, or Genbaku Dome, the cenotaph of bomb victims, the Hiroshima National Peace Memorial Hall for the Atomic Bomb Victims, and International Conference Center Hiroshima. The Hiroshima Peace Bell that is rung in hopes of peace on Earth is designated as one of Japan's top 100 soundscapes by the Ministry of the Environment.
Daniel Gritzer

Of course visiting the Peace Memorial Park and Atomic Bomb Memorial is not a "fun" part of the trip. It's a very painful part of history for many people in Japan, the United States, and around the world. But it's imorptant to see and to reflect on the cost and pain of war, and I'm very glad I had a chance to be there in person and reflect on this. We all folded paper cranes and added them to the memorial for Sadako; it was truly a beautiful gesture to participate in.

I visited Hiroshima knowing it was famous for its version of okonomiyaki and was thrilled to eat it for lunch. Mine was filled with soba noodles and piled high with a green blanket of scallions, a long raw egg yolk crowning the top. Of course I squeezed mayo all over it, plus spicy okonomiyaki sauce, and several dashes of lemon hot sauce (I was also interested to find out the area is so famous for its citrus...I didn't know!)

Grace Mineta

Our first stop in Hiroshima was the Peace Park. Although I had studied about World War II and the atomic bomb in school, it was completely different seeing things in person. We folded cranes to put inside the display case for the Children's Peace Monument. Afterwards, we looked at the Peace Memorial Museum to look at photos and read the stores of people who were killed in the blast.

We had Hiroshima-styled okonomiyaki for lunch. I have often eaten monjayaki (Tokyo-styled okonomiyaki), regular okonomiyaki, and Osaka-styled okonomiyaki so I was excited to try the Hiroshima equivalent. It was delicious. I liked the yakisoba noodles fried on top and the lemon jalapeno flavored condiment.
World Heritage Sea Route (Aqua Net)
Hiroshima Peace Memorial Park (Atomic Bomb Dome) → Miyajima
About 45 minutes
Daniel Gritzer

A quick ferry ride took us across the water to Miyajima, an unbelievable site.

Grace Mineta

The ferry ride to Miyajima was comfortable and easy. I slept most of the ride.
Miyajima (Itsukushima Shrine)more
Miyajima has been regarded as a sacred island since ancient times. In 1996, about 14% of the island became designated as a World Heritage Site, including the palatial style building of Itsukushima Shrine, the sea in front of the shrine where the grand torii gate stands, and old growth forest on Mt. Misen behind it. The highlight on a visit to Miyajima is the Itsukushima Shrine, which appears to float in the ocean but also blends in with the mountain in its backdrop forming an elegant scene. The grand torii gate built offshore is the symbol of Miyajima, which can be accessed on foot during low tide while it is partially submerged in water at high tide. The lighting condition during sunset presents the island in a mystic way backlit behind the grand torii gate, Itsukushima Shrine, and five-storied pagoda, providing a distinctive view from the daytime. The island has native animals including deer, which are regarded and protected as divine messengers.
Daniel Gritzer

I've seen it in photos before, but visiting Miyajima in person is an entirely different, and better, experience. The island and shrine are magical, just totally beautiful. We were lucky to see a Shinto wedding while there.

There were a lot of food and drink highlights at Miyajima. In a very short time, I managed to try the area's famous oysters, which were grilled, along with its equally beloved conger eel. I grabbed a quick, and very good, coffee, managed to taste a local beer, and ate another regional specialty: a red bean paste cake. This one was battered and deep fried, so I called it a "deep-freid red-bean-paste doughnut." Damn was it good.

Grace Mineta

The first thing we did in Miyajima was visit Itsukushima Shrine. It was during "low tide" so we were able to walk under and around the shine. Our guide taught us about the history and how the tide patterns and height depends on the moon. After, we walked through a nearby shrine and saw a wedding in progress. We also climbed a bit up the mountain to get a full view of the shrine and city. It was beautiful, educational, and peaceful!

We ate momiji-manju from one of the local stalls at Machiyadori. It tasted like a tempura-donut and was one of my favorite snacks on this trip! The two types of grilled oyster were also fresh and delicious. It was fun being able to order them from a stall.
JR West Miyajima Ferry
Miyajima → Miyajimaguchi
About 10 minutes
JR Sanyo Line
Miyajimaguchi Station → Hiroshima Station
JR Shinkansen
Hiroshima Station → Fukuyama Station
Daniel Gritzer

The train to Onomichi gave me my one chance to experience Japan's famed bullet train, even if it was a very short ride and we never reached top speed. Still, I could tell how smooth and quick the ride would be. Can't wait to come back and ride the train when it's going really fast.
JR Sanyo Line
Fukuyama Station → Onomichi Station
( 1 hour and 36 minutes)
Walk
20 minutes
Daniel Gritzer

Our izakaya dinner was truly special. I ate several things I'm still thinking about, including the crab butter with cucumbers, the miso dips for steamed vegetables, the conger eel sashimi (a first for me!), and more. We drank some great sake and just enjoyed ourselves. Great place!

Grace Mineta

Dinner was at a local Izakaya where we tried many types of local food (like conger eel sashimi and other side dishes). We also drank delicious sake. The atmosphere was relaxed and felt very authentic and the staff at the restaurant were very friendly.
MIHARASHI-TEI
Daniel Gritzer

I loved the hostel where we stayed in Onomichi. It was utterly charming and comfortable. I loved my room, the view was priceless, and the place had such a great personality. I'd return for sure.

Grace Mineta

We spent the night at a 100 year old inn that had been renovated recently and turned into a guest house. The room was comfortable and the view was amazing. The café downstairs served great breakfast food and the staff was bilingual and friendly.
Day
3
MIHARASHI-TEI
Walk
3 minutes
Onomichimore
RECOMMENDED DESTINATIONS
Onomichi City is located on the island of Honshu in Southeastern Hiroshima Prefecture. The city also includes the Shimanami Kaido connecting a number of islands in the Seto Inland Sea with Honshu and Shikoku.
The portion of Onomichi City on the island of Honshu features mountains to the north and the Seto Inland Sea to the south connected to the mountains by a gentle slope with views of the sea. The city has a unique topography with many hills. Its nostalgic ambience as a seaport town has seen Onomichi City used as a backdrop for a number of novels and movies.
Additionally, Buddhism flourished in this part of Japan, making it a great location for making the rounds at old temples and learning about Japan's history and culture. Although it's a seaport town, Onomichi City is also known as a cat town as well. Visitors are sure to encounter cats just about everywhere they go in the city. There is even the Cat Trail featuring stones with cat engravings, which is known as one of the newer destinations in the city. Onomichi City is a popular destination for bicycle enthusiasts because it is the gateway to the Shimanami Kaido, a road known as a bicycling Mecca.
Daniel Gritzer

The heat was no joke, but we still had a great time walking around Onomichi. The city itself is full of charm, a great place to walk and explore. Another highlight: sakura soft-serve ice cream. Just fantastic.

Grace Mineta

Onomichi is a beautiful city with a fascinating history. We walked through the old streets and through the 'cat trail,' trying to count all the cat statues. It seemed like a lovely place to live and I'd love to come back someday.
Shimanami Cycle Express (Onomichi Bus)
Onomichi Ekimae → Omishima BS
About 45 minutes
Daniel Gritzer

The bus, on time as always, very comfortable, and the ride had beautilful views as we crossed bridges to the islands south of Onomichi. Plus, air-conditioning! (Given the heat, I can't express how nice it was to cool down on the bus for a while.)

Grace Mineta

The bus was comfortable and cool. We were able to see the bridges connecting the islands together and Onomichi from a distance.
Walk
Omishima BS → Tatara Shimanami Park
10 minutes
Daniel Gritzer

We stepped off the bus and crossed the road to the park, which had exceptional views of the water.

We sat down for a very nice sashimi lunch, overlooking the water. This was the kind of restaurant that, if we were in the United States, would probably have been some kind of terrible fast food. But in Japan, it still managed to be a good restaurant serving quality food and very fresh fish.

Grace Mineta

Tatara Shimanami Park is a wide open space with an excellent view of the ocean (and bridge). From here we were able to rent bikes.

Lunch was fresh sashimi with a set meal. It was the perfect size and incredibly refreshing on a hot afternoon.
Rent-a-cycle
Tatara Shimanami Park → Oyamazumi Shrine
40 minutes
Oyamazumi Shrinemore
Oyamazumi Shrine is Ehime Prefecture's oldest shrine that is said to be the overall head shrine of the over 10,000 Yamazumi and Mishima Shrines around Japan.

In the center of the shrine grounds is an enshrined 2,600-year-old camphor tree, as well as many Important Cultural Properties such as the main and front shrines. Here, you can experience a mystical atmosphere where the passage of time is forgotten. Since this shrine is dedicated to the gods of the sea, mountains, and warriors, many past military commanders donated arms in hopes of military success or in thanks for victory in battle. These are exhibited in the Treasury Museum located on the grounds, which houses 80% of the arms and armor that are designated as National Treasures or Important Cultural Properties in Japan.
Daniel Gritzer

Riding a bike is one of the best ways to see any place, since you can travel fast enough to cover a good distance, but still go slow enough to absorb your surroundings. I loved passing by local farmhouses along the road, and climbing hills. The Oyamazumi Shrine was so peaceful, hardly any visitors at all, and so beautiful. I especially loved the treasures museum, with swords and armor going back more than 1000 years.

Grace Mineta

We rented mountain bikes and biked to Oyamazumi Shrine. It was the perfect weather for biking, although it was a bit difficult getting used to the mountain bike. I would have liked the option to rent one of the electric bikes instead (since I am more used to those). At the shrine, we were able to look at the new gate, the main shrine, and the ancient tree in the middle (that would grant your wish if you held your breath and walked around it three times). We also visited the Treasure Hall and got to see amazing Japanese treasures, like old swords, bows, and armor.
Rent-a-cycle
Oyamazumi Shrine → Tatara Shimanami Park
40 minutes
Walk
Tatara Shimanami Park → Omishima BS
10 minutes
Setouchi Bus
Omishima BS → JR Imabari Station
About 50 minutes
Daniel Gritzer

Afterwards, we rode our bikes back, then caught a bus, which was once again a nice place to be given the heat.
JR Shiokaze limited express train
Imabari Station → Matsuyama Station
About 36 minutes
Iyotetsu Intra-city Streetcar No. 5 JR Matsuyama Station Line
JR Matsuyama Station → Dogo Onsen
About 30 minutes
Daniel Gritzer

Fro the bus, we took a train, and then a tram, to Dogo Onsen Main Building. All the travel was easy and comfortable.

Grace Mineta

The train arrived perfectly on time. It was a cute little tram that took us to Dogo Onsen.
Walk
Dogo Onsen Funaya
Daniel Gritzer

What a treat to visit a proper onsen. Dogo Onsen Main Building is quite a sight, a remarkable building in the middle of the city.

This was an incredible hotel, with an apartment-size room with traditional tatami rooms and a wood bath that brings in water from the natural spring. We had some very good food in the ryokan's restaurant as well.

Grace Mineta

I loved the movie "Spirited Away" and it was so amazing to be able to see the onsen that the bath house in the movie was modeled after. We arrived right at sunset, which made it even more beautiful. The building looked stunning lit up at dusk.

This hotel was breathtaking. Our room was absolutely gorgeous, the bed was comfortable, and it had a private bath using onsen water. Dinner was a several course meal with some of the best somen noodles I have tasted in my entire life.
Day
4
Dogo Onsen Funaya
Walk
Dogo Onsen Funaya → Dogo Onsen Station
5 minutes
Iyotetsu Intra-city Streetcar No. 5 JR Matsuyama Station Line
Dogo Onsen → JR Matsuyama Station
About 30 minutes
Hiroshima Airport Limousine Bus
JR Matsuyama Station → Matsuyama Airport
About 30 minutes
Matsuyama Airportmore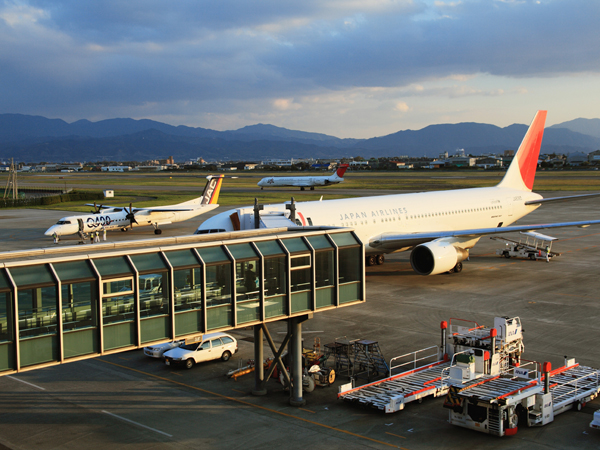 Matsuyama Airport is the port of entry for air travelers to Ehime Prefecture and is Shikoku's largest airport, bustling with activity everyday.

Along with food and drink shops, there is a shopping zone selling various souvenirs such as Matsuyama Airport limited goods, as well as a lounge where visitors can enjoy locally-brewed Ehime sake at a reasonable price.

In addition, there is an interpreter service that provides instant service via tablet devices, a multi-lingual information board, and even a free Wi-Fi spot, to help foreign visitors travel with peace of mind.

Furthermore, on the 3rd Sunday of every month, an event is held where Ehime Prefecture's symbolic product, mikan juice, pours out from a faucet, with free samples given out. The sight of mikan juice pouring out from a faucet can only be seen in Ehime, so be sure to stop by when this event is held.
JAL (Japan Explorer Pass) Show details
Grace Mineta

The Matsuyama airport was small and easy to navigate. Check-in was easy and there were a couple options for dinner. Our gate was right behind security. The flight was nice because we were able to watch the sunset over the small islands. Since I was awake this time, I drank complimentary green tea.
Haneda Airportmore
The airport serves as an air gateway for Tokyo. The passenger terminal is filled with various commercial facilities, and visitors can command a panoramic view of Tokyo Bay from the rooftop observation deck, so that every one, even those who are not flying, can enjoy the terminal.
RECOMMENDATIONS FROM TRAVELERS
The tour managed to pack in an impressive number of locations and activities without feeling rushed. We traveled by bus, by plane, by train, by bike, and by boat, giving a broad exposure to different ways of getting around the country and its cities.
Daniel Gritzer

Food & Cooking Writer
Reside in USA

Hobby

Gourmet, Cooking

Number of visits to Japan

First time
RECOMMENDATIONS FROM TRAVELERS
I had an amazing time traveling through Tokyo, Hiroshima, and Ehime. I loved how it was a nice mix between famous, obvious tourist spots and hidden areas that only locals would know about. The food was excellent. I liked how it was a mix of local food and high-end cuisine.
Grace Mineta

Auther
Reside in Tokyo
Home country: USA

Hobby

Travelling, Cooking, Hiking, Snowboarding, Reading old novels

Length of stay in Tokyo

2.5 years
Other recommended route in same area