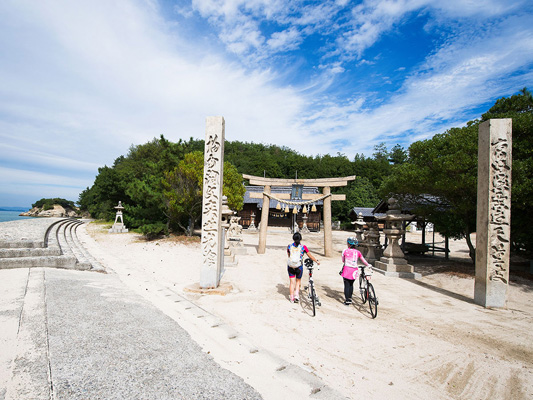 Yumeshima Kaido is a sea route connecting the three islands of Yugeshima, Sashima, and Ikinajima. The small bridges connecting the islands of the town of Kamijima are a noteworthy spot called "Mini Shimanami" by cyclists. On the islands accessible only by a relaxing ferry ride, you can enjoy great food at lovely cafes and restaurants, and take in the amazing views of the ocean and the scenery of pine trees.
More Information about Yumeshima Kaido
Street address

Kamijima-cho, Ehime Prefecture

About EHIME
Access

From Imabari
Geiyo Kisen ferry
Imabari-ko→Iwagi-ko, Sashima-ko, Yuge-ko, Ikina-ko
From In'noshima
Ikina ferry
Habu-ko (In'noshima)→Tateishi-ko (Ikinajima)
Opening Hours

-
Closed

Open all year
Website
Best season

Mar., Apr.
Point